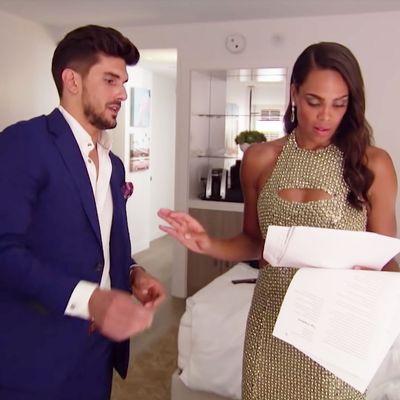 Uh-oh, teacher caught you cheating!
Photo: Bachelor Nation/Youtube
There are so many ways to get sent home early on The Bachelorette: have a girlfriend back home, get in a fight with the other guys, be a skin salesmen. But perhaps the most dystopian way to be eliminated night one happened on this week's season premiere of The Bachelorette. Contestant Ryan Fox, an environmental consultant who lives on a raisin farm, met his early demise after bachelorette Michelle Young found out about his literal playbook — a collection of notes, tips, and tricks about Bachelor Nation. Uh-oh, has someone been watching a bit too much You, Ryan?
After getting his own little video segment introducing him to the audience — riding around shirtless on a tractor, making jokes about plowing fields — former bachelorettes and current hosts Tayshia Adams and Kaitlyn Bristowe rifled through Ryan's belongings to find out more about him. To their surprise — or "surprise," since it seems like the producers may have had an inkling about what they'd find — the two women discovered Ryan's pages and pages of printed notes on Michelle, former contestants, and the Bachelor franchise as a whole that Ryan put it in a folder with the misspelled label, "Bachlorette." He also drew a sad little rose.
Listen, we all do wild things when we first start dating someone new. One minute, you're scrolling through their Instagram, and the next, you're watching 72-week-old stories posted by their ex's new boyfriend's sister. We've all been there. But that's for private browsers at home! You do not print your evidence, collate it, and stick it in a file labeled, "SECRETS ABOUT TYLER." Especially if their name is Taylor.
Admittedly, the producers did Ryan a bit dirty. Despite the playbook being found before the men even met Michelle, they still had Ryan do his little ice-cream truck entrance. (He had read somewhere that Michelle, if you can believe it, likes ice cream.) They included a clip of Michelle telling Ryan, "You did your homework," before she found out about the folder. They played the kind of music you hear when you know someone's about to get verbally spanked on national television. And then, Tayshia and Kaityln told Michelle what they found in Ryan's room. "Verbatim what he'd written down was, 'Make it seem like you're interested in [education] stuff,'" Kaitlyn told Michelle, who is a teacher, adding that they also found notes on things like how to get more screen time.
When Michelle confronted Ryan, he looked equal parts guilty and like a confused puppy that didn't think he did anything wrong. "Those were not notes written by me," he explained, adding that they were from his "friend's wife." He also said he wasn't that familiar with the Bachelor franchise, adding that he hadn't seen "more than two hours" of the show. Hence, the comically large stack of notes. Here is a just small excerpt on "How to Bachelor" by Ryan Fox:
A list of quotes "said at least every season or every episode for that matter"

Advice from a friend, saying Ryan's "biggest fault is that you're overconfident, arrogant, and it's a massive turnoff to people, you come off as mean and demanding"

A list of "who to emulate from the show," including Jason Tartick ("not your typical Bachelorette contestant … business as a financial adviser … wasn't a standout on the show") and Mike Johnson ("has major swagger")

A "dream girls and dating list," which they gave no further clarification on.

A little confidence boost from someone who said, "Don't be intimidated by [the bachelorette]. She was just as famous as you 6 months ago."
Needless to say, Ryan did not even make it to the rose ceremony. I'm sure he'll do great when he's inevitably cast on Bachelor in Paradise.