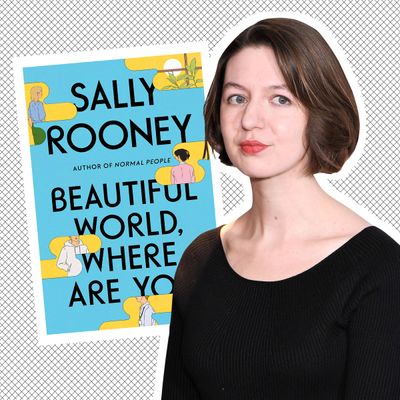 Rooney is participating in the Boycotts, Divestment, and Sanctions movement in solidarity with Palestinians.
Photo-Illustration: The Cut; Photos: Anthony Harvey/Shutterstock; Farrar, Straus and Giroux
Uh-oh, Sally Rooney drama on the horizon: The writer has declined to sell translation rights for her latest novel, Beautiful World, Where Are You — which explores topics like unwanted fame and what it means to live ethically under capitalism — to an Israeli publishing house. In doing so, she explained in a statement, she is expressing solidarity with the Boycott, Divestment, and Sanctions (BDS) movement, "calling for an economic and cultural boycott of complicit Israeli companies and institutions in response to the apartheid system" and in support of Palestinian rights.
As with all conflicts in the Rooney world, she laid this one out at length in mild and rational terms. Still, her decision has predictably met criticism from those who feel she is discriminating against a specific group of readers. Below, a breakdown of the situation.
Rooney published Beautiful World, Where Are You in September
Her third novel, Beautiful World, Where Are You, was published on September 7 to a literary frenzy. In the U.K., the book quickly became the year's best-selling hardcover title with vendors moving more than 40,000 copies in five days. (In the U.S., Rooney's publisher hyped the release with exclusive, branded bucket hats.) The reviews were mixed, but nonetheless, the Guardian reports, Beautiful World, Where Are You was poised for widespread translation — something in the ballpark of Normal People's 46 languages. But this time around, Rooney opted not to do business with her publisher in Israel.
Rooney is participating in a cultural boycott of Israel in solidarity with Palestine
On Tuesday, Rooney's agent released a statement explaining the writer's decision not to revive her contract with Modan Publishing House, which handled Hebrew translations of her previous two novels. Rooney pointed to a report Human Rights Watch published in April. Entitled "A Threshold Crossed: Israeli Authorities and the Crimes of Apartheid and Persecution," the report said the Israeli government's systemic subjugation of Palestinians in occupied territory met the legal criteria for apartheid. While she was "very proud to have my two previous novels translated into Hebrew," Rooney explained in her statement, she did "not feel it would be right for me under the present circumstances to accept a new contract with an Israeli company that does not publicly distance itself from apartheid and support the UN-stipulated rights of the Palestinian people." She is participating in the BDS movement's call "for an economic and cultural boycott of complicit Israeli companies and institutions."
BDS is a polarizing movement
BDS has a few key aims: to get Israel to grant its Palestinian citizens equal rights; to let Palestinian refugees displaced in the conflict that followed Israel's establishment back into their homes; and to reclaim the occupied land Israel took in the Arab-Israeli War of 1967, including the West Bank. In service of those goals, BDS promotes an international boycott along the lines of the one that helped end South Africa's apartheid. Some critics read the movement's objectives as reflecting a desire to do away with Israel as a Jewish state and as anti-Semitic in its targeting of Israel when many other countries are also guilty of human-rights violations.
Though Rooney — who signed "A Letter Against Apartheid" in May — acknowledged the latter point in her statement, she explained that she is standing up for "the Palestinian people in their struggle for freedom, justice and equality" in opting not to work with Modan. While the publisher has said Rooney was "not interested to publish it in Israel," Rooney's statement noted that the Hebrew-language rights to Beautiful World, Where Are You are still available. If she "can find a way to sell these rights that is compliant with the BDS movement's institutional boycott," she added, then she "will be very pleased and proud to do so."
Still, her decision has been described by some critics as exclusionary. "The very essence of literature, its power to bring a sense of coherence and order to the world, is negated by Rooney's choice to exclude a group of readers because of their national identity," Gitit Levy-Paz, a fellow at the Jewish People Policy Institute, wrote in an op-ed. "I'm not suggesting that Rooney is antisemitic, or that criticism of Israel automatically constitutes antisemitism. But given the rise of antisemitism in recent years, especially in Europe, the timing of her choice is dangerous." The literary agent Deborah Harris questioned the boycott's point in a statement to the New York Times: "When it's ice cream or when it's cement, or whatever else it is, it's one thing, but when it comes to culture, I just have a very, very hard time seeing how this can be productive in changing anything. What literature is supposed to do is reach into the hearts and minds of people."
Rooney is far from the only artist participating in the boycott
It bears noting that Rooney's intention is not to retaliate against Jewish or Israeli readers but to send a message to the Israeli government — and that she is far from the only famous name to do so. In 2012, writer Alice Walker barred the translation of The Color Purple into Hebrew because (per the Times) she viewed Israel as "guilty of apartheid and persecution of the Palestinian people."
"I grew up under American apartheid," Walker, born in Georgia in 1944, added, "and this was far worse."
As the Guardian notes, the photographer Nan Goldin, singer Mykki Blanco, and author Naomi Klein also signed the letter in May, while more than 600 musicians — including Patti Smith — signed another open letter promoting a boycott of "Israel's complicit cultural institutions."