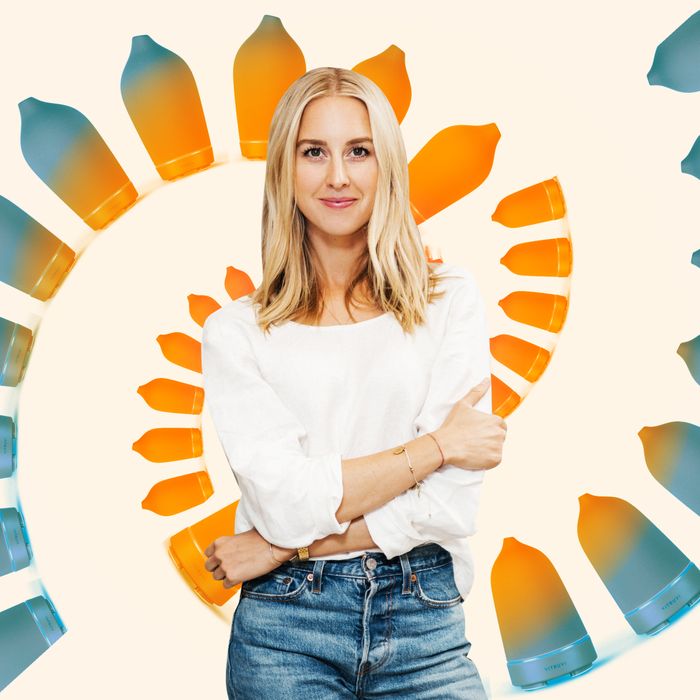 Sara Panton
Photo-Illustration: by The Cut; Photo: Britney Gill Photography/Courtesy of Vitruvi
Sara Panton is one-half of the sibling duo behind Vitruvi, the Vancouver-based home-fragrance company known for its photogenic diffusers and complex essential-oil blends. The brand's beloved Stone Diffuser has become a go-to gift. The Cut caught up with Panton to talk morning caffeination, product formulation, and the body oil to have on hand when you want to take a mental vacation.
My first scent memory is: French-lavender hand cream that I used to massage my grandmother's hands with. When she was sick, I would go into her room and massage her hands and feet with this French-lavender cream that we purchased from a gift shop in her town. She passed away when I was 10, and it was such an intense time for me emotionally as a young girl. It was my first time experiencing loss, and I loved her so much, so lavender will forever be her scent.
Happiness smells like: Family and the beach. Like grass stains on jeans, salty hair, wet dog, salads with berries, peaches, lemon water. Anything outside with family and friends.
Love smells like: Warm wet skin after a bath.
Heartbreak or loss smells like: The scent of emptiness, a stale scent. It's like when you open an old wooden chest: There's an aroma, but there's nothing there; it's an aroma of space. Heartbreak and loss also smell like ink, old journal pages, palo santo burning, and old dried flowers.
Friendship smells like: I'm going to sound so basic, but I think it smells like yellow roses and cold rosé — two things that bring me a lot of joy and comfort, just like my friends. If laughing was an aroma, it would also smell like friendship.
Regret smells like: Tequila and tobacco.
Success smells like: The first time we diffuse a new blend we've made because so much time, energy, and thought goes into creating a single one.
The worst smell is: Meat and seafood, cooked or raw; I can't do either. I've been a vegetarian my entire life, so I don't understand how it's appealing to people. I'm never judgmental about it, but I've never smelled a cooking steak and been like, Oh my God. Unreal.
Vacation smells like: Jasmine flowers, bougainvillea. Osea has this Algae Body Oil that's passion-fruit, açai, grapefruit, lime, and cypress oil, and I use it all over my body every summer. It smells just like the ideal vacation. It's perfect. Sometimes I use it in the winter when I need to escape.
My home smells like: Cedarwood, eucalyptus, and sand mixed with the scent of coffee-table book, a fire, and citronella.
The first thing I smell in the morning is: My dog, Charlie. She's a therapy dog — not for me, for other people. Well, also sort of for me, so she's a sweetheart. But she sleeps in until about 10:30 a.m. every day, so I like to give her a good cuddle before I start my day, and she continues on sleeping. Then it's coffee. It's my favorite part of the morning; I love the scent of an espresso shot pulling.
The last thing I smell before I go to bed: Vitruvi Sleep blend. I've used it in my diffuser since we started the company. It's one of the first blends we ever made, so it's been diffusing while I sleep for about six years now. It's been through many chapters of my life. It's seen it all.
A scent or smell I like that others usually don't: I really, really love a really strong ocean smell. I grew up on the ocean, and every summer huge amounts of seaweed would come to the beach, and I'm totally cool with that smell that would maybe deter other people. That low-tide smell. Sea creatures in the heat. I'm all about it. That's my childhood.
I smell like: I really like juxtaposing aromas, so I love pairing grounding and elevating, masculine and feminine, trees and flowers. I usually smell like a combination of cedarwood and neroli.