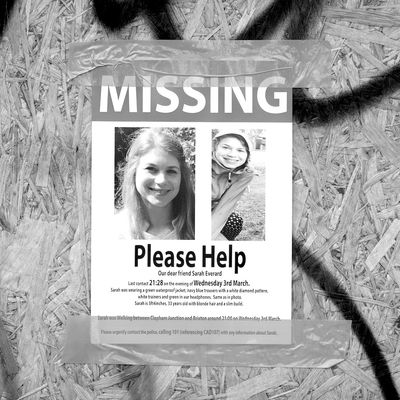 A missing-person flyer for Sarah Everard.
Photo: LEON NEAL/Getty Images
In early March, a London woman vanished on her way home from a friend's house: 33-year-old Sarah Everard was last seen on doorbell-camera footage while walking through the city's Clapham neighborhood on March 3, around 9:30 at night. In the days that followed, Metropolitan Police took one of their own officers into custody on suspicion of murder, and after a widespread search that reportedly involved hundreds of houses, located human remains in a neighboring county. On March 12, police confirmed that the remains had been identified as Everard's and charged the officer with her murder. Now, after pleading guilty to kidnapping, raping, and killing Everard, that officer has been sentenced to life in prison with no parole.
Here's everything we know.
Everard was last seen on CCTV footage, walking home.
According to the BBC, Everard — a marketing executive — was last seen in person leaving a friend's house on Leathwaite Road in Clapham, London, around 9 p.m. on March 3. She planned to walk to Brixton, where she lived, a trip that should've taken roughly 50 minutes. She reportedly crossed Clapham Common, and was spotted on security footage around 9:30 p.m. According to the Evening Standard, she spoke on the phone with her boyfriend for about 15 minutes while she walked, making plans for the next day — he reportedly notified police when she never showed up. At the time of her disappearance, she was dressed in a bright-green raincoat, white-and-blue patterned pants, green headphones, and a white beanie.
Police arrested a member of the Met's diplomatic protection unit.
On March 9, police announced the arrest of a Met officer on suspicion of kidnapping, which they subsequently escalated to suspicion of murder. They also arrested a woman in her 30s, on suspicion of assisting an offender. The Guardian identified the officer as 48-year-old Wayne Couzens, a member of the parliamentary and diplomatic protection command that patrols government premises such as 10 Downing Street. Couzens is, per the Guardian, also suspected of indecent exposure in a separate incident, and police took him into custody at his home in Deal, Kent. Announcing the arrest, Met assistant commissioner Nick Ephgrave called it "both shocking and deeply disturbing," while Met commissioner Dame Cressida Dick noted that it sent "shockwaves and anger through the public and through the Met."
"I speak on behalf of all my colleagues when I say that we are utterly appalled at this dreadful, dreadful news," she added. "Our job is to patrol the streets and to protect people."
Human remains were located during the search and eventually identified as Everard's.
In addition to searching a residence in Deal, authorities searched a wooded area in Ashford, Kent, where they found "what appears to be human remains," Dick said on March 10. Two days later, Ephgrave delivered the tragic news: that the remains, a body, had been identified as Everard. "I know that the public feel hurt and angry about what has happened, and those are sentiments that I share personally and I know my colleagues here at Scotland Yard and across the Met share as well," he said. Meanwhile, he noted, "the investigation continues at a pace, and we have hundreds of officers working round the clock to establish the full circumstances of Sarah's disappearance and her murder."
Wayne Couzens pleaded guilty.
The same day police confirmed that Everard's body had been found, they formally identified the suspect in custody as Couzens and charged him with kidnap and murder. Per a news release, the woman who had been arrested with him on March 9 was released on bail. The exposure incident allegedly occurred in a South London fast-food restaurant three days before Everard disappeared. Couzens had his first hearing at the Westminster Magistrates Court on March 13 and appeared at the Old Bailey (the Central Criminal Court of England and Wales) on March 16. Meanwhile, the Independent Office for Police Conduct announced on March 11 that it had instigated an investigation into the Met's response to the indecent-exposure report from February 28.
On June 8, Couzens pleaded guilty to kidnap and rape, and a month later, on July 9, he pleaded guilty to Everard's murder.
Couzens has been sentenced to life in prison without parole.
During the sentencing hearing, prosecutors presented witnesses who saw the police officer handcuff Everard. According to the prosecutors' account, Couzens used his police ID, warrant card, and handcuffs to get her into a rental car, under the pretense of arresting her for violating COVID regulations. Prosecutors say he then raped her and strangled her with his police belt, at some point moving her to his personal car before burning her body in the woods 50 miles away from where she was kidnapped.
On September 29, Couzens was sentenced to life in prison, a ruling that's mandatory for all murder cases in the U.K. He'll serve a whole-life prison term without consideration for parole.
Meanwhile, London police will submit to an independent review of department practices.
After Couzens's sentencing, the Met released a list of improvements it plans to make in light of Everard's murder. It also offered suggestions to the public on protecting themselves from attacks by police officers — an attitude that stirred up more criticism of an already embattled force. In recent months, a review by Britain's Ministry of Justice found that "systemic failings" in the way the country's criminal justice agencies handle sexual-abuse complaints have translated to a sharp drop in convictions for rape and sexual assault. Faced with allegations that British authorities have not done enough to address gender-based violence, the Met shared another piece of troubling news on Sunday: Officer David Carrick, who belongs to the same unit Couzens did, had been arrested and charged over a rape he allegedly committed while off duty in September 2020. Carrick has been suspended and remains in custody pending a November 1 hearing.
On October 4, Met commissioner Cressida Dick announced the department would undergo review by a "high-profile independent person," who would look into its culture, its training, and its "professional standards."
"We depend on public trust," she said, per the BBC. "In this country, policing is done by consent, and undoubtedly the killing of Sarah and other events has damaged public trust." Though Dick has no plans to resign, she added that she is "absolutely determined that we rebuild public trust as soon as we possibly can."
This article has been updated.