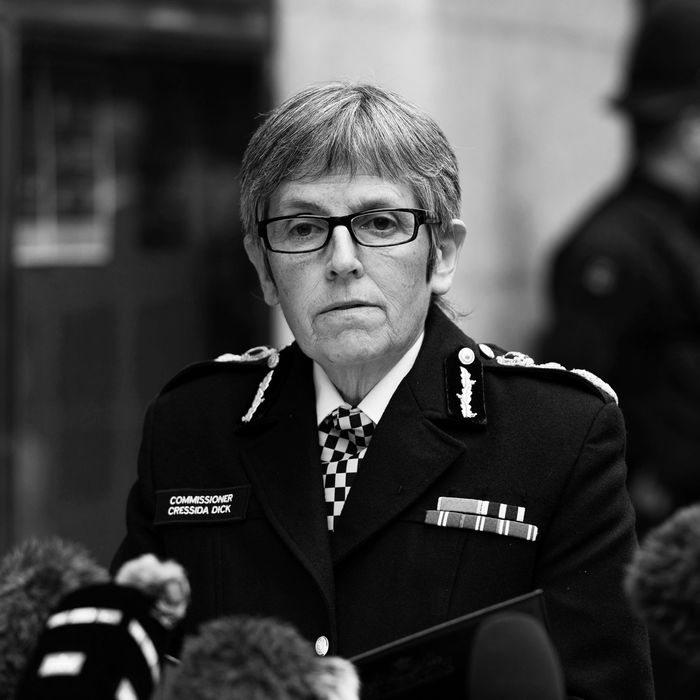 Metropolitan Police Commissioner Cressida Dick
Photo: Ming Yeung/Getty Images
When Wayne Couzens stopped Sarah Everard in early March, prosecutors say he used his position as a police officer — his warrant card, his handcuffs — to force her into his car, on the pretense of violating COVID restrictions. Witnesses apparently reported that Everard obeyed orders, and prosecutors determined that, in order to abduct her "without her escaping or trying to escape or make a noise," he "must have threatened her." Couzens, they said, admitted to raping and killing her, explaining to a psychiatrist that he used his police belt to strangle her. Couzens pleaded guilty to kidnap, rape, and murder, and this week he was sentenced to life in prison without the possibility of parole.
The situation, as described by prosecutors, does not sound like one in which Everard would have had many moments to solicit outside help. But that is what London's Metropolitan Police suggested anyone who feels "real and imminent danger" from one of its members should do going forward. "All officers," a statement from the force advised, "will, of course, know about this case," and will be anticipating increased scrutiny from the public. The department says it will no longer send out lone, plainclothes cops, but anyone stopped by one in the future might consider "shouting out to a passerby, running into a house, knocking on a door, waving a bus down or, if you are in the position to do so, calling 999," the U.K.'s emergency number.
Speaking to Sky News on Friday morning, policing minister Kit Malthouse reiterated that recommendation. "If anybody has any doubts about that police officer," Malthouse said, according to the Guardian, "they should question the officer on what they're doing and, if there are any doubts, they should ask to speak to the control room on that officer's radio or call 999 … that is the devastating consequence of this awful man's actions." He added that the Met recognizes "that this has struck a devastating blow to the confidence that people have in police officers, but also in the Met police in particular. For those thousands and thousands of police officers out there who will have to work harder — much harder — to win public trust, it is a very, very difficult time."
It has also been a very difficult time for the people the Met serves, particularly those who find themselves vulnerable simply because of their gender and gender identity. In the immediate aftermath of Everard's disappearance, with a police officer pegged as the prime suspect, the Met responded to the public's safety concerns by placing more cops on the streets, as if law enforcement weren't the source of that fear. In the U.S., at least, the outcomes for subjects who challenge police officers, even fail to immediately comply with their orders, are predictable and often devastating. (In the U.K., consider the Met's response to vigils for Everard.) But it defies all logic that a person under attack by a cop would call in their assailant's colleagues for help and trust that they would get it — assuming they have the opportunity to call for help at all. Everard didn't; the officer who murdered her leveraged his authority to make sure of it. When a department issues instructions to civilians on how best to protect themselves from police, it's painfully clear where the real problem lies.