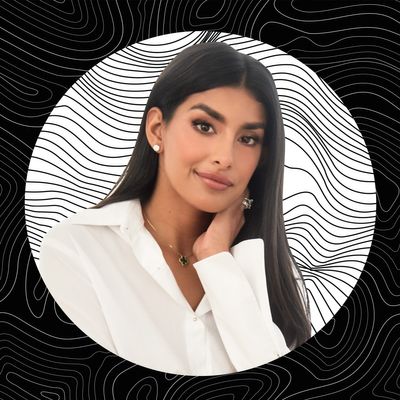 Photo-Illustration: The Cut. Photo: Courtesy of Seema Bansal
Remember the massive $15,000 rose arrangement spelling out "Take Me Back Cardi" that Offset gave to Cardi B at the Rolling Loud Festival in 2018? Venus et Fleur co-founder Seema Bansal certainly does. The company received an unexpected call from the rapper's team just two hours before he hit the stage. But even before that seemingly romantic gesture, the company was loved by celebrities — including Bella Hadid, Kris Jenner, and Kim Kardashian West — for its bespoke creations that stay fresh for up to a year.
Bansal sketches all the bouquets in a notebook before she creates them. "If you can see something, it can be real — whether you draw it perfectly or not," she believes. This was how she ideated the brand's first collection and its most recent, which takes inspiration from the elements: earth, air, fire, and water. Below, Bansal breaks down more of her wellness habits for the Cut, from PRP therapy with Dr. Lara Devgan to collecting crystals to bingeing reality TV and Korean soaps.
On her approach to wellness during the pandemic: When I think of "wellness," I usually think about optimization: How can I be better every single day? But COVID-19 forced me to slow down. I'm an entrepreneur, and I was traveling so much before. When you travel, you're not really eating well. You're doing what you can at the airport, or you're in different cities and living out of a suitcase. So during the first three months of the pandemic, I really started getting in tune with what my body wanted, and movement was really important because I felt very anxious. I was on my Peloton a lot, and I learned transcendental meditation — I got certified in it. They've been really helpful tools for me to feel calm throughout this time.
On crystals: Sometimes we need certain tools to help us through different things in our daily lives. Crystals are that tool for me. I started with amethyst and citrine, and they're still some of my favorites — I'm burning the Confidence Crystal Energy Candle with lapis from my brand Home of Chiji today; I'm doing interviews, and I want to make sure I feel confident and put that energy out there.
You can keep your crystals in a little pouch, and I have a bunch of pouches in my purse. Sometimes my husband will pick up my purse, and he'll be like, "Why is this so heavy?" Like, my crystals are in there. And during full moons, I like to make rose ice: I'll put water out with all my crystals, and then I'll use that water and make ice out of it. It's a nice self-care addition.
On how she sweats: I got into running in high school. I did track for a little bit, and after I graduated, I never pursued it but I would always go back and run around the track field. That was my moment of release. I haven't been running so much recently because my knees are actually not doing so great. I try to do light jogs, but I think what I really love is being in nature with my headphones on and listening to podcasts. I really like The Skinny Confidential. They bring on really cool guests. I'm also really loving How I Built This and Marianna Hewitt's Life With Marianna right now, too.
Then I also really love Pilates. You get such an incredible workout from the reformer. I have an amazing teacher here in Los Angeles — her name's Alana Mesica. I do Pilates with her once a week and mat Pilates at home through Melissa Wood's MWH Method. My body has gotten a lot stronger now, and I'm starting to understand it a lot more because you use your own body weight for a lot of the exercises.
On skin care: I love taking care of my skin. I've been using the same cleanser for ten years: the Tatcha Camellia Cleansing Oil. It easily takes off all my makeup, but my skin still feels clean and moisturized after. Biologique Recherche's P50 1970 tones and clarifies my skin, and it helped with my pigmentation as well. It's really as good as people say it is. I can't live without Supergoop's Play Everyday SPF 50 lotion. I wear it every single day.
I use the Scientific Beauty Peptide Eye Cream by Dr. Lara Devgan. She is a genius. I do PRP, platelet-rich plasma, treatments with her. She takes blood out of my arm and then injects it back into my face in a cocktail of other vitamins and serums — she adds Botox to mine. Oh my God, your skin is amazing for a month after. It's literally like glass skin. It's perfectly clear, and you don't even have to wear makeup.
On zoning out: It's important to have time for yourself when you're just not using your brain. I love to watch The Real Housewives of Beverly Hills. It's really entertaining, especially now with Kathy Hilton. She is so funny, and her one-liners are hilarious. I just feel like she says things that come to her mind, and no one replies. I also love any organization show like The Home Edit or Marie Kondo — they're so relaxing. Korean soaps are so romantic and dramatic — I like Crash Landing on You because it's nice and calming. To be honest, I haven't really watched anything new. Recently, I've kind of stuck to my reruns of Friends because I don't have to think about it.
On intermittent fasting: I started doing it in 2018 when I was getting married. I wanted to look my very best, so I thought, Okay, I'll try this in conjunction with eating really well and working out, and it did wonders for me. Luckily, most of the time, I don't crave food in the morning, so I do it from noon to 8 p.m. — and the really great thing is that you can still have coffee in the morning.