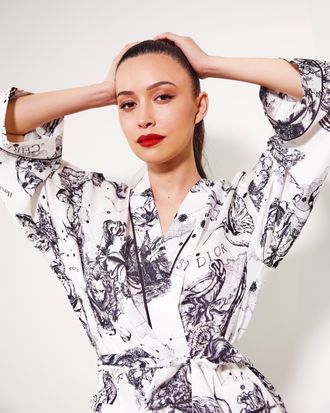 Want more skin care? Join the Beauty Group on Facebook.
Christian Serratos dealt with serious acne and scarring as a teenager. "I would cry tears because of my skin," says The Walking Dead actress, who most recently portrayed Mexican American star Selena Quintanilla-Pérez in Netflix's Selena: The Series. "And I was just so embarrassed, so I learned to cover it up." But she was afraid that people would notice how much makeup she had on, and she felt ashamed of that, too: "I even used to put on makeup before I'd go into the makeup trailer because I was so embarrassed for makeup artists to see my skin."
Serratos eventually "grew out of it," not through a specific acne regimen or treatment, but through time. And it took her a couple of years, but she came to understand the importance of self-acceptance, no matter the state of your skin. "My skin is super-oily, and growing up, I always hated that, and I'll never forget somebody telling me when I was around 16 how blessed I am to have oily skin," she says. "I still don't know if that's true or not, but what did she really say? Love where you are and the skin that you have."
The actress, who is also Dior Beauty's ambassador, is now trying to embrace getting older and becoming a parent and the changes that come along with it. "I feel like your skin rapidly starts aging just from the lack of sleep," she said. So she's been slowly adding in ingredients and supplements like collagen and retinol.
Below, Serratos shares her favorite skin-care products, including the lip balm that's decadent but never sticky, the vitamin-C serum that fades her acne scars, and the body lotion she once bought 20 bottles of.
The Cleansers
"If I have heavy makeup on, I always try to use this oil to take it off. I started double-cleansing probably around the time my daughter was born because I noticed that when I would wipe my face dry on a towel after cleansing, I still had makeup around my hairline or the edges of my face. And I was mostly annoyed with the fact that the makeup was getting on my towels. This one doesn't really have a smell, which I really like."
"I love La Roche-Posay. It's not the most expensive brand, and you can get it so easily at places like Target so I don't have to wait a few days for another bottle if I run out. It doesn't have a scent either, and it does a good job at cleansing gently after my Whamisa oil without stripping my skin."
The Mist
"Does anyone actually know how to use this product right? Because I don't. I mean, I use it to refresh my makeup or as a mist after I've done my skin-care routine, or I'll spray it a bunch if I'm on a plane, but I don't know how you're supposed to use it exactly. It just makes me feel happy.
You know how they say that buying a mini is actually more expensive than buying a full-size bottle? I don't care. I love minis; I would always rather have a mini. I think they're so cute, and because I'm always traveling or I'm on set or I'm staying in a hotel, they're so convenient — and I have a Beauty Elixir everywhere."
The Toner
"I am a sucker for packaging, and Whamisa has such beautiful packaging. The toner comes in this beautiful glass jar that you want to have on your countertop. It smells really good, and the toner is kind of 'chubby,' if that makes sense — like, not quite a liquid but not quite a gel either. I used to put it on a cotton pad, but I feel like they just eat the product, so I put a couple of drops on my hands and pat it on my face and my neck. I rub any remaining product into my hands, which I think is great, because your hands give you away. I feel like the toner makes the rest of my products sink in better, too, and it makes my skin feel a little plumper."
The Serums
"When I get a pimple or breakout, my skin is so sensitive that the mark will stay there forever. Vitamin C really helps to diminish the little spots that I have leftover. I've heard that vitamin-C serums can smell like hot dogs, and it's hilarious because I bought a vitamin-C product two or three years ago, and I called my husband and was like, 'Tell me this does not smell like bacon bits for dogs.' He was like, 'Oh, yeah.' So we thought the product had turned bad, but then I tried another vitamin-C product, and it smelled the same way. I forgot about that until now, so no, the Tree of Life Vitamin C does not smell like hot dogs or bacon."
The Moisturizers
"I like that you can use this cream on your body and on your face, and it comes in a pump bottle, which is just so easy to have in every bathroom and even in the kitchen after you wash dishes."
"This is a big hit with makeup artists, and I really love it, too. I haven't noticed that it's changed my life yet, but I only just started using it. It dries down really nicely on the skin, so I'm quite digging it. When it comes to the price, I think you have to decide if it's worth it for you. It has been worth it to me, but I also believe that not everything needs to be hundreds of dollars. I will rebuy the Bader cream, though."
The Face Oil
"I don't use this all of the time, but I do like it. If anyone's scared of proper face oils on their skin, this feels like a baby step to oil. I actually pat it on after I've done my entire skin-care routine, and it smells really good — like roses. It makes me feel a little bit more alive and plump."
The Lip Balm
"This lip balm feels thick but not like your lips are sticking together; it just feels very decadent. And of course, it smells like roses — I love everything rose lately."
The Lip Gloss
"I've been using this lip oil forever. My daughter loves it, too, so I have to hide them from her. It's so hydrating but not sticky. My favorite thing is that the applicator is this little chubby wand that feels really nice when you apply it."
The Two-in-One Cushion and SPF
"This is my new favorite thing. I used to do a full beat every single day, and I love having a full face of makeup, but I just can't do it every day. But this Dior cushion acts as a little skin-care, emergency makeup if I want it. I'll take it in my carry-on when I'm traveling. Like, when I went to Paris Fashion Week, and I was gonna wake up and have a full day in Paris but didn't want to put on makeup or wear makeup on a nighttime flight, I just did my skin-care routine before I got on the plane, went to bed, woke up, refreshed myself, and put on a little bit of this cushion. I wasn't wearing full makeup, but it just evened out my skin tone."
The Retinol
"I keep hearing good and bad things about retinol so while I decide, I thought, 'Well, why not try a 'natural' retinol, like a naturally occurring one?' And that's what this is — it has bakuchiol. I haven't had the retinol uglies, but I had heard that retinol can dry you out, so I use it very sparingly because I don't want that to happen.'"
The Body Lotion
"I know that Bath & Body Works feels kind of nostalgic because most of us stopped using it by the age of 16, but this smell is amazing. They only sell it online now. Right when I booked The Walking Dead and I was moving to Atlanta, I stocked up on everything that I loved to take with me, and I went into Bath & Body Works and they were like, 'Oh, the Brown Sugar & Fig Body Lotion is being discontinued, but we have a few in the back.' So I bought every single one they had; I think it was like 20 bottles."
The Deodorant
"When I met [my husband] David seven years ago, he's very holistic and he went through all of my products, and he'd be like, 'Nah, this is not good for you.' He saw my deodorant, and he was like, 'You can't have aluminum in your deodorant,' and I had no idea. Now I use this one by Corpus. They don't have any aluminum in the deodorants, but they work and they smell so good. I go for the rose one."