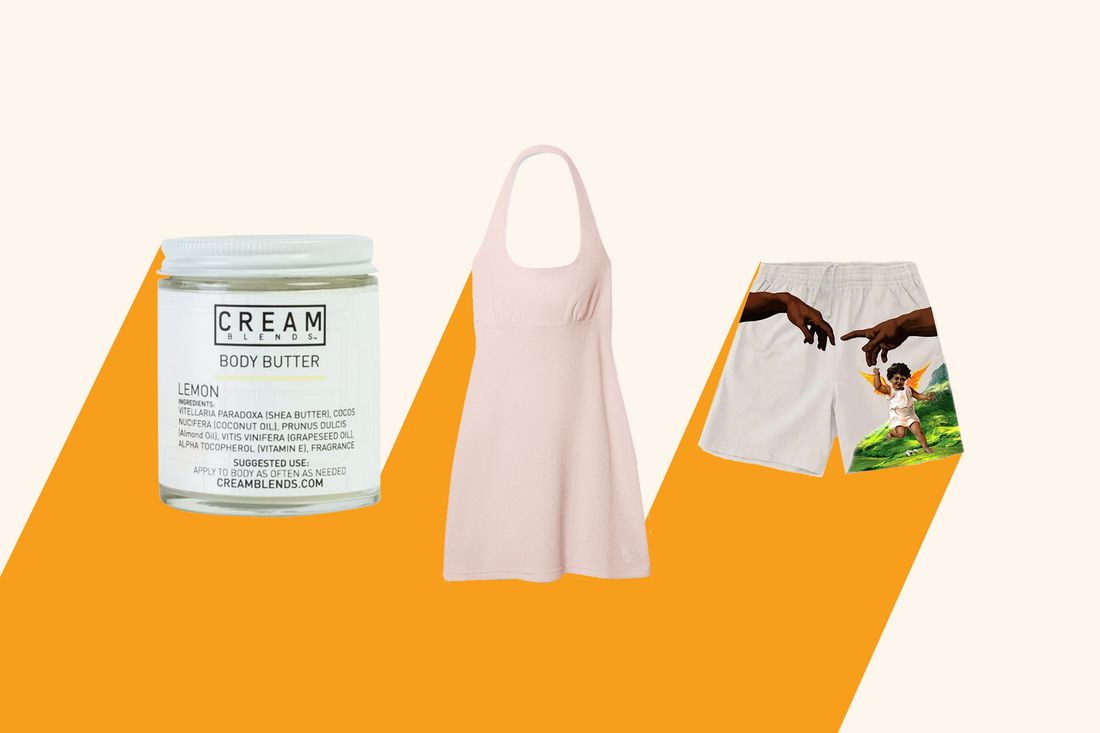 Photo-Illustration: Ashlie Juarbe
If you're a seasoned fashion enthusiast or beauty-shelf connoisseur, you're probably already reliably in-the-know about iconic design houses and buzzy product drops. But when it comes to small brands, there's always something new to discover.
Look beyond big-name labels, and you'll find there are many upstart designers and entrepreneurs that deserve support, recognition, and a place in your wardrobe or makeup bag. And while New York may be a fashion and beauty hub, being based in the city doesn't have to be the end-all-be-all — as you'll see with these five up-and-coming BIPOC- and woman-owned brands located all across the country.
Mindful purchases that support small businesses should remain at the forefront of our minds before hitting "submit order." And that's where Visa comes in. Setting out to remove the business barriers often faced by POC founders, Visa's She's Next program offers coaching resources and grants in partnership with Black Girl Ventures to help Black and Brown women-owned businesses excel, as they deserve.
Ahead, enter your payment info for the perfect oversized sweatshirt, indulgent shea-butter body oil, or ultra-soft robe — all of which can be purchased with Visa.
Recreational Habits
After stints at Kith and Barneys, Jackie Skye Muller was tired of seeing the American Dream aesthetic visualized without people of color. Pushing to demolish the exclusivity of country club-style, she created Recreational Habits. At this Middleburg, VA-based brand, you'll find collegiate flair in the form of halter dresses, tennis skirts, and cropped crewnecks — all without the exclusion.
Range Beauty
Like many Black women, Alicia Scott noticed a major problem as she made her way through the fashion industry — the lack of available makeup shades was obvious and disturbing. On top of the difficulty of finding her perfect shade match, it was also hard to find a brand that helped treat eczema and acne. Bridging the gap between inclusivity and natural ingredients, she developed Range Beauty, a makeup line with skin-happy benefits, supported by Visa's She's Next program. At Atlanta-based Range, you'll discover beautiful makeup products for every skin tone, without the toxic chemicals we've come to avoid.
Bare Reverie
Bare Reverie's founder, Jackie Michel, created the brand with the idea that our bodies should be treasured at every moment. Even during lazy days spent lounging on the couch, loungewear should be soft to the touch and made of luxe materials. By partnering with responsible manufacturers, the brand produces its garments in its home city of Miami. Avoiding overconsumption and embracing durable materials, fans of the brand agree that the nightgowns, bralettes, and high-rise undergarments are incredibly comfortable, flattering, and feminine.
Cream Blends
If the scent of a coffee shop or a frosted vanilla cake have found their way into your Top 5 Good Smells list, then you'll surely fall in love with Cream Blends. In 2013, the brand's founders began experimenting with natural ingredients at their homes in Detroit. The testing kitchen quickly became a successful skincare lab, and the line made its way into organic grocery stores and markets. The philosophy behind the brand is simple: ingredients should be natural, recognizable, and understandable. This Black and woman-owned family brand has it all, from skin-nourishing body butter and oils to candles and natural soaps.
Cosier
Basics should be comfortable, affordable, and easy to wear — and that's precisely what Cosier has to offer. Founder and owner Lanie Edwards modeled the brand on her fondness for sneakers and sweats rather than mini dresses and heels. What sets her Los Angeles-based loungewear label apart (beyond the chic custom matching sets, hoodies, and sweatpants) are its custom embellishments. Find joggers, sweat shorts, and bralettes in creamy neutrals, all of which are treated like art.
This advertising content was produced in collaboration between Vox Creative and our sponsor, without involvement from Vox Media editorial staff.