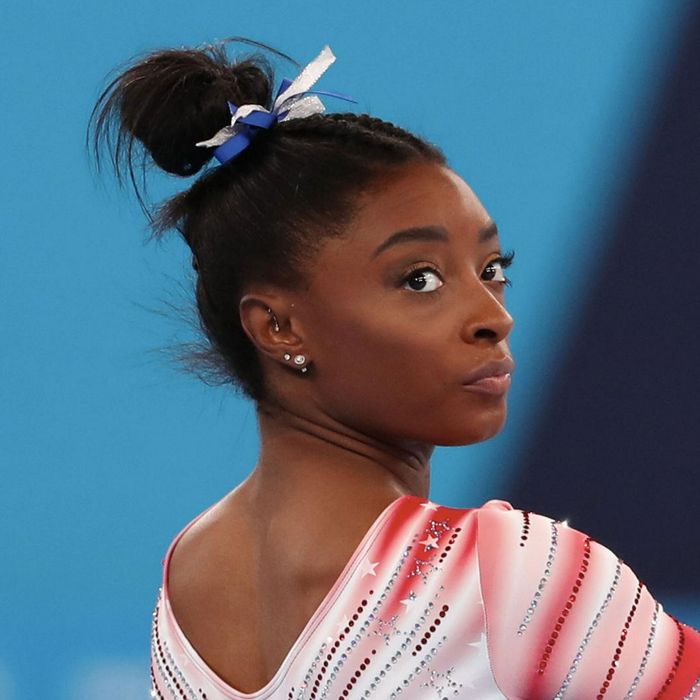 Simone Biles told
Today, "
I don't think people understand the magnitude of what I go through."
Photo: Xavier Laine/Getty Images
Thursday morning, Simone Biles made an appearance on the Today show to talk about mental health. Specifically, how she's focused on her mental well-being in the months since dropping out of the 2020 Tokyo Olympics and testifying against Larry Nassar, the former national gymnastics team doctor accused of sexually abusing hundreds of athletes during his 18-year career. "I don't think people understand the magnitude of what I go through," Biles told Today show host Hoda Kotb.
Since July, Biles has been candid about getting "the twisties" — a term gymnasts use to describe a mental block while performing, similar to the "yips" — during her vault event at this year's Olympic Games. She's been equally open about its impact on her mental health. "To [try to] do something that I've done forever and just not be able to do it because of everything I've gone through is really crazy because I love this sport so much," Biles told Kotb, holding back tears.
However, she added, it's taken some time to finally make the connection between this mental block and the impact of Nassar's abuse on her mental health. While testifying in front of the Senate in September, Biles said, "It truly feels like the FBI turned a blind eye to [the victims]" in order to protect Nassar and the institution of USA Gymnastics. As Biles previously told the Cut, "If you looked at everything I've gone through for the past seven years, I should have never made another Olympic team. I should have quit way before Tokyo, when Larry Nassar was in the media for two years. It was too much." Still, she was determined to continue competing.
Biles acknowledged that she believes her twisties will eventually go away and her ability to perform incredibly complex skills will come back, but said that right now, "I'm still scared to do gymnastics." Biles is currently part of the GOAT tour, a show that features other elite gymnasts like fellow 2020 Olympians Jade Carey and Jordan Chiles. While she feels confident in the routines she does on tour, Biles told Today there are certain skills it's too hard to watch her tourmates perform given her current mental block. While she's continued to be an avid cheerleader for her teammates, she said watching instead of performing "is just not the same."
Throughout her career, Biles has experienced a unique, near-unimaginable amount of public pressure. There's the innate stress of competing on a global scale, the intense scrutiny that comes with being deemed the greatest athlete of a generation, if not all time. Then, there is the weight of trying to process the trauma of sexual abuse, both privately and publicly. "For so many years, to go through everything that I've gone through, put on a front, I'm proud of myself and I'm happy I can be a leader for the survivors and bring courage to everybody speaking up," Biles told Today. "So I'm happy to be a voice for them. But we go through our own things. It's hard."