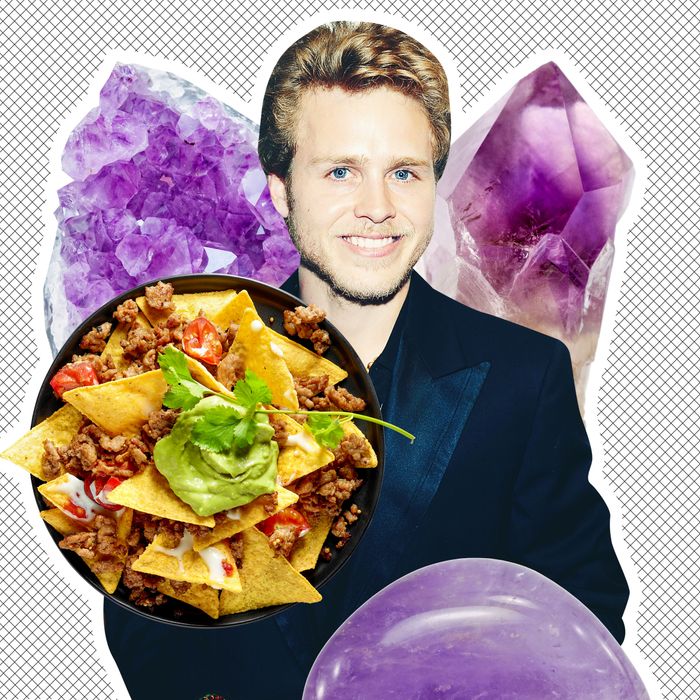 Spencer Pratt Mercury retrograde nacho crystals!
Photo-Illustration: by The Cut; Photos: Getty Images
I assume you clicked on this article because the headline confused you, so I think you should know, right from the start, the premise (Spencer Pratt Mercury retrograde nacho crystals) probably isn't ever going to be totally clear. But we will do our best.
Eater reports that Taco Bell plans to give away "a Spencer Pratt–approved" crystal to one lucky consumer of its "Mercury RetroGrande Nachos." The crystal is a "nacho-shaped amethyst … complete with a gold-colored cheese drip," and the nachos are free with a $12 Taco Bell order placed through Uber Eats. The thing that makes them Mercury retrograde is the timing: The offer runs from October 7 (today!) through October 9, the midpoint in the current astrological cycle, during which the messenger planet appears to scoot backward across the sky, allegedly sowing miscommunication and broken appliances in its wake. As to Spencer Pratt's involvement, I am going to let him explain that one himself.
If you please, channel all your focus as you visualize the following; in this way, we will manifest its meaning.
Mercury in retrograde is no joke and I do whatever I can to combat those bad vibes from extra quality time with my hummingbirds to cleansing my crystal collection and more. I've always been a Taco Bell superfan and was so pumped to team up with Uber Eats and Taco Bell to bring together my two favorite things, Crystals and Nachos.
If you know one thing about this man, I bet it is that he loves crystals. He loves them so much that he surrounded his wife, Heidi Montag, with $27,000 worth of crystals while she birthed their son. Maybe that is all the information you need to process this concept. Anyway, enjoy your Spencer Pratt Mercury retrograde bonus nachos. I hope you win the crystal ;)