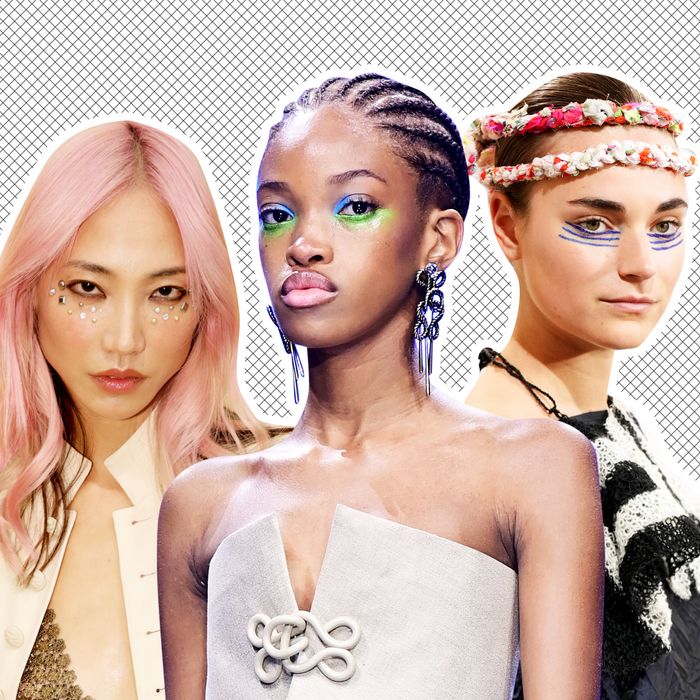 Photo-Illustration: by The Cut; Photos: Getty Images
Earlier this year, the ever-powerful TikTok teens decided that the dark circles under your eyes are cool, actually. Though some of the previous beauty trends they've popularized were a bit questionable, they were definitely onto something this time. Designers abroad have been dressing up that awkward area just beneath the eyeballs this Fashion Month, and it's never looked better.
If you're still having trouble embracing your shadowy circles, maybe you just need some fresh under-eye outfit inspiration to see the creases in a new light. Thankfully, Europe's runways delivered on this incredibly niche front. Before you reach for some camouflaging concealer, consider the below going-out looks that your dark circles and puffy bags may want to slip into for spring 2022.
Shiny Studs
The look at Etro was a refresher course on a beauty lesson the Met Gala taught us: Bedazzling your face is always a good idea. Models' dark circles wore light-reflecting rhinestones and studs that brightened up the under-eye area. Consider this yet another sign to reach back into your Euphoria stash and get to gluing.
Pastel Pools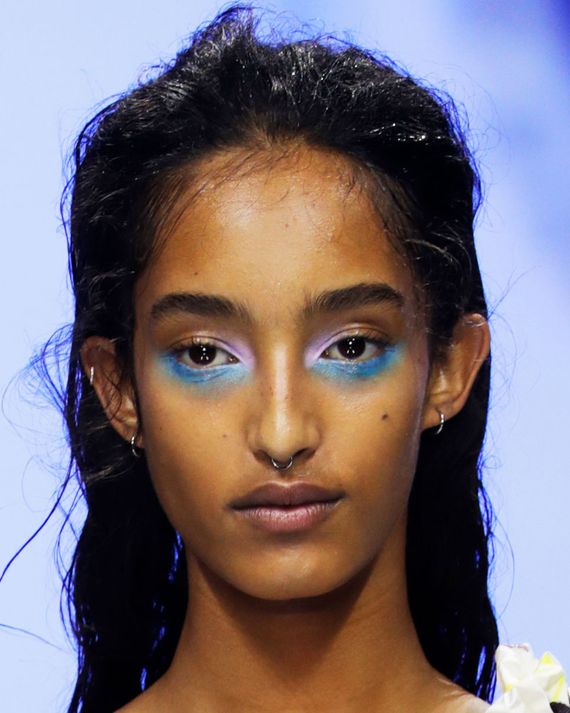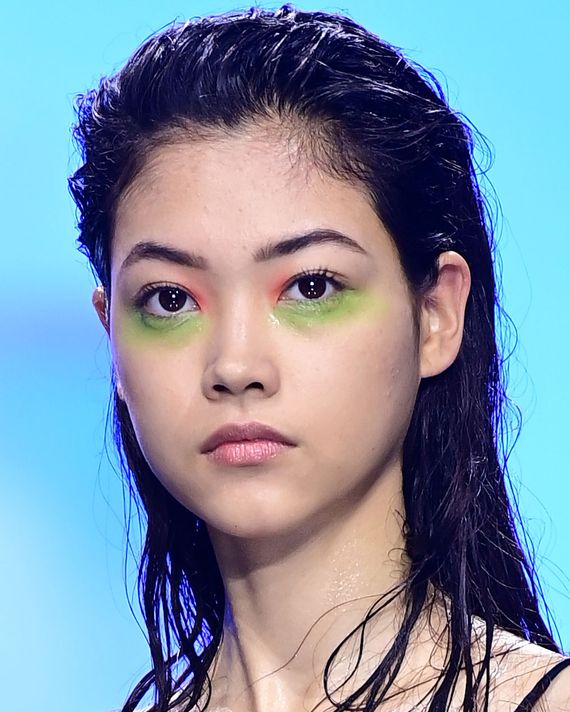 At Del Core, models' under-eye bags glowed electric blue and slime green, instead of the bruised grayish-brownish. Inner corners were accented with lavender and coral shades to create a dreamy reverse smoky-eye that screamed "spring." If you want to try this, paint your undereye area in pastel with Glossier Skywash in Fawn, a refreshing green; Pool, the perfect early-aughts baby blue; or any combo of About Face's Daytripper Matte Fluid Eye Paints.
Lots of Lines
Models at Daniela Gregis wore a more graphic approach — three bold blue swipes that lined and then underlined the under-eye area for extra emphasis. If you're bad at lining your waterline or drawing straight lines in general, now's your time to shine. Grab an extra-creamy liner, like NYX Mechanical Eyeliner Pencil in Deep Blue or Fenty Beauty Flypencil in Sea About It, and trace on a trio of stripes in any length, width, and angle your heart desires; the more natural-looking, the better.
Under-Eye Affirmations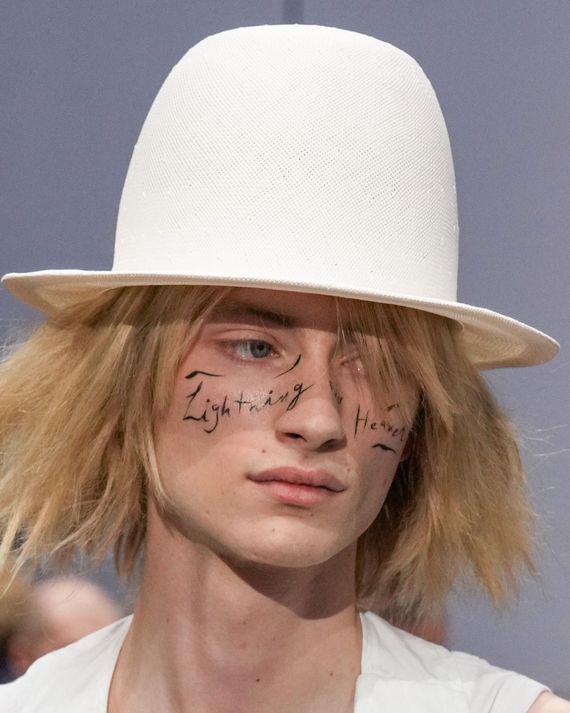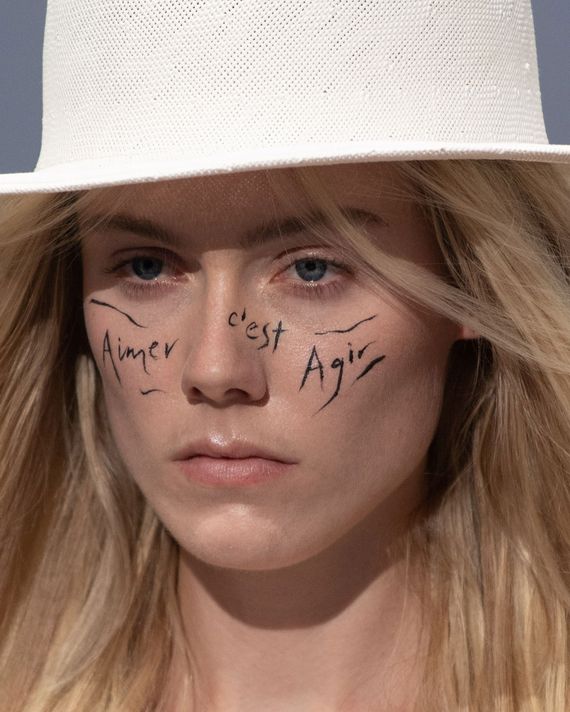 Models at Ann Demeulemeester showcased a fun new way of conveying messages through your beauty look: having someone scrawl a message underneath each eye. This look takes up a good amount of face real estate, so keep the rest of your makeup understated and natural, and be sure to go with a long-wear liquid eyeliner with a superfine but flexible tip to avoid any flubs.
Bold Brush Strokes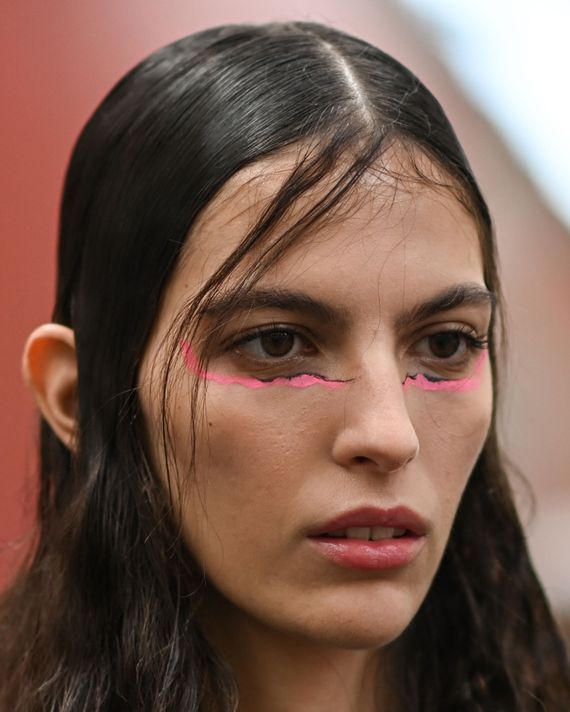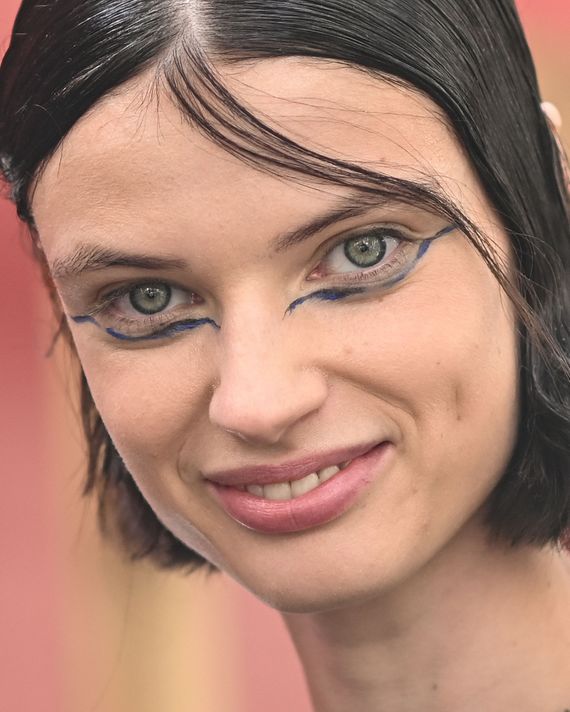 At Rochas, Lucia Pieroni used a brush to paint red, neon-pink, and dark-blue squiggles that started at the sides of the nose and extended all the way up to the outer corners of the eyes, hugging the entire under-eye area in the process. You can channel your inner Bob Ross by dipping an eyeliner brush into a creamy artistic palette of bright, blendable shades, and painting on some equally happy lines in whatever color sparks the most joy.
The Reverse Cat's-eye
Thanks to her partnership with L'Oreal, Helen Mirren moonlights as a model at Paris Fashion Week, and she never disappoints. As the owner of unbelievable amounts of swagger, it's no surprise that the Dame not only took on the budding under-eye trend, but modeled it in its riskiest form: darkened dark circles. If you feel inspired to go give it a go, apply a bunch of black liner under your eyes, top it with a bunch of black eyeshadow, and blend everything outward and upward to create a very dramatic reverse cat's-eye.