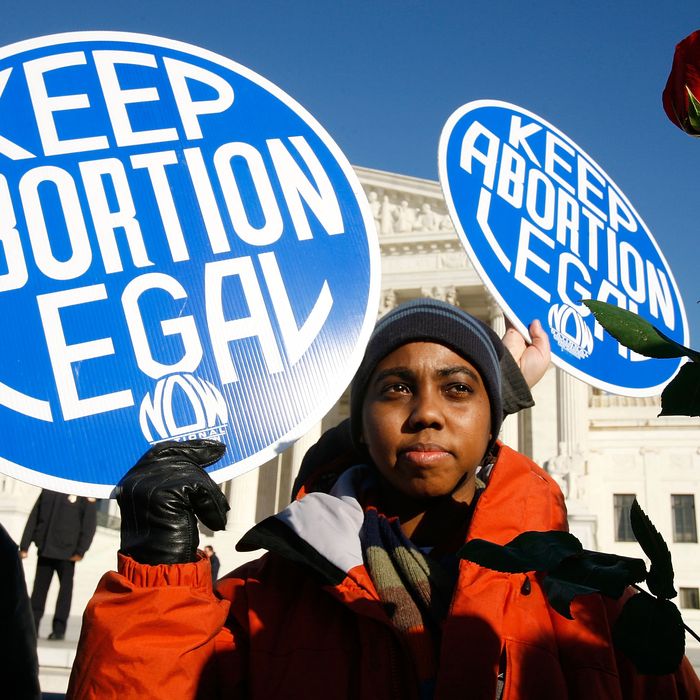 Photo: Alex Wong/Getty Images
The year isn't even over, and already 2021 has surpassed previous records for abortion restrictions at the state level. According to The 19th, which analyzed data from the Guttmacher Institute, 19 state legislatures have approved a total of 106 laws limiting — and in some cases, essentially outlawing — a constitutionally protected procedure. According to the data, it's the first time the country has seen upwards of 100 restrictions in a single year since the Supreme Court issued its landmark Roe v. Wade decision in 1973.
"Each new individual restriction forces people to navigate another barrier, and any one restriction — new or old — may be the restriction a patient cannot overcome," Elizabeth Nash, the Guttmacher Institute's interim associate director of state issues, told The 19th. "In many cases, they pile up one by one to have similar outcomes as outright bans."
Although Texas — which recently took the extreme step of financially incentivizing private citizens to sue strangers on suspicion of "aiding and abetting" abortion, effectively capping the procedure at six weeks of pregnancy — feels like the most obvious example of this trend, it isn't even the leader in anti-abortion legislation. That title goes to Arkansas, which placed 20 new limitations on abortion this year, measures that included an outright ban on termination except when a pregnancy endangers a patient's health. (A federal judge has blocked the law from taking effect.) Oklahoma followed close behind with 16 restrictions, including a "trigger law" that would automatically make abortion illegal if Roe were overturned.
And that's what makes this year's onslaught of aggressive legislation especially alarming. As long as Roe stands, abortion is legal up until viability at around 23 weeks, or longer if a pregnancy threatens the life or health of the person carrying it. With that precedent in place and reaffirmed in various decisions over the years, policies that narrow access often run into legal challenges that prevent their enforcement. But on December 1, the Supreme Court is set to hear a case involving a 15-week ban out of Mississippi. Given the court's 6-3 conservative majority and its recent refusal to suspend Texas's patently unconstitutional six-week ban, many fear the bench will undermine Roe — or do away with it entirely.
Even weakening Roe would open the door to anti-abortion lobbyists and lawmakers who are already pushing Texas-style bans in other Republican-leaning states. "The annual drumbeat of new abortion restrictions is what gave a lot of momentum and paved the way for the abortion bans like what we're seeing in Texas," Nash told The 19th. "This situation did not come out of nowhere — it's been decades in the making."