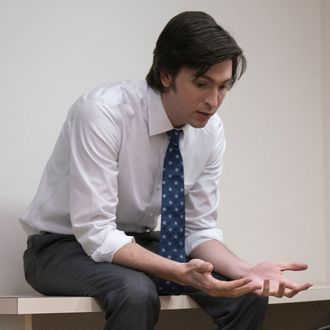 Has this ever happened to you? You're watching HBO's Succession, furiously Googling "corporate lingo how to understand," when Cousin Greg, played by Nicholas Braun, pops up on your screen. You're taken with this tall boy and his lost-puppy energy. You feel worried for his well-being … in a sensual way. You see him pelted with water bottles and think, "I am horny!" Well, I've got just the thing for you.
Ahead of this week's season-three premiere of Succession, I got what is perhaps the most buck-wild press email I have ever received. (That's saying something, since my inbox is filled with pitches for things like pumpkin-spice edibles and experts on Constipation Awareness Month.) CamSoda — a livestreaming platform that isn't just for sex stuff but is mostly sex stuff — has partnered with Lovense, a sex-toy company, to introduce something they are calling Greg the Egg, a technology that activates your vibrator whenever Cousin Greg shows up on Succession.
To be clear, Greg the Egg isn't a sex toy, which I suppose saves you the humiliation of having to order "one Greg the Egg vibrator, please." Rather, it's a free technology that lets you synch any Lovense "teledildonic" sex toy with different audio. Lovense has done similar campaigns for the World Series and the Super Bowl, triggering vibrations when teams scored. (Get it??) Now, they've tapped into the collective horniness for Cousin Greg, letting people sync their vibrators specifically to this man's screentime.
And yes, Nicolas Braun is aware of Greg the Egg. "I think, uh … Is it a compliment?" he told Vanity Fair. "That's such an intimate thing to do with yourself — or with another person participating or watching. So the fact that Succession and Greg can be on their mind as that's going on, it's not something that any of us expected." Sure isn't! Braun posited the expansion of the technology to other characters. For example, "a Logan-based vibrator, stimulator … it's a whole different thing." If they did one for Roman and Gerri, it would shut down the country's power grid.