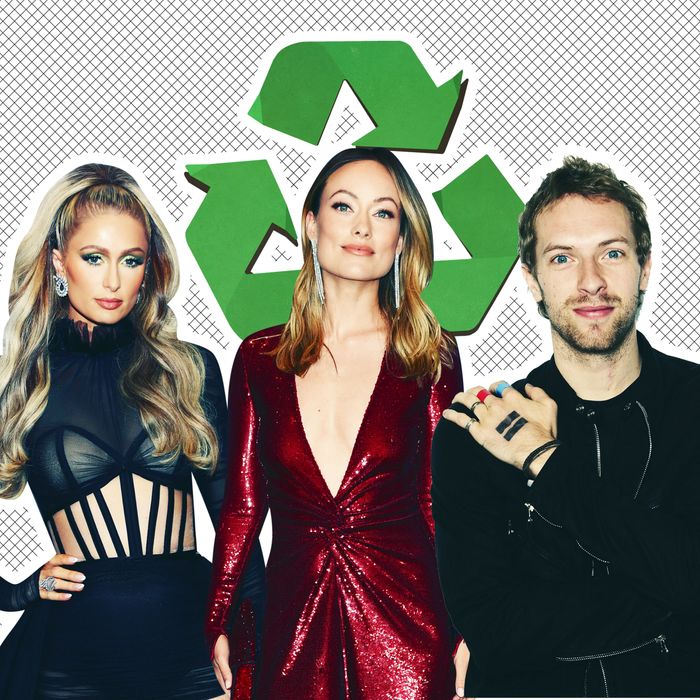 Photo-Illustration: by The Cut; Photos: Getty Images
Paris Hilton has spoken: 'Recycling is hot." This declaration was apparently inspired by her acquisition of a large-scale portrait of her own face made entirely of cans, which she posted on Instagram:
Hilton is far from the only celebrity to share her commitment to sustainability and making it hot. For example, in a Vogue interview earlier this week, Olivia Wilde — the "chief brand activist" of skin-care company True Botanicals — affirmed that "sustainability is sexy." This is certainly the case in True Botanicals' new campaign, where we find Wilde in various states of undress — which is actually a quite reasonable solution to the wasteful nature of the garment industry: Forego clothes altogether! Sexy and sustainable indeed.
Meanwhile, Coldplay has announced that they will be embarking on a "sustainable and low-carbon" tour next year. This endeavor will involve planting one tree for every ticket they sell, using vegetable oil in all the tour vehicles, and using solar panels for their gear. Most notably, their concerts will feature a kinetic dance floor that will gather energy from the crowds and somehow funnel it back into the show's power source. While I'm having trouble picturing enough movement in the Coldplay crowd to make much of a difference, I look forward to being proven wrong.
Though I appreciate the effort, realistically, attempting to make an impact on our rapidly deteriorating climate is, unfortunately, not very sexy, mostly because sustainability is often a lie and the things that do make a difference — mainly, consuming less — are, while necessary, not actually very glamorous. Maybe an Olivia Wilde–endorsed serum will help soothe my existential dread?