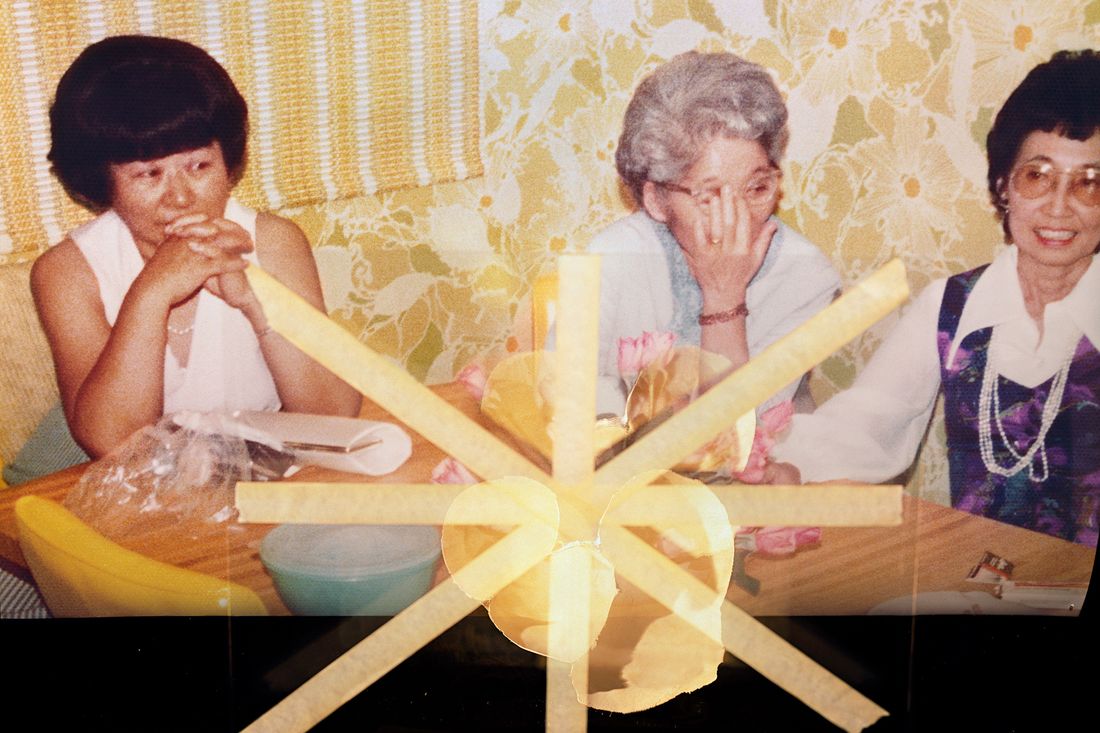 Peggy, Hibachan, and Miki
(2020)
Photo: Sydney Mieko King
In 2018, Sydney Mieko King, with her mother, began sorting through her maternal grandmother's old photos. They sat on the floor together and explored old Polaroids of trips to Japan, glamour shots of her grandmother, and group photos with people Sydney didn't recognize.
Both of Sydney's maternal grandparents, who are of Japanese descent, were sent to internment camps in Arizona during World War II. Her mother grew up among the community that returned to California after the war, one she described as an "extended family of aunties and uncles and cousins" who weren't necessarily blood relations. Knowing that there was great sadness and pain surrounding her family's relocation — and the memory of it — she was surprised by the joy and resilience she saw in the family photos.
"I didn't have any physical connection to the spaces that were depicted, and I had this desire to know my family more or to somehow be embodied in their space and collide these separate worlds," King said of her wish to know her family better.
That wish led to "Entanglement," a series that features her grandmother's photographs with plaster molds of King's own body reflected onto them using a mirror to create a bridge between her and her family history. Of course, the plaster molds are only reflected onto the pictures and can never really be a part of them. King explained that "thinking about what's not in front of the camera, how what's not there can still have a visual impact on what is in front of it … maybe there's this one slice in time where those things can coexist in a visual realm, and capturing that slice is the moment where my family history and my own body can exist." The way in which King adds the molds to the photos is through single-exposure and physical processes, not editing, which involves mirrors and a delicate setup she has spent time perfecting in the studio.
As evidenced by her work, the 26-year-old MFA candidate at the Yale School of Art cares about movement. When it comes to her photos, she has found a unique way to enhance them using another medium. Without knowing the details, it may look like there's a glitch in the photos, almost like a sunspot or darkroom mishap. However, when you look closer, you can witness how intentional the blurbs of color are in each photo, how deliberate.
The photo Redcliff St., for example, features four people dancing, and the mold reflected onto the photo feels like another set of legs. "There's something about that joy, about bodies and motion, about guessing with my mother what kind of dance they were doing that I just really wanted to be a part of," King explained.
She doesn't know if "Entanglement" will ever be complete, as she has more family photos to look through and is not against expanding the project. She likes the series as it is, though, and feels the most important part of it is the way one image flows into the next. King was also recently selected as one of 20 finalists for the Creator Labs Photo Fund, which is aimed at providing a dedicated financial commitment to support artists in the wake of COVID-19. Two photos from the series were also on display in London in the show "I belong to this," which was curated by Justine Kurland and focused on themes of family and self. You can see King's dynamic images below.