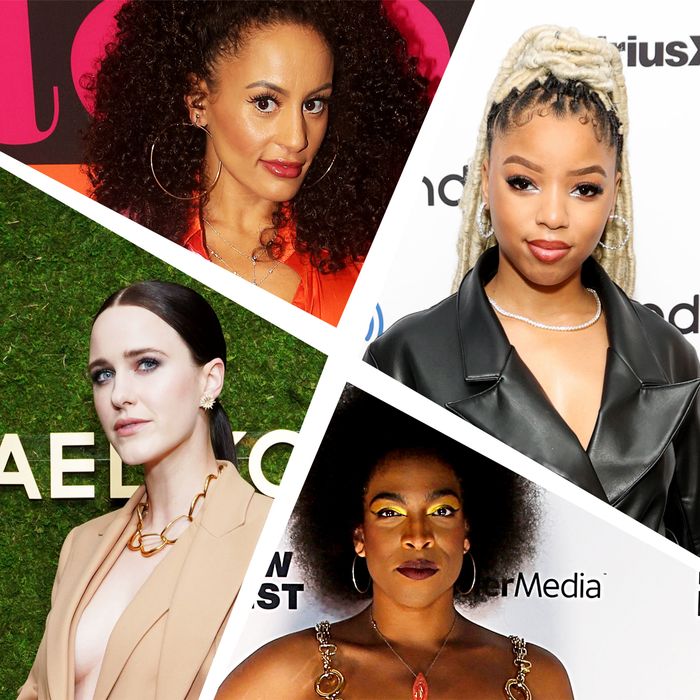 Photo-Illustration: by The Cut; Photos: Getty Images
Another week, another set of the best-dressed celebs in New York. It's safe to say we saw some extremely well-done color play, like actress Talya Groves in a pink and orange dress and drag artist Junior Mintt's blue jumpsuit. Plus, cool-girl shoes came out to play, like mary janes worn by actress Molly Bernard and Doc Martens donned by members of the band Sunflower Bean. Do you know what Doc Martens mean? It's officially boots season again.
Best Color Play
Talya Groves looks great mixing pink and orange, and it even matches the colors of the play, making me wonder if she had this planned all along.
Most Preppy
In today's news of something I would love to wear, we say hello to Molly Bernard's take on prep. I love the frilly socks under the mary janes and the white collar under the dress.
Best Suit
It's not everyday that the best suit looks this good. Rachel Brosnahan wore a classic khaki suit from the spring 2022 Michael Kors Collection, minus an undershirt, and I think I like it better that way.
Best Leather
Leather has been having a moment, and I love the head-to-toe look. The open-toe heel adds an unexpected touch.
Best Blue
Mintt's jumpsuit just works. I love the playful juxtaposition of the single colored legs against the top, and the straps of the suit are intricate and exciting. Plus, the mint shoes really make it.
Most Likely to End Up in a Garden
The singular rose on Kim Shui's gown is a nice pop of texture, and I love the color it brings to the whole look. The shape is interesting, adding something new with the side slit.
Best-Dressed Band
What could be cooler than Doc Martens? Members of the band Sunflower Bean paired their boots with leather pants and a sheer top, as well as tights and a black dress, in a way that screamed cool.
Best Slip Dress
This slip dress is perfect. The black lace detail and cutout is simple yet elegant, proving that a nightgown can in fact be dressed up.
Best Fringe
I am a sucker for yellow, and Emily Adams Bode's dress is no exception.
Best Black Dress
Rachel Zegler wore a black crêpe cutout dress and Jacqueline python-embossed leather sandals from Michael Kors Collection, and she looked amazing doing so.
Best Street Style
Okafor knows his black turtleneck and popped leather jacket is the way to go. He looks cool enough to pop into any event, and his bright, white shoes scream streetwear.