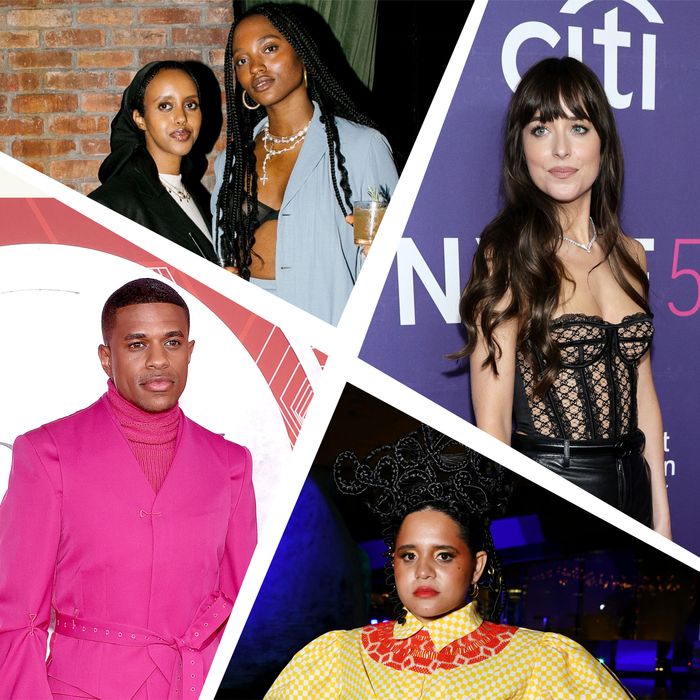 Photo-Illustration: The Cut. Photos: Getty Images; BFA
This week's party outfits were very sophisticated, very fun, and very pink. When I say pink, I mean pink suits, and they had a moment this week that was so good I couldn't pick just one. Dakota Johnson's outfit for the New York Film Festival premiere of The Lost Daughter was all over my Twitter, and for good reason. And did I mention boots were everywhere? To see all the outfits and decide which pink suit was your favorite, scroll below.
Most Likely to Give Me a Heart Attack
Hot pink is always in, and Jeremy Pope's suit is no exception. The solid color all the way through, plus the thick turtleneck underneath, is the perfect look.
Most Likely to Give Me a Heart Attack If Jeremy Pope Weren't in Attendance
Jake Gyllenhaal had quite the week. Not only was he trending for saying that women were superior to men, but he also got the pink memo. And though I'm a loyal Pope fan, Gyllenhaal couldn't be left out.
Best Fringe
Fringe is hit-or-miss, but Parios hit it out of the park. Not only is the color amazing, but the plunge and the open leg make for a stunner.
Most Likely to Trend on Twitter
If you didn't already see this photo of Dakota Johnson on your feeds, now is the time to feast your eyes. Pulling off an amazing corset and leather pants, it really is no surprise.
Best Monochrome
Everything about these outfits feels fresh and new. I love the mesh bra under the blue set, and the mixture of color with the monochrome outfits. Easy to replicate, these feel like staple outfits for the fall.
Best Black
Agathe Rousselle's dress is simple and elegant, but it works well. I love the minimal cutout right under the bust, which shows off the perfect amount of skin. Plus, the sparkly choker adds a fun element to the whole outfit.
Most Trendy
Everything about Mira Mariah's look screams cool girl, and it is not lying. Known as @girlnewyork, Mariah designs tattoos that are beautiful and cool, just like her style. And we can't forget about Alec Knight, who looks stunning in that green.
Best Boots, Baby!
I am a sucker for a good boot, and Lido Pimienta's green platform boots are everything. Her use of green and yellow is playful, and the mixing of patterns creates an exciting look.