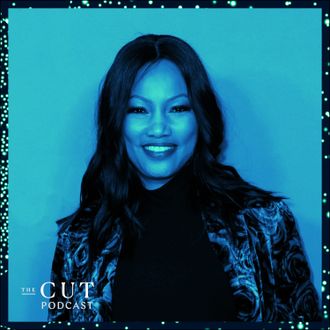 Photo-Illustration: by The Cut; Photos: Getty Images
In the latest installment of "In Her Shoes" on The Cut podcast, the Cut editor-in-chief Lindsay Peoples Wagner talks with actor, podcaster, reality-TV star, author, and model Garcelle Beauvais. Beauvais, one of the newest members of The Real Housewives of Beverly Hills, hosts the Webby Award–winning podcast Going to Bed With Garcelle and will publish her memoir, Love Me As I Am, in April 2022.
To hear more about Beauvais's entry into Hollywood and being the first Black woman on The Real Housewives of Beverly Hills, listen below. Subscribe for free on Apple Podcasts or wherever you listen. You can also read the full transcript below.
LINDSAY PEOPLES WAGNER: Hi, Garcelle, thank you so much for being with us today. I'm going to start with the easy questions. First of all, how are you? How's quarantine been? How are the boys? How is everything?
GARCELLE BEAUVAIS: Everything is great. The boys — we just celebrated their 14th birthday. It's going way too fast. I wish I could backtrack and keep them at 7 for a few more years. They wouldn't like it, but I'd love it. But everything is great. You know, working, doing lots of fun things. It's been awesome to see the resurgence of us — and when I say that, other people are validating what we already knew, but it's nice to see that people have come aboard.
LPW: I completely agree. I think one thing that stuck to me in watching you on Housewives this season was a scene where you were talking about how you feel like you've had to fight so much of your life as a Black woman. You were born in Haiti; you moved to Massachusetts. Tell us about that transition and what it's been like for you.
GB: I was born in Haiti. We're Haitian through and through. My mom decided that she wanted to give us a better opportunity and bring us to the States, so she left me at 5 and a half, almost 6, to come to the United States by herself. She left me with my sisters to provide a better opportunity and come to America. I feel the responsibility of that on me all the time, to take the opportunities that come my way — not that I wouldn't anyway, but there's also something about being an immigrant and being grateful to have the opportunities that I have. And so my mom sacrificed and did that, and I moved to Massachusetts at the age of 7 and didn't speak a word of English. I'd never seen white people or snow. It's interesting because, to me, I tell that story, and it doesn't affect me in a way — it was just a matter of fact — but about a year ago, I went to see a new gynecologist. And the reason I'm saying this is because she was like, "What have been the traumas of your life?" And I said —
LPW: That's a big question for a gyno.
GB: Right? It wasn't like a psychiatrist. And I said, "Why is that important?" And she said, "Everything that happens in your life that is seen as traumatic — your mother leaving you at 6 years old, you going to a new place where you knew no one you knew — those are traumas that become a part of your body and may change some kind of makeup in you," and all that. And I thought, Wow, I never had anybody say that. All these little things make us who we are, good and bad.
LPW: Totally, that your body doesn't forget all of those things even though we may put it back in the memory.
GB: Or that we don't even see it as traumatic.
LPW: Yeah, right. So you moved to Miami to become a model. How old were you?
GB: I was 16.
LPW: Living it up.
GB: A friend of mine asked me if I wanted to be an extra in a commercial, and I didn't even know what an extra was. I'm like, "What's that?" And he goes, "It's two days. It's for an orange-juice commercial." And I said, "Great, sign me up. Let's do it." By the end of the second day, there was this beautiful black girl who was one of the leads of this orange-juice commercial, and I went up to her and I said, "I want to do what you're doing." Honey, she was not there for me. [Laughs] It was my preparation for Housewives.
I found out what agency she was with, and it was Irene Marie in Fort Lauderdale. I asked my mom to borrow her car one day, and I drove up there one day. No pictures, no appointment, nothing. I was just going to see. I stopped at a red light, and when I stopped at the red light I peered outside to look at my makeup in the mirror. And as I did, I reached over to get my lip gloss and a hand came into the car and scared the shit out of me, Lindsay. And it was a woman in the car behind me at the same stoplight. And she's like, "You should be a model." And the card was Irene Marie, where I was going without an appointment.
LPW: I mean …
GB: You can't make that up.
LPW: You can't make this stuff up. It was incredibly meant to be.
GB: Then about six to eight months later, Eileen Ford was scouting like she usually does, and she came to Fort Lauderdale to Irene Marie and told my mom that I should go to New York. All I needed was a toothbrush.
LPW: So after you moved to New York, that was when you started acting?
GB: I started modeling. Acting sort of came down the road a bit.
LPW: So what led you to the Coming to America role, and what was that like?
GB: That was the very first movie audition I had ever had, and I was green. I had no business going in there, and I went in for the Lisa character, the main character. Of course, I didn't get it. Then John Landis called my modeling agency and said, "If she wants to get into acting, this would be a great way." He offered the rose-bearer part, and he says, "That way she can learn she can be on set." I was like, Yeah, let's do it. I didn't realize it was going to take so long. I thought, Oh, you know, a few days. We shot for like two months in New York, and then we shot like a couple of weeks in L.A.
LPW: I have to tell you full stop, that is my favorite movie in the world. I watch Coming to America all the time. I think it is the most hilarious, heartwarming movie on the planet.
GB: That is awesome. It's unbelievable. If someone had told us then that what we were doing was going to be iconic, you never know. But people love it.
LPW: What was that experience like, being your first big movie and then realizing it turned into such an iconic movie, but also returning to that story in that character later on?
GB: All of it was a gift from God because nobody knew. I knew who Eddie Murphy was, and he was a big star then. But just being on set were all these beautiful Black faces. It was like they got the most beautiful women in New York to be in this movie. It was just a great learning experience. I didn't know what "Stand on your mark" meant or "Rolling" or any of that stuff. It was a gift, a lesson. It became iconic, and then it became surreal when it came back 30 some years later.
LPW: Let's talk about some of your other roles. Jamie Foxx Show — also incredibly iconic. You were in Spider-Man. What has been a role that you're especially fond of looking back on, and what's the dream role that you want to do in the future?
GB: Looking back, I feel like all of it was a dream. Here I am, a little girl from Haiti, I didn't even know you could do this for a career. So all of it was just like deer in headlights. But The Jamie Foxx Show, for me — I was still modeling, going back and forth. By then, I moved to L.A., but I was still working as a model, and I remember getting the audition and I was like, I can't go; I have a trip for work. So I left, and then it came back around and I was like, I have to leave again. And my agent's like, "Do you want to audition for this or not?" I said I did, and they rescheduled it. My son, Oliver, was sick at the time, and he was a baby, and then I had to leave for a trip. So I'm like, I can't cancel. But he's sick. So I went while he was sleeping, and I got to the studio, and I remember Jamie Fox was in the car behind me. And I remember as I was getting my pass to drive on the lot, I looked in the rearview mirror, and there he was. And then when I got inside of the hallway where all the other actresses were waiting to audition, Jamie passed by. And at the time, I was in the download video. That's when you had to request videos. You're probably too young to even know this.
LPW: I don't know what that means.
GB: You used to have to call in to get a video to play as you would for the radio, for a song. And Jamie came up to me and he goes, "You don't know how many times I requested that download video," which was funny. It sort of broke the ice, and then I went in and I auditioned and I left and I came home, checked on Oliver, got ready for my trip, and then I found out a few days later that they wanted to test me for the job. And then I got it, which was crazy.
LPW: Is there a part that you still want to play? Are there roles that you're like, Oh man, that's something that I want to do? 
GB: I would love to recreate Basic Instinct with Sharon Stone.
LPW: Oh, very good.
GB: I know. I think so, too. That would be fun.
LPW: There's obviously so much to your story, and you've gone in many different directions, and now on The Real and also on Housewives. How are you balancing all of these things? I think this is something that we talk about on the Cut a lot, which asks, Is that balance even possible with ambition, with goals, with family? How do you wrap your head around it?
GB: It's hard. We put a lot of hats on as women, and we can do most of it. Sometimes some things fall through the cracks, and you gotta let that go. But what I try to do — which is getting harder because there's a lot of moving parts now with my life — but when I'm on The Real, I just want to be on The Real and focus on that. When I'm doing Housewives, I want to focus on that. And I think that's the only way I can do it because otherwise, it gets too hard. Then children. My kids are now back in school full time and sports are coming up. We try to juggle, but try to prioritize and be in the moment when you're in that moment.
LPW: So what attracted you to want to do The Real, and what made you want to take that move?
GB: That's always been what I wanted to do, even before acting, even before modeling. I've always wanted to be a journalist, and entertainment is much more fun than news. This is stuff that I would talk about or read about even if I wasn't on a talk show. So I auditioned. I did a week on The View. I was close to getting The Talk. I also did a show in L.A. called Hollywood Today Live with Ross Mathews, and we had the best time. It's always been something I've been striving for, although sometimes my team would say, "You're doing so well at acting." For a long time, they didn't want me to go that way because they thought I'd make you more money for them acting. It's finally a dream come true.
LPW: That's amazing. I love the commentary, and I think you guys are really funny and it's incredibly enjoyable. I love it.
GB: Yeah, I do, too. I feel like we're the only show that has a panel of women of color. And even though we're not all Black, it's just great that we can talk about our communities. We can talk about what's going on in the world and have a perspective that other people may not.
LPW: The topics that you all cover are very different because it is a panel of women of color. A lot of the things that you elevate to discuss, other shows wouldn't even talk about because it's not on their radar as being important enough, and so I find that conversation to always be really interesting because it feels like these are things that I'm talking to my girlfriends about or that I've seen on social media. I would love to hear different people's opinions on this and what this means from a larger perspective. I was listening to the one that you guys were talking about with, like, all the rappers getting people big gifts and buying them land and all this.
GB: [Laughs] I got in trouble.
LPW: I know — we don't have to go into the whole thing. I felt like that was such a conversation that is only happening on Black Twitter or on the Shade Room, etc., that all women of color that I know were talking about, like, Oh, yeah, like, what would you do in that situation? Or would you feel obligated to be with that person if they bought you all this land or they bought you a house? Would it be in your name? Very specific questions that I think are honestly worth asking, and this is why I think the show does such a good job of cutting through the noise because you're not just talking about like, Oh, this person, like, posted this on Instagram, and let's talk about it.
GB: I do, too. I feel like this is my take of me on the show. I'm hired to give my point of view, and I hope that point of view starts a conversation. So it's not about attacking other people; it's just my point of view, right? But I also feel like for us, I love the fact that women are thinking differently now. I remember Tiffany Haddish said she doesn't want her man to give her a ring. She wants him to buy her a building as an engagement present. I think when we start talking about things like that, then you realize that the material stuff is great. But it would be nice if we, as Black folks, took more pride in ownership of things as opposed to just the flash.
LPW: Exactly. I 100 percent agree with that. I think in Black culture there is a sense that like if you have 80,000 Birkins and you have certain things, that equals wealth, when there are other ways to actually accumulate generational wealth, which is the goal and which should be the goal.
GB: That's what I'm working so hard for — generational wealth — because I never had that. I have never seen it. I've only seen it with my white friends growing up. That's why I'm driving myself to work so much so that I can make a difference in my family and break the cycle.
LPW: No, I feel you. Same message over here. Let's talk about Housewives. You know I have a lot of thoughts because I texted you my thoughts already, which I will not be repeating in this podcast but will say in a nicer way. How did you feel about watching the season back?
GB: The entire season?
LPW: Yeah.
GB: How did I feel? I felt good about the conversations that I was able to have on the show. It wasn't about being argumentative; it was more about education, although it's really not our place to do so. That's another thing we carry. I was happy that the producers allowed conversations to happen. I know some people were saying, "Oh, I wish Eboni had done it."  Everybody's different; everybody comes from a different place. Just because we're Black doesn't mean we all walk the same walk. So for me, in my conversation with Kyle, I felt like she was receptive and she got it, which is why I was able to move on with my friendship with her.
Then the other conversations about some of the women — or one particular woman — didn't want to have the race talk with her children because they were so young, and that was such a hard topic. I said, "Well, I'm glad you have that privilege. I don't have that privilege. As soon as my kids were three, I had to have a conversation with them." So it was great that we were able to have those conversations, although some people felt like, This is not why we watch the show. But you know what? It's the reality of what it is. If I'm on the show and I'm a diverse person, you're going to have diverse conversations. That's a no-brainer. It's going to happen.
LPW: We talked about this when we first met because I think that people glorify when you're the first Black person to do something. It obviously is a great thing, and you're the first and only Black woman on this cast, which is amazing, and I love that, but I had said to you, "How are you doing with it?" Knowing from my experience of being the only Black woman in so many spaces, people put it on this pedestal and think it's the best thing in the world when it can be very lonely and it can be very challenging. How has that been for you to handle that?
GB: Definitely lonely, definitely a lot of pressure and a lot of stress, because people have a preconceived notion of how we should be. That's not who I am, so I did the best I could. In the first season, I was traveling a lot. I wasn't there a lot, but I feel like I did the best I could, and I feel like I am truly being authentically me. That's all I can do. I can't please everybody. A friend of mine said, "You've got to go Black girl on them," and I'm like, What is "Black girl"? I know what they mean, but is that a thing? That's not me, and that's not how I was brought up.
LPW: You're not a character. You're being yourself.
GB: Right? And when I had my breakdown on the show toward the latter part of the season, I had just had it. I was fed up. I was tired of being the only Black person in the room all the time. I felt like I was the only one that had to do a song and dance to be noticed when everybody else was just being themselves and just easy-breezy. And that got to me.
LPW: I think it would get to anyone if they understood the weight of it. I think people use words like responsibility and I'm like, It's a weight. It's a lot of pressure that comes with that. As a viewer, a lot of the conversations were really hard to watch as a Black woman because it felt like the standard that you were supposed to abide by was very different than other people. It felt like — and obviously correct me if I'm wrong — but watching that episode of you breaking down, I completely understood how you felt. It felt like the whole season you had to be the strong one, the person that was facilitating and leading these conversations and that you weren't able to show that softness, that vulnerability. How did you think of that going through the season?
GB: Totally the same way you're describing it. I felt like I had to carry the weight, the conversations. Even when that whole thing with Erika happened when I asked her that question that she had said she didn't want to talk about, and I didn't know and I wasn't told. I don't know if they'll ever show the scene with breaking the fourth wall, but I felt like no one had my back. Even though Crystal was saying, "Garcelle wasn't there, Garcelle wasn't there," everybody glossed over that. Before that, everything Crystal said was taken as the word, Bible. But this — because she was taking my side or saying what was truly happening — it was glossed over so many times, and that it was just ridiculous.
LPW: I agree. Do you now feel more comfortable showing that softness and vulnerability? How are you thinking about the next season?
GB: Yes, if it warrants it. I'm a strong person anyway. It's not like I'm going to go around crying at every dinner. But yeah, I'll show that side if it warrants it.
LPW: I felt like by the end I was like, They're just cornering her into this. It's too much. She's going to snap on somebody. You can comment on this or not, but I also was wondering how you felt around the Erika drama. Regardless of what people think, it was hard to watch, waiting until the end of the season or waiting to find out all of these things about Erika and her money situation. But then at the last reunion, Kyle had come for you for about $5,000, which you paid. Then it was like, We can't talk about this person who may have squandered $20 million? I just felt like, Wait, I'm sorry, what?
GB: It's so crazy. The fact of knowing someone — even though I don't know Erika as well as some of them, of course — you feel for someone going through that. But at the same time, they believed her straight out. At the first reunion, when Kyle said about the $5,000, everybody was just kind of like, Girl … 
LPW: But 5,000 compared to this 20 million. It doesn't match, and it doesn't make sense to me.
GB: No, but they're strictly going on that they've been friends with her for five, six years.
LPW: In watching the season unfold and all those allegations, obviously I understand why they were tiptoeing on all of those things, but I just felt like, If you're going to come for the only Black woman on this cast over $5,000 …
GB: When you knew how to get in touch with me, by the way. I'm leaving that alone. But when you knew how to get in touch with me.
LPW: It's too much. But now that the season's over, the reunion is happening. I'm very excited to continue to watch. You are also doing a podcast and have a book out. So tell us about the book and how that's going.
GB: Yes, the book I am so excited about. The fact that I have a story that people will be interested in and again going back to where I came from, I couldn't have dreamt this big, honestly. So the book is really a book of essays of my life: from Haiti to my mom, my sisters, my relationship — or lack thereof — with my dad and how that affected me, my Hollywood life. There are some juicy stories in there. And love and loss and my divorce and raising biracial kids. It's everything. I don't leave anything off the table, and it's funny. There are heartbreaking moments and inspirational moments, and Love Me As I Am is truly the journey of finding who I am and who I am today. Who I am today was not who I was 10 years ago, 20 years ago, and so on.
LPW: What was the process like writing it and going through all of those memories and hardships and everything in between?
GB: That was the hardest part, actually, and I wrote it with my co-writer, Nicole E. Smith, and she knows a lot about me. It was really interesting going back and going, Oh my God, this story affected me this way? And I didn't realize it until we were doing the book. It was all very cathartic. It's really interesting because now I'm so removed from some of the stories, especially from my childhood, that I'm seeing it differently.
LPW: Very true. So when does the book come out?
GB: The book comes out April 22, 2022, but you can preorder it on Amazon, everywhere.
LPW: Amazing. I'm very excited about this memoir. I feel like you're going to be releasing a bunch of stuff next year.
GB: [Laughs] I am. Are you psychic?
LPW: No, I just feel on the show you were always working on so many projects.
GB: I love being busy. As tired as I get sometimes, I love being busy. I figured, You know what? Take the bull while you can by the reins and go for it. And that's what I'm doing.
LPW: Well, we're very excited for you. Thank you so much for taking the time. Really appreciate it.
GB: I'm glad we did it.