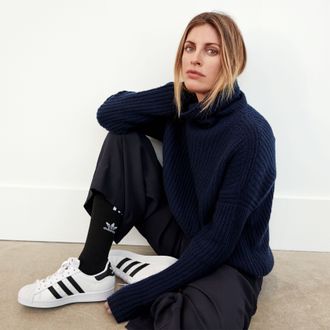 Valerie Macaulay was an editor at Vogue for almost 10 years before she co-founded La Ligne in 2016, alongside fellow former editor Meredith Melling and former Rag & Bone executive Molly Howard. Her collection has a simple focus: stripes.
"In a world of keeping up with the latest everything, stripes are the palate cleanser of dressing," she told the Cut. "They always feel fresh and cut through the noise of whatever trend is happening."
In April, the label celebrated its fifth anniversary — a period during which she and her team opened two stores in New York City and Dallas and partnered with other women entrepreneurs like Cleo Wade and Athena Calderone, as well as collaborated with brands like Malin + Goetz and J.Crew.
We spoke with Macaulay about stripes, Squid Game, and the catharsis of de-pilling sweaters.
What's one piece from La Ligne that's especially meaningful to you?
The Marin sweater. The idea came from a vintage striped sweater I had for my son that I wanted for myself. It felt immediately urgent and to this day is our best-selling style, five and a half years in. It's a piece that honors what we have tried to create: pieces you go back to over and over that stand the test of time.
How do you thank someone for a gift?
With Clementina Sketchbook bespoke watercolor stationery.
What would you never wear?
Purple.
What's your dream vacation?
Anywhere I can wake up and immediately swim in the sea.
What's a good book on your coffee table right now?
Earthly Forms: The Biomorphic Sculpture of Arp, Calder, Noguchi.
Last show you binge-watched?
Squid Game.
What's your guilty pleasure?
Red wine.
Secret to hosting a good party?
A good playlist.
What is a trend that you like right now?
Oversized button-downs.
One you don't understand?
Filler.
Favorite restaurant in New York?
Il Buco.
What's the one thing you could eat everyday for the rest of your life?
The sesame-crusted shrimp tempura roll at BondST.
Shoes you wear most often?
Gucci cognac loafers from 2001 that my mother bought me when we were in Rome. I still wear them three or four times a week.
What are five inanimate objects that bring you joy?
"This indispensable tool turns your lovingly worn, favorite cashmere into just-like-new sweaters. Plus, de-pilling your sweater can be so satisfyingly cathartic. It's my form of meditation."
"I live for green, so the choice was obvious for me, but if you cannot bring yourself to decide on which color to get from Stephanie's fantastic glassware, opt for the mixed set of six tumblers. The decanters are pretty fabulous as well."
"I'm not going to say I order it for the personalized and incredibly chic packaging, because really this scent makes me feel like I am walking around the Boboli Gardens all day."
"I buy them for the endless compliments I receive when I wear them. I have invested in quite a few in several colors because they are the perfect shoe to elevate jeans or partner with a sassy sequin dress."
"Beyond their clever names, each of these pots is custom-made and a conversation piece even without a floral arrangement."