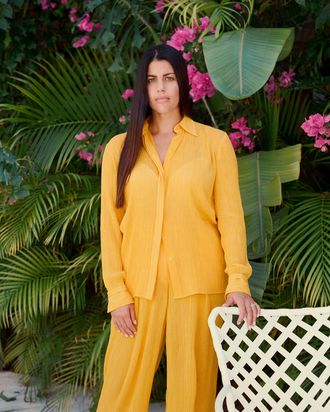 Gabriella Khalil is the founder and creative director of Palm Heights, a Grand Cayman luxury resort that attracts the art and fashion crowd, which basically means that her office is the beach. Having studied contemporary art in London and worked for many years in galleries sourcing and selling artwork, art has been a huge inspiration for how she approaches the hotel.
"Palm Heights is the culmination of my passions: food, wine, design, art, and wellness," she told the Cut. "I love to entertain and everything I do is centered around creating an experience."
She and her design team worked with a classic tonal base for spaces throughout the hotel and then added in pieces from around the world, including vintage rattan, famous design pieces from the '70s and '80s found at markets throughout Europe and North Africa, and fun collectibles like stone Pierre Cardin backgammon sets.
We spoke with Khalil about beaches, The White Lotus, and leather.
How do you thank someone for a gift?
I know we are all so busy so usually it is hard to do this, but I always try to send a handwritten thank-you note if I can.
What would you never wear?
Socks with heels.
What's your dream vacation?
I love a sunny, warm beach vacation. In particular, anywhere I do not feel pressure to wear makeup or get dressed up and can just truly relax is my favorite.
What's a good book on your coffee table right now?
David Hicks on living — with taste (1968) is my favorite book on my coffee table.
Last show you binge-watched?
The White Lotus.
What's your guilty pleasure?
Watching the Real Housewives, which I save up for long-haul flights.
Secret to hosting a good party?
Good music and mixing up the guests so it is not all the same crowd!
What is a trend that you like right now?
I have been seeing leather everywhere lately, and I love it.
One you don't understand?
I'm not a huge fan of overly bulky shoes, which have been popular the past few years.
Favorite restaurant in New York?
Carbone with a group of friends.
What's the one thing you could eat every day for the rest of your life?
Sushi.
Shoes you wear most often?
My Nike Air Force 1s.
What are five inanimate objects that bring you joy?
"Over the past year and several lockdowns, I made it a point to have fresh flowers in my home. I decided to keep this going, and FlowerBx is the best for simple and long-lasting flower deliveries."
"One of my favorite brands for the home at the moment is Tekla. They have beautiful toweling and pajamas (both of which make me happy). Also, I never say no to a stripe."
"Using this floral soak in the bath is incredible. I highly recommend it to up your bath experience."
"I drink a lot of tea, and they have the best flavors. Drinking their French Breakfast Tea, in particular, is a simple thing that makes me happy in the morning."
"I mentioned above that I am loving seeing so much leather recently. I have especially become obsessed with pieces from the brand Nanushka, which are all vegan leather and incredibly soft. They are so nice to wear."