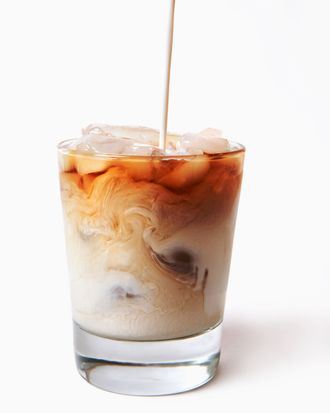 Photo: dlinca/Getty Images
It was only a few months ago that whole milk was supposedly making a comeback, and already, another trendy alternative milk is getting all the attention. Not oat milk. Or almond, soy, or coconut milk. Not even pistachio or macadamia milk. It's breast milk. Have you tried it? KJ Apa has.
On Sunday, the Riverdale actor posted a video to his Instagram of him unscrewing a baby bottle and pouring the milk into his coffee before taking a sip. He captioned the photo, "My wife is a milk machine and I love it."
In case it wasn't already obvious, Apa and his girlfriend, Clara Berry, recently announced the birth of their son. In response to this bold endorsement of what we assume is Berry's breast milk, Riverdale co-star Vanessa Morgan, who also recently had a baby, commented, "Ahaha yessss i told you!" Which raises the question, Just how many celebrities are drinking breast milk right now?
More than you may think. In 2014, Jennifer Aniston went on Jimmy Kimmel Live and admitted she had tried her friend's breast milk (the friend happened to be Kimmel's wife). She described it as "the one milk you don't have to feel guilty about drinking." Almond milk is pretty bad for the environment.
Other breast-milk enthusiasts include Amber Tamblyn, who said in 2017 that not only had she tried her best friend and Sisterhood of the Traveling Pants co-star Blake Lively's breast milk but her husband had tried her own. Tamblyn's husband, Arrested Development star David Cross, had very high praise for his wife's milk. He told the Cut, "It's way better than almond and soy milk. It's so fucking delicious it's like dessert." When Andy Cohen mentioned all of this on Watch What Happens Live, Tamblyn offered him a bottle she had pumped earlier. He drank it and had only good things to say: "It's sweet. And it's good with a tequila chaser! Wow. Can I have more?"
That's not all. Actress Kristen Bell recently revealed that her husband, Dax Shepard, "helped unclog her milk duct by sucking it out of her breast with his mouth," to quote the Daily Mail — which presumably means that he too has sampled breast milk as an adult. (Bell said she had never been more in love.) It has also been reported that Kim Kardashian West tried her sister Kourtney's breast milk to help treat her psoriasis, but it's unclear if she drank it or just rubbed it on her legs. There is a video in case you want to see what that would look like, though apparently it did not work. Surprised?
We'll see whether this niche alternative milk will catch on more widely. Can you imagine how pricey it'll be to add to a latte?