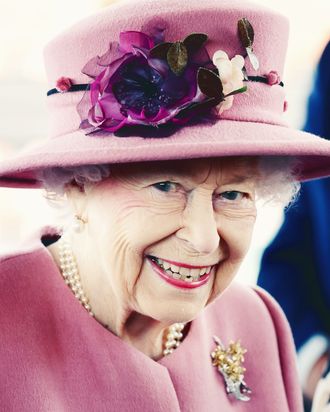 Does this woman look old to you??
Photo: Chris Jackson/Getty Images
Queen Elizabeth II, who is famously young, recently declined an award for Oldie of the Year, a title bestowed unto British olds by Oldie magazine. Understandably so, as the queen is actually the youngest age that you can be: 95.
The magazine apparently attempted to "award" the queen the title earlier this year. However, per BBC, Tom Laing-Baker, the queen's assistant private secretary, responded to Oldie magazine saying, "Her Majesty believes you are as old as you feel, as such the queen does not believe she meets the relevant criteria to be able to accept, and hopes you will find a more worthy recipient." It's very noble and brave to disqualify yourself from any award. So, well done, young lady!
Prince Philip, the queen's late husband, was awarded Oldie of the Year in 2011, when he was 90. The Duke of Edinburgh accepted the award, saying, "There is nothing like it for morale to be reminded that the years are passing — ever more quickly — and that bits are beginning to drop off the ancient frame. But it is nice to be remembered at all." Bleak, my guy! Good thing the queen doesn't have to think about that yucky stuff.
The 2021 Oldie of the Year award instead went to Lionel Blair, a British actor and dancer who is a confirmed Oldie (90 years old). Fortunately, Gyles Brandreth, the chairman of the Oldie awards, took the queen's rejection in stride, calling her letter "lovely" and adding, "Perhaps in the future we will sound out Her Majesty once more." Hmmm, I don't know about that, Gyles. It doesn't seem the queen plans on becoming old anytime soon.