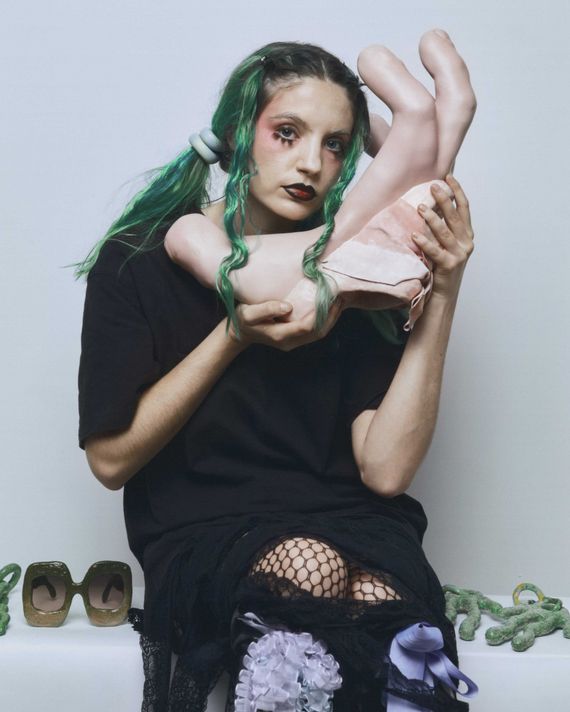 Beate Karlsson with "The Claw."
Photo: Thomas Rousset
Beate Karlsson first got attention in the New York fashion scene because of her butt. That is, a silicone replica of Kim Kardashian West's that she wore during Fashion Week like a pair of biker shorts with a whole lot of extra padding. Body modification is how Karlsson, creative director of Florence-based brand Avavav, creates new silhouettes.
"My biggest motivation is coming up with new ideas that I've never seen before," she said from Florence, Italy, where her design studio is based. "What I'm trying to do is create new shapes by morphing the body, where one part is familiar and remixing it."
Take her claw shoes, for instance, which make the wearer look like they have giant hands for feet, where the thumb is the heel and curled fingers make up the platform. Or perhaps a silicone pair of red high-heeled boots, called "Bloody Feet," that resemble the inside of human flesh, with four monstrous toes that reach beyond where feet naturally end.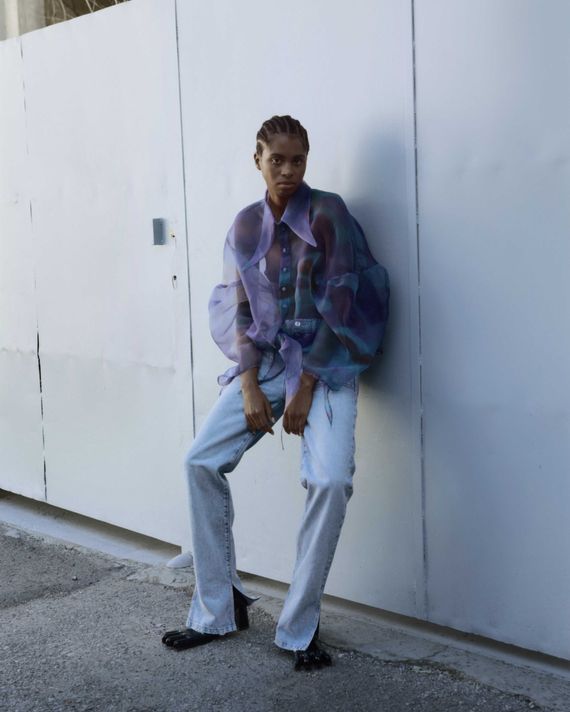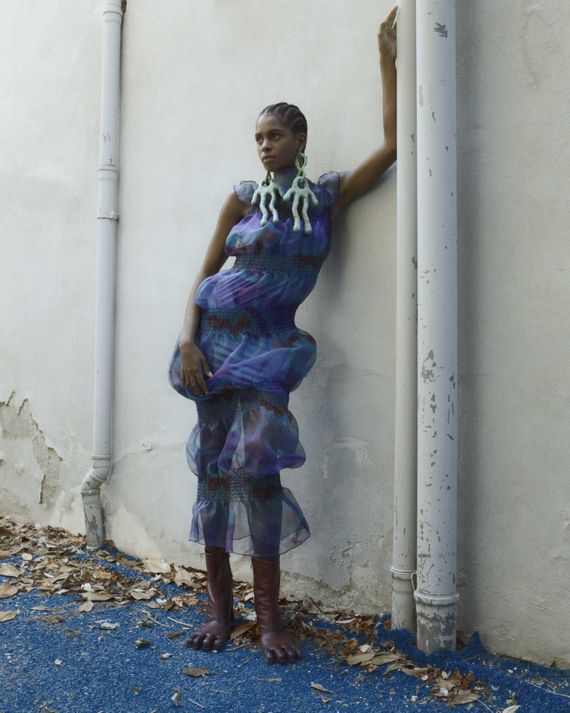 Karlsson's first medium of choice for designing is clay. "I can create whatever shape I want," she said. As a kid growing up in the middle of Stockholm in a creative family (she and her sisters went to music school for six years), she would watch Claymation TV shows with colorful characters like Pingu, a clumsy and curious penguin who lives in Antarctica, because she "loved disappearing into another world." Eventually, her interest in ceramics evolved to sculpture, and she started molding accessories like earrings.
At 19, Karlsson moved to New York from Sweden to study fashion at Parsons School of Design. A year in, she felt confined in a "normative way of working with clothing." She applied to a semester at Central Saint Martins, an arts and design college based in London, and there felt like her experimental design process was supported. "It was a breakthrough for my internal journey as a designer," she said.
In 2019, as her graduate thesis from Parsons, she showed a collection of oversize clothing including a cartoonish pair of pants that cover the entire body and a jacket with a collar reaching down as far as the waist with sleeves that drag on the floor. Post-graduation, her plan was to start an eponymous line while simultaneously working a design job that "paid the rent," meaning a brief stint at Coach followed by working through the pandemic at Pyer Moss. But Avavav — a sustainable initiative founded by Swedish duo Linda and Adam Friberg, behind labels including Cheap Monday and Monki — approached her to have her design for them after one of their New York–based friends saw Karlsson's work on Instagram and introduced them. Up until five months ago, she was working in two different time zones with Pyer Moss and Avavav, but now she's focused on the latter. They offered Karlsson a budget and full creative freedom to explore her greater vision at her own pace, releasing collections uninhibited by the seasonal fashion calendar. "The fashion industry is going too fast and everything is instant," Karlsson said. "But I have time to actually create interesting designs that have a purpose and tell a new story."
At the beginning of Karlsson's creative direction, Avavav was only using old fabric that hadn't been able to sell, with everything made local and in small quantities. And like many niche brands, it relied on its social-media reach to generate direct-to-consumer sales from its site. Collection 1 included pieces with labels that read, "We only made 8 (or 21, etc.) of these." The collection included JNCO-wide jeans, ruched tops, and the Bloody Feet. Collection 2 was made of repurposed fabrics from luxury brands including Fendi, Burberry, and Jacquemus. One piece was a Fendi double-F logo-adorned coat with exaggerated proportions and a pair of thigh-high boots (with amphibian-like toes, obviously) paneled with Burberry's signature plaid.
Karlsson stresses that the label is not 100 percent "green," noting a problem in the industry of brands framing themselves as sustainable when they're not. "Instead of calling ourselves sustainable, we're transparent about complications that we meet during the production process and what we can and can't do with where we are right now," she said. One of those complications is creating inventory using old fabric that is available in limited quantities.
"Now we're finding a middle ground implementing other fabrics because we want to do what's most reasonable for where we are right now," she said. "Right now, we're just trying to make the best decision for each collection. Our goal is to be fully green, but today we can't do that and still exist."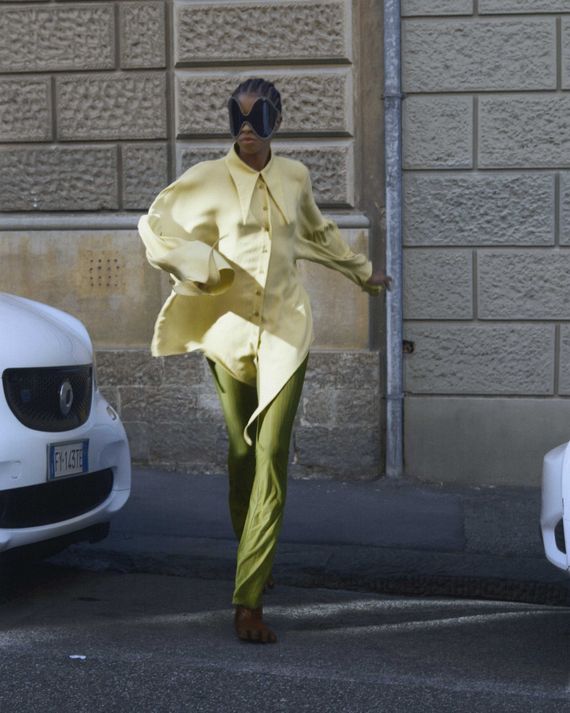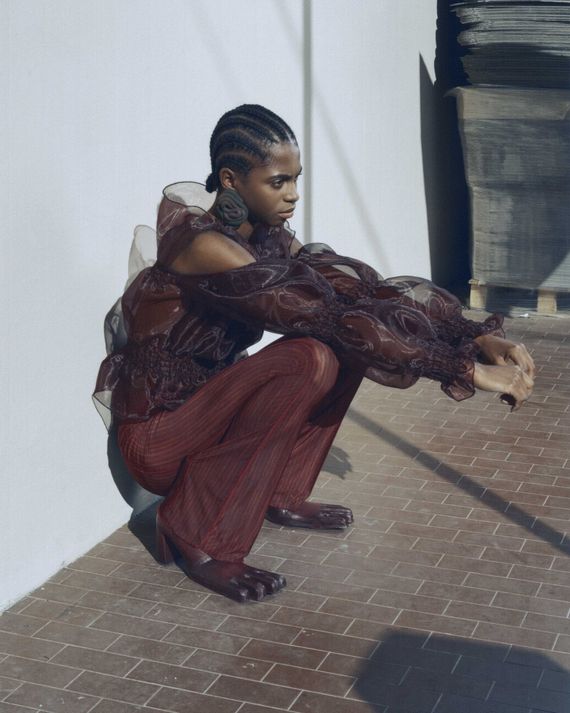 Last month, Karlsson presented Avavav's spring/summer 2022 collection at both Milan and Paris Fashion Weeks. The inspiration for the collection was an underwater world, creating organza dresses shaped like a mermaid and bubbles.
"The pieces felt like you were floating and frictionless — movement that you would see under the ocean, basically," she said. "I was also going back to my childhood and the childish idea of what I thought was underwater aesthetics like Miyazaki's Ponyo with its colors and corals with lovely organic shapes. I wanted to make pieces that felt harmonic and calm when you look at them." The feedback was better than she could've ever hoped for, and the brand will be in stores, including Dover Street and H. Lorenzo, next spring for the first time ever.
Sure, the Swedish designer might be stepping foot into the rule-laden world of traditional fashion, but there's no denying that she's playing on her own. "Fashion is not so serious, and that's why I keep doing it. With each collection, it's like playing a game with a new toy."