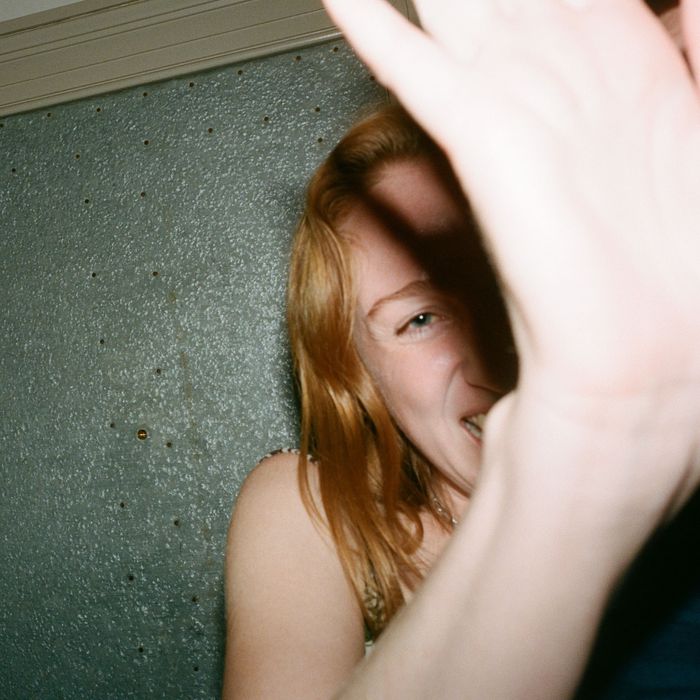 This is Kaitlin Phillips.
Photo: Daniel Arnold
Who is Kaitlin Phillips? Excellent question. For a certain kind of New York media and/or art person, her provocateur's performance on Twitter, under the private handle @yoloethics, has made her in-the-know famous; the Times media columnist Ben Smith, clearly titillated, once described her as someone who "occupies a spot close to the center of a map of downtown personalities." A Barnard girl from Montana, she came to the city to become a writer (she is, among other things, a fantastic party reporter). But it's likely hard to be a writer on dutiful deadline and spend so many long nights out at the East Village French bistro Lucien, so she found herself in a day job working as a publicist (she is a prolific and effective pitcher). As she once said in an interview, "I get all the benefits of being a writer — being friends with writers, spending all day on Twitter, drinking — without having to write or going broke."
The pandemic, as it turns out, was her moment. On her outré Twitter, she attracted much frustration and fascination writing about her alive-and-well social life. As she wrote back in February, "Just asked my friends why people hate me online and Sarah Nicole said, 'Unfortunately, in your case, it comes down to things you've said and done.'" As Sarah Nicole Prickett, a writer, told me herself this week, "I think that Kaitlin seems very free to people, and people are jealous of freedom."
And so, as someone with what seemed to be an interesting social life, she became one of the most-suggested subjects for this column. All summer long, she kept leading me on and putting me off. Then, last week, the night before she left for a vacation in Paris, she invited me over for "girls' night" (shortly after, she posted our negotiations to Instagram Close Friends, but as we are not Close Friends, I didn't read it, and our mutual Close Friends refused to let me, either, perhaps out of fear of her). On Thursday night, I arrived at her apartment, filled with writers and artists of varying degrees of influence. I spent much of the evening watching Kaitlin ping-pong around the room, always in the opposite direction of my own movements. As she herself once wrote, "The allure of party reporting is risk," but Kaitlin was, in-person, less brazen than she is online, unwilling, for the most part, to take the risk that I might find out much of who she actually is.
8:04 p.m. | I arrive at Kaitlin's: a second-floor apartment in the East Village that, as one guest tells me shortly after I arrive, she apparently found on StreetEasy by searching for "pine floors." I'm also told it's the actor Lucas Hedges's old apartment (provenance!) and that Kaitlin's previous pad is now occupied by Dasha Nekrasova, the Red Scare podcaster. Speaking of someone who can't make it, Kaitlin tells me that several of her friends decided not to come tonight because of my attendance, which is a really lovely way to be greeted. In the kitchen, she spoons a glass bowl of blood-red "vodka Jell-O punch" — her grandmother's recipe that she won't share right now ("I'll send you an email"). The finishing touch is a pint of vanilla ice cream that turns it to Pepto-Bismol. Nothing says girls' night like a glassful of milky vodka.
8:10 p.m. | I walk into Kaitlin's comfy, warmly lit living room, currently occupied by those friends who did have the courage to show up, gabbing about film and Mercury-in-retrograde depression. "We've gotta blow that planet up. It's always doing that," jokes artist Sam McKinniss, the only man invited to girls' night. I attempt to sit down but end up almost falling through an old chair (from Lucien) with a hole in the seat. The artist and Sad Girl Theoretician Audrey Wollen — who always looks like a Botticelli woman, but tonight looks especially striking in a sheer powder-blue gown — points me to a cushion with a longhorn on it. You can take the girl out of Montana, but you can't take the Montana out of the girl.
8:32 p.m. | The centerpiece of the party is a long table of yummy finger foods from trendy Essex Market grocer Alimentari Flaneur. Kaitlin, ever the dogged publicist, would probably love for you to see the menu (received via email the morning after):
Organic Black Figs 
Raisins on the Vine 
Fresh Bahri Dates
Husk Cherries
Dried Apricots
Israeli Dates
Thomcord Grapes
Antipasti Platter With Prosciutto San Daniele, Soppressata, Chorizo, Salami
Tarrali
Valencia Orange Tortas
Tartine With Good Butter and Boquerones 
Roasted Hazelnuts in Acacia Honey
Gordal and Castelvetrano Olives 
Vegetable Crudités With Garlic Aïoli 
There's something suggestive about the spread, above which hangs a painting of Jesus Christ placing communion wafers in the open mouths of two little girls on their knees ("Feed me, Daddy," a writer says with a laugh). I pick at lumpy, melt-in-your-mouth dates next to shiny, buxom figs and long crackers draped with oily fish. Kaitlin dangles one of the latter into her mouth. It's impressive, sure, but also bizarrely intimidating, like we're being tested by the queen on our first trip to Balmoral. As was famously true at Mary-Kate's wedding, there's a bowl of cigarettes too. Kaitlin says she always associates Parliaments with snorting blow, but then carefully backtracks to note that the "most interesting" thing about her is that she doesn't do coke and she doesn't smoke pot. So I fetch more creamy booze.
9:01 p.m. | "Do you know who this is?" Kaitlin asks me for the first of many times tonight, when she spots me talking to a guest (for the record, I do). Her buzzer buzzes constantly above the chatter and the music — Fleetwood Mac and Kate Bush and "You Sexy Thing" — and the room fills with more (mostly white) women in both great sandals and also great boots with carefully layered designer outfits. There's a clear divide in who's already dressing for fall and who sweats easily.
9:10 p.m. | Near the food, I meet Honor Levy, a 23-year-old up-and-coming writer and darling of the scene. She knows how to write and she also knows how to talk, monologuing rapidly about femcels and Dimes Square and Red Scare and how all of those things are affecting "the culture." We both notice a photograph of bare-legged Candace Bushnell, the OG Carrie Bradshaw, above the fireplace, and Honor tells me she discovered Sex and the City for the first time a couple of weeks ago. "I can't believe nobody told me about it." Looking around the room at Kaitlin and her core crew — namely Audrey, Sarah Nicole, and the writer Natasha Stagg — she compares them to the SATC girls, but then realizes they're "all Carries." It's clear she idolizes them, the Head Girls of her world, and she wonders aloud, wistfully, "Mad writer girlfriends together. That's what I need to acquire."
9:20 p.m. | I ask two new guests about the lady of the house — I notice that she seems to be avoiding me, collecting used dishes while she flees — but they only offer up a joke ("Who's Kaitlin?") and an evasion ("She's an enigma"). "What are you going to write about? It's so fucking boring?" one of them asks, laughing. I suppose the Candace Bushnell shot (taken at closed-down celebrity haunt Elaine's) and another photograph of party-girl writer Eve Babitz and a 1998 plastic-wrapped issue of New York Magazine about "power girl" publicists on her dresser say enough. "West End Girls" comes on.
9:52 p.m. | On the fire escape with the other smokers, I struggle through small talk with an actress-filmmaker and a Dimes employee (what's that Gatsby quote about small parties?) Sarah Nicole climbs out the window next, preceded by her cheekbones. I immediately like her more than everyone else, because she speaks in captivating, breathy whisper-talk and skips right past any small-party small talk to recommend a book and ask a few intimidating questions. She explains to me how she became close friends with Kaitlin — the main reason being that they both used to live in Crown Heights ("Proximity. Or to use a very Henry James word: propinquity."), but also because they read the same books, wrote for the same publications, and talked shit about the same people. "But you should ask her what she'd prefer as the origin of our friendship." Tonight, we're sticking to Kaitlin's Version.
10:15 p.m. | Jamian Juliano-Villani, a painter who I've been told is a wild time, joins the fire escape, smoking a cigarette before she's even out the window and asking everyone once she arrives, "Why is there no liquor liquor here?" Despite her five-inch platform boots, she storms the railing, climbing over it onto adjacent scaffolding while simultaneously ripping out her hair extensions and exclaiming that she doesn't want to "break my pussy and get tetanus." Someone expresses an interest in ketamine.
10:35 p.m. | At last, I catch Kaitlin and jokingly confront her about posting our messages online. She just shoves some food in her mouth and giggles. Then she warns me, "You know you can't mention any of my clients. I'll call you tomorrow and nail all this in." Again, she flies barefoot across the room to attend to some imaginary hostess duty, and she reminds me of the taxidermied white pigeon on her mantelpiece. Across the room, two different bitches hash out their own beef face-to-face. And by bitches, I mean a toy poodle with an Instagram account and a beefy pit bull who just arrived.
10:45 p.m. | Girls' night ends when the caterer Daniel Soares, a fourth-generation Balducci, shows up to wander the room and hand out figs to the ladies. I compliment the sexy spread, and he explains, "If you're not cumming while eating, why eat?" He says he's really into "the sensuality of food" and catering for "chic people" who throw "intimate gatherings," like this one. I'm told he's single.
10:50 p.m. | I ask a series of guests where they met Kaitlin, and they mostly say what you'd expect: Clandestino or Dean Kissick or Metrograph. "Kaitlin was a regular there. We 43'd her so many times. Like how we'd 86 someone? But she was 43'd because she always came back," a former Lucien employee tells me.
11:03 p.m. | Near the sofa, on the floor, literary girls' night becomes a slumber party as a small circle listens to a woman regaling the others with a tale about watching a porno with her friends in the seventh grade. "The first time I watched porn was like a year ago," I overhear another say above the giggly din. (One of the many laudatory/ironic next-day tweets about the party: "Girls night was so fun. We talked about orgasms, moms, therapy, clothes.")
11:05 p.m. | Someone tells me I smell great, so I know that's not the reason Kaitlin's avoiding me, but she does always seem to have a convenient excuse to leave the room. In the kitchen, she talks to a guest who stained her top:
"Let me give you a new top."
"Oh no, I like my top."
"I have the same silk kind of top."
"The stain looks like a penis."
"It's fine. It's ladies' night."
"Well, what's the top, actually?"
"It's like a YSL …"
"I'll see the top."
11:25 p.m. | Kaitlin bums a cigarette from me, but only takes a handful of puffs before going back inside. "If you really want to get involved at the party, help me do the dishes," she taunts, grabbing wineglasses with both hands. But when I follow her to the kitchen, she heads for the living room.
11:45 p.m. | The music gets dancier, the bedroom seems to become possibly druggier, and a motherly woman in publishing tells me about her forthcoming lesbian novel. It's not a roman à clef, she adds.
Midnight | I ask McKinniss, who's moved out of town, where he's staying while in the city, but he refuses to answer.
12:02 a.m. | A makeup artist and former hand model tells me your hands photograph best if you hold them above your heart for 30 seconds, letting all the blood drain out. Kaitlin comes over and warns her that she's talking to a reporter.
12:18 a.m. | Several women leave, and a handful of eh-looking straight guys replace them. Honor and I act like freshmen at the seniors' party. She eavesdrops on a couple getting rather snuggly in a corner of the kitchen and posits that they're either about to "get off" or "discover the meaning of life." In another nook, I listen to two women talk about mothers, motherhood, and Sally Rooney. Honor and I goss about similarly predictable topics, namely the Ion Pack bros, Caroline Calloway, and the women around us. "I've never been invited to a girls' night before," she says. To her, just being here is an honor. "In Sex and the City and Girls, there's one writer. But like, bruh. They're all writers. That's how movements are made: Shelley, Byron, Mary. They're all just chillin'." She notices my inability to catch the mouse, and tells me, "Kaitlin's someone that everyone here counts on. I swear she's interesting." Still, she complains that it's no longer girls' night, with all the new guys. There will be no "blood rituals" to join the sisterhood.
12:53 a.m. | Sarah and I decide to have a cigarette, so I take the opportunity to ask why exactly Kaitlin commands the kind of attention that she does. "Kaitlin really believes in these worlds, so it makes sense for that belief to be reciprocated in the form of fascination," she says, adding that we're talking about rather "small worlds." "Does anyone quite believe in such a thing as the New York this or that scene as Kaitlin Phillips does? She's a die-hard." But Sarah is more hesitant about the larger impact of the current downtown culturati, including everybody inside: "I don't want to say so much about the downtown scene because I know as well as you do that there was a time it was much more queer than this," she says, laughing that we're the last two queers standing at the party. She begins to quote Eileen Myles, and then Kaitlin appears at the window to tell me I have to leave.
1:06 a.m. | Without pause, Kaitlin ushers me straight to the door, saying the most she's said to me all night: "I love you so much, but you gotta go, in the nicest, nicest, friendliest way. I'm sorry. It has to be done." Good night.