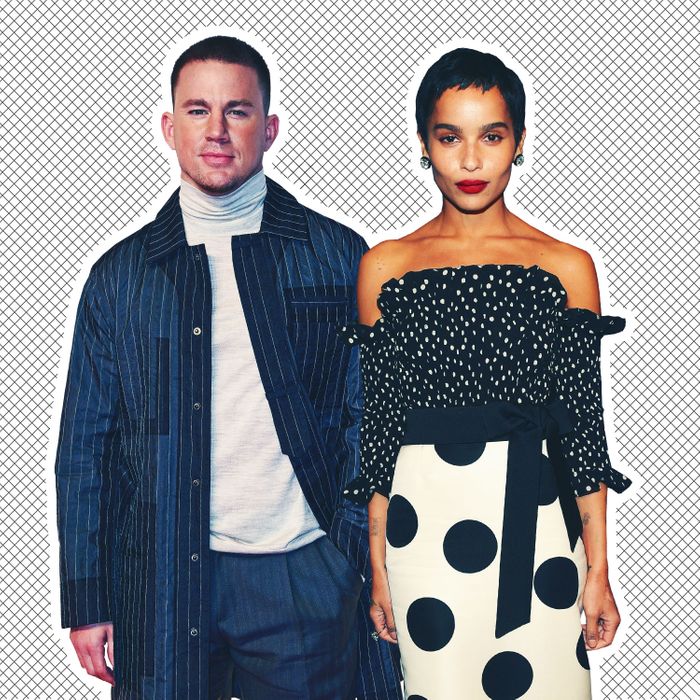 The student and his teacher.
Photo-Illustration: The Cut; Photos: Getty Images
We return with another episode of my new favorite show, Extreme Makeover: Channing Tatum Edition, in which girlfriend/style mentor Zoë Kravitz slowly but surely transforms her boyfriend/style mentee Channing Tatum with fashion. This weekend, we were treated to a coordinating autumnal outfit as the couple had a little New York City date, bopping around town, holding hands, looking very much prepared for cuffing season.
The unexpected couple's most recent look featured Kravitz in an outfit that would make the witches in Practical Magic proud: a gray beanie, cream turtleneck, flared jeans, a long black jacket, black sunglasses, and big ol' boots. She looks like if Neo from The Matrix read one think piece on Christian Girl Autumn and took some creative liberties. Tatum was dressed — presumably by Kravitz — in a coordinating cream-colored hoodie and black pants that I can only hope are Carhartt. Together, they look like a vision board for "being in a relationship in fall."
With each outing, we get closer and closer to the inevitable: these two in full-on matching outfits. First, Kravitz got Tatum to stop wearing Crocs, a major milestone in any relationship. Then, we were treated to Skater Tatum, complete with a pair of high-top Converse and Kravitz riding around on Tatum's bike pegs — ooh la la. We even got a taste of Fancy Channing at this year's Met Gala when he was dressed by Kravitz's stylist Andrew Mukamal. Fingers crossed we get the two of them in matching holiday onesies by Christmas.