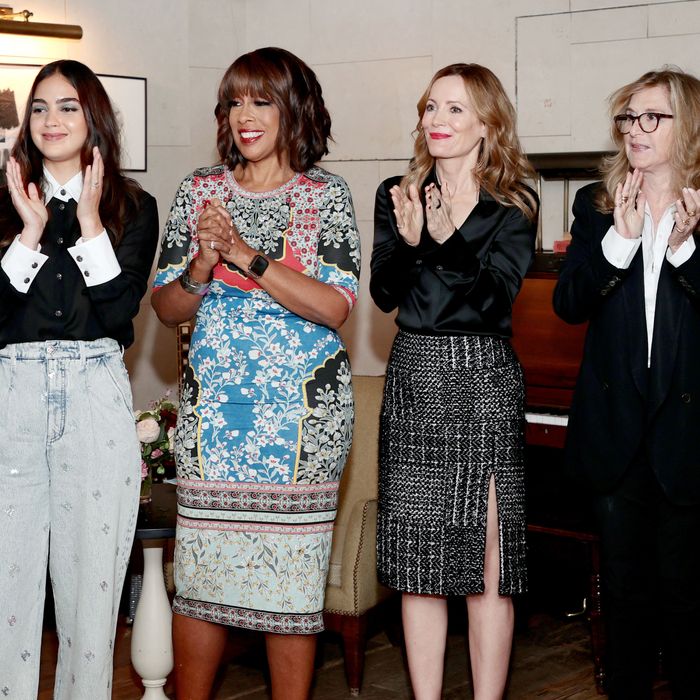 Melissa Barrera, Gayle King, Leslie Mann, and Paula Weinstein attend Through Her Lens: The Tribeca Chanel Women's Filmmaker Program's cocktail celebration.
Photo: Dimitrios Kambouris/WireImage
"When you're a young filmmaker, you're looking for the moment when you can quit your day job," Maya Tanaka told the Cut at a swanky Soho House event on Thursday afternoon. For the up-and-coming writer-director, it seemed that moment had finally arrived.
Yesterday, it was announced that Tanaka along with her producing partner, Shuchi Talati, were the winners of this year's seventh annual Through Her Lens women's filmmaker program, hosted by Tribeca Film and Chanel. Their short, Honolulu, which follows 12-year-old Yuki on a morose beach vacation with her father and grandmother, was chosen to receive full funding by a panel of judges that included Amy Schumer, Gayle King, Leslie Mann, and others. A total of $100,000 in filmmaker grants was awarded.
"We all came to the table with very different points of view," King told the Cut. It wasn't easy to pick a winner out of the five finalists, and the judges went back and forth, ultimately deciding by vote. "It sounds cliché and trite, but all five of the films we looked at were so good," she said. (Don't worry, the four other finalists will be awarded grant funds to support their films' development too.) "What I love about this project is that it just makes you proud to be a woman, and the diversity of who we are as women and people."
The celebration at Soho House was the culmination of the three-day program, which offers a group of self-identifying women and nonbinary writers and directors the opportunity to participate in workshops, classes, and peer-to-peer sessions, both virtually and in person.
"To have so many female filmmakers in one space — yes, it is a competition, but this is bigger than one film," said Talati. "We're here to support each other past these films and through our careers, and that extends beyond the filmmakers to the mentors as well. As a young filmmaker, to have people with experience come in and engage with your work deeply, and take it seriously — take you seriously as an artist — is so meaningful."
"Especially for female filmmakers, or nonbinary filmmakers, filmmakers of color, certainly, you're really taught to withstand a lot of negative feedback," added Tanaka. "You're never really taught how to take positive feedback, because we don't get that a lot. And to get it back-to-back for three days from our mentors and peers was wild and overwhelming."
What's next? With their short film finally green-lit, they're able to get to work (though they might hang on to their day jobs for a little while longer). "Maya was like, 'We need to look at the schedule,'" said Talati, laughing. "And I was like, 'Girl, just take a moment. Have a good afternoon.'"