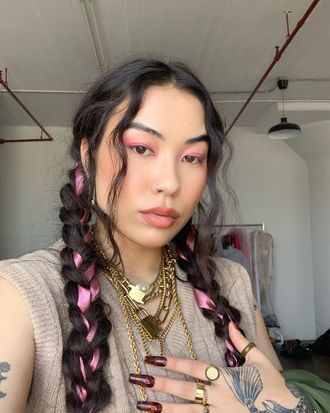 Want more skin care? Join the Beauty Group on Facebook.
Kate "Hina" Sabatine is a Leo. "So for me, personally, beauty is something I'm very, very passionate about, and I love looking my best," says Hina, a TikTok creator who is best known for their imaginary chronicles as a lesbian parent to her fictional Cornelius. "So spending $200 on one product, it makes sense to me." Not that Hina does — anymore.
"I got really obsessed at one point with Korean skin care, and I was spending my entire paycheck on the SK-II Facial Treatment Essence," they admit. It was the height of the "glass skin" era, and after years of dealing with textured skin and cystic acne, they were desperate for something — anything — that might achieve a seemingly poreless and luminous complexion. As far as the SK-II goes, "I don't know what they put in that essence, but it really is worth the money." They explain, "I just can't justify spending that much anymore" after a facial changed their perspective towards skin care.
Hina doesn't normally get facials, but it was one trip to the German countryside and a vegan hotel that changed their mind. "My ex was like, 'They have a really good spa here, you should get a facial. It's my treat.'" They were apprehensive but took up the offer. "Normally, your skin is a little red, a little inflamed after, but when I tell you that my skin looked perfect afterwards. I was like, 'Oh my God, what did you do?!'" The secret was Dr. Hauschka products — and most were priced under $50. They realized it's not necessary to break the bank with a skin-care routine.
Below, Hina shares their morning routine, including the $2 face masks they buy in bulk, the moisturizer they always go back to, and the sunscreen that "really feels like skin."
The Supplement
The Cleanser
The Toner
The Essence
The Sheet Mask
The Moisturizer
The Lip Balm
The Sunscreen