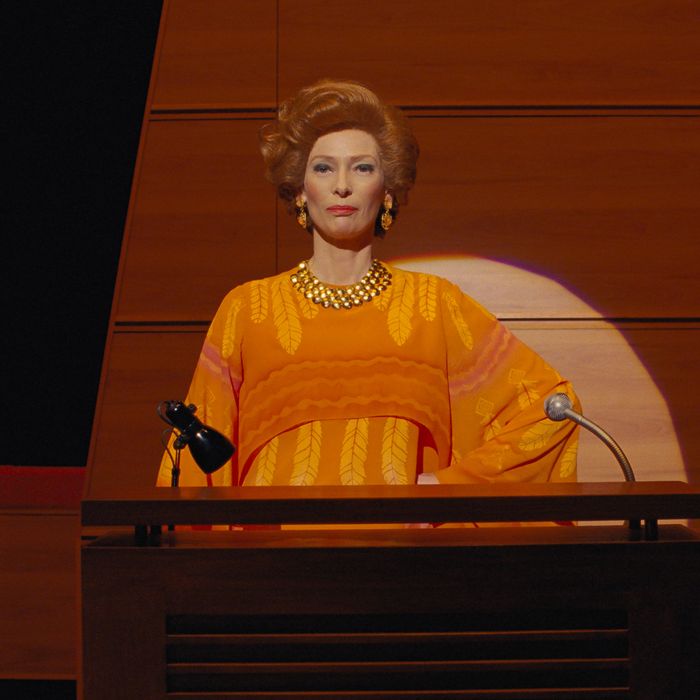 Photo: Twentieth Century Fox Film
Wes Anderson's latest film The French Dispatch purports to be a fictionalized triptych of stories based on early New Yorker pieces, but really, it is about fashion. No, I am not referring to Owen Wilson's tube socks, though those merit their own investigation. I am speaking of one outfit in this movie that has refused to dislodge itself from my brain. It is the caftan worn by Tilda Swinton's character, a fiery orange number that has birthed its own style moniker: canastacore.
Swinton plays J.K.L. Berensen, a writer with a penchant for oversharing details of her sex life in the middle of PowerPoint presentations. She narrates the first of the three stories, a vignette about an imprisoned artist (Benicio del Toro) whose muse is his prison guard (Lea Seydoux). From a podium in a packed auditorium, Berensen recounts her involvement in the story, which is (1) being the assistant of a prominent art collector hoping to buy the artist's magnum opus and (2) later having sex with the artist. But it's her present-day self that really steals the scene, thanks to this magnificent getup.
There are caftans, and then there are caftans. The caftan, a shapeless but somehow unspeakably glamorous garment, has accrued a cultish following over the past decade, mainly from people like you and me (and also Chris Pine) who want to pour all our anxiety and ennui into a singularly unflattering vessel.
Swinton's caftan, though, is in a league of its own. Let me attempt to describe it for you. The caftan's fabric, a pleasant tangerine hue, is painted to look like it has yellow feathers hanging off it. There is also a recurring theme of wavy lines, done in a darker orange, that give it a sunset energy, like the lines are in fact rays of evening sun radiating off the caftan itself. The sleeves are, in a word, enormous, which leaves Swinton's arm lots of room to gesture loftily at the projector slides behind her.
Tilda Swinton is no stranger to unspeakably glamorous lounge clothing. But, as opposed to the relaxed coolness that her daytime pajamas usually evoke, this caftan is so loud and over the top that it turns her into something else entirely. Accompanied by (what else?) chunky gold jewelry and a prominent set of false teeth, this ensemble is something out of a palm tree and martini-laced fever dream. It belongs in a Missoni resort collection for aging socialites. In this caftan, Swinton is the queen bee of a luxury Miami condo and the richest divorcée in all of Florida.
If you emerge from The French Dispatch with an overwhelming urge to swath your own body in a gauzy, boldly patterned tunic, I cannot recommend it enough. Just be warned: You may not be able to find matching shoes.