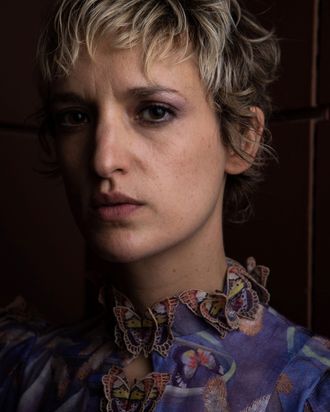 Photo: Vianney Le Caer/Invision/AP/Shutterstock
From her shaggy mullet to the "Love Is a Dog From Hell" tattoo across her sternum to the mischievous glint in her eye on the red carpet, Agathe Rousselle exudes badass energy — which is why the 33-year-old photographer was discovered for her look on Instagram and invited to audition for her first film. It's one hell of a debut.
In the new French movie Titane, directed by Julia Ducournau, Rousselle stars as Alexis — a serial-killing dancer with an extreme passion for cars. But the film isn't about cars. It's a violent, adrenaline-filled thriller centered around a young woman with a titanium plate in her head. And when the film won the Palme d'Or at the Cannes Film Festival this past summer, there were so many questions about Rouselle. Who is she? Where did she come from? How is she so hot while murdering people?
With Titane in theaters now, Rousselle talked to the Cut about studying psycho killers, being grounded in her 30s, and how Titane isn't a horror film.
This was your first experience making a movie. How did it feel?
It was crazy because for most of my 20s I had many different jobs, and there was always something missing for me.
When I was a photographer, I was really happy doing it. And I was making a living out of it, published books and everything. But there was always something missing. Maybe because, you know, I was not on the right side of the camera.
And being on set is the first time in my life that I ever felt complete. I didn't need anything else. It was just perfect because I was being seen.
I would make my brain work. I would make my body work. I would be making the director happy. I would meet people. I would have teamwork but also solo work. It was just the perfect environment for me. This was the first time ever that I wasn't missing anything.
All the things came together for you. 
I think it happened at the right time in my life because I'm so grateful that I'm coming into this industry being 33 and not 23.
At 23 years old, you don't know who your friends are. You don't know who you are. Your identity's all fucked up. So people tell you what to do, or you go places and you want to party and you're tired all the time. But now I'm 33, and I'm very grounded.
I do my yoga every day. I know who my friends are. I know what's good for me and what's bad for me. Like last night I knew I had a Q&A at the end of the movie, so I just didn't drink at dinner, which I would've never done when I was 20.
Coming into this industry as an adult is such a blessing,
How would you describe your character, Alexis? 
She's a psychopath. An actual psychopath. She's someone who has never been loved by her father. She's never been loved. She doesn't know how to love. She doesn't know intimacy. She is attracted to cars.
At some point, she meets with Vincent [played by Vincent Lindon], and she is gonna find her own humanity. She's going to discover what it is to love and be loved and to feel protected and to protect. So she's not just a psychopathic crazy killer. She's also a person going through shit.
How do you prepare to play a serial-killing dancer who's in love with cars? 
I trained a lot with a dancer, with stunt people. And I also watched a shit-ton of interviews from Ed Kemper, Ted Bundy, Aileen Wuornos. I rewatched Monster; We Need to Talk About Kevin; Henry: Portrait of a Serial Killer.
Oh, I love that!
Oh my God, it is so scary. I also watched TED Talks about psychopathy. So I prepared a lot physically and intellectually and emotionally. But Titane is not a horror movie. If I'm able to watch it, it means that it's not a horror movie.
The film is so intense. Was there a scene that really pushed you out of your comfort zone or was absolutely thrilling? 
Everything pushed me out of my comfort zone. Julia told me, "It's going to be a very small team on set because you gotta be naked and fake having sex with a car. So there are gonna be ten people tops on set." And it was on the second day of shooting, so I was like, "Okay, let's do it!'
​​What are you going to do next?
I have no idea. I really want to work in the U.S.
This is gonna sound really corny, but I'm just over the moon. I'm talking to you in my dream city, New York — where I hope I'm going to be able to live in the next five years — about a movie. I'm so lucky to get to be doing my dream job.
And last thing. David Fincher, if you read this: Call my agent. [Laughs.]