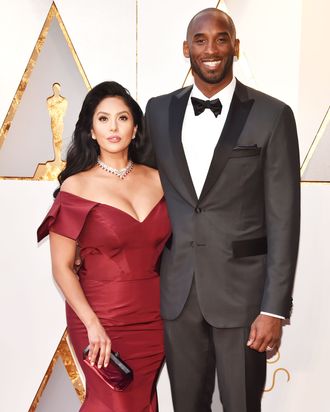 Photo: Kevin Mazur/WireImage
During a recent court deposition, Vanessa Bryant testified that she first learned about the death of her husband, basketball star Kobe Bryant, and their 13-year-old daughter, Gianna, from social-media posts. Kobe and Gianna were among nine people who died in a helicopter accident in Calabasas, California, on January 26, 2020. Vanessa is currently suing the Los Angeles County Sheriff's Department for emotional distress she says was caused by photos, allegedly taken and shared by emergency medical workers who responded to the accident, that showed human remains at the crash site.
The morning of the accident, a family assistant came to the Bryant house around 11:30 a.m. to inform Vanessa of the crash. She was told that five people survived the accident and assumed Gianna and Kobe to be among them. However, around the same time, TMZ broke the news of Kobe and Gianna's deaths online. "I was holding onto my phone, because obviously I was trying to call my husband back," Vanessa said in her recent court appearance, "and all these notifications started popping up on my phone, saying 'RIP Kobe. RIP Kobe. RIP Kobe.'" Hours later, Vanessa got confirmation from the L.A. County Sheriff's Department that all nine people onboard, including Kobe and Gianna, had died in the crash.
Vanessa said she is seeking "accountability" for the photos, citing emotional distress caused by the actions of county employees. "No one should ever have to endure this type of pain and fear of their family members," she said, adding, "not only do I have to grieve the loss of my husband and child, but for the rest of my life, I'm going to have to fear that those photographs of my husband and child will be leaked."