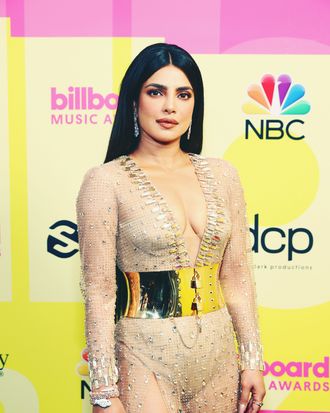 VS Collective member Priyanka Chopra Jonas is the show's debut guest.
Photo: Rich Fury/Getty Images for dcp
After getting rid of its Angels, allowing its mannequins to have chests exceeding a size 32B, and adding some nursing bras to its offerings, Victoria's Secret, the lingerie company that refuses to die, is continuing its rebranding by launching an "empowering new podcast," People reports.
Called VS Voices, the podcast will be hosted by author and founder of Girlgaze Amanda de Cadenet, who is kicking things off by chatting with actress and producer Priyanka Chopra Jonas. De Cadenet and Chopra Jonas are both inaugural members of the VS Collective, a group of "accomplished women who share a common passion to drive positive change" that was established earlier this year to replace the axed VS Angels.
This could be dismissed as yet another grasp at relevancy from the creators of the push-up sports bra, but this one answers some of the rebranding questions that arose over the summer, such as, What will this VS Collective be doing, exactly? De Cadenet tells People that she and her fellow VS Collective members will be giving "candid, deeply personal" interviews "with an underlying and persistent focus on the human experience of womanhood." The rest of de Cadenet's guests have yet to be announced, but other VS Collective members include soccer star Megan Rapinoe, trans model Valentina Sampaio, and Olympic skier Eileen Gu.
No one knows if this latest phase of resuscitation will finally convince "the Gen Z-ers" to buy into the brand as planned. Raúl Martinez, who joined the label as creative director at the beginning of the year, has sought to make Victoria's Secret more inclusive. According to People, tomorrow's debut episode of VS Voices (on Spotify, Apple Podcasts, and Google Podcasts) will touch on how Chopra Jonas defines herself, in addition to a discussion about racism, faith, processing grief, self-love, and her husband, Nick Jonas.