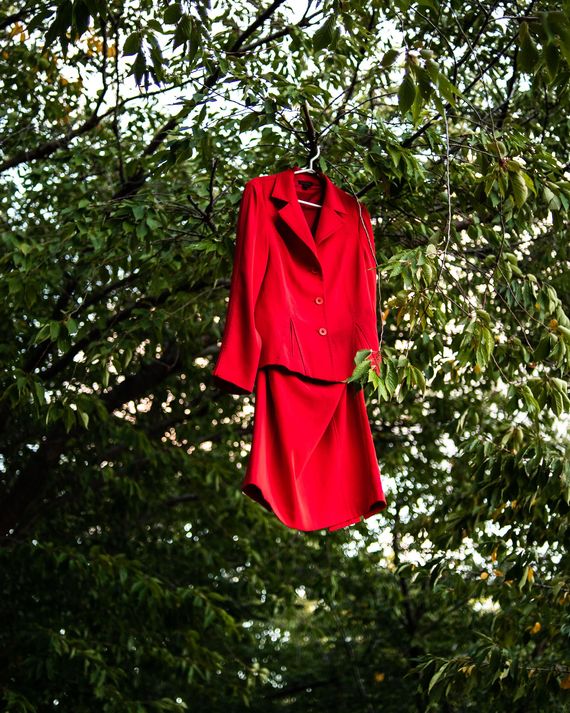 A public art installation commemorating missing and murdered Indigenous women and girls in Burlington, Canada, October 2020.
Photo: Stacey Newman/Shutterstock
As someone who has lived through the terror, frustration, and catastrophic loss of having friends and relatives vanish or be murdered, I wouldn't wish that kind of suffering and grief on anyone — regardless of their race, nationality, class, or background.
Needless to say, the wall-to-wall coverage of 22-year-old Gabby Petito's disappearance and the subsequent discovery of her remains has been incredibly sad and spotlights the ongoing, widespread issue of violence against women. But her story's prevalence has revealed something more — the overwhelming lack of coverage received by missing and murdered Indigenous women and girls (MMIWG), even though it's a crisis that has risen to epidemic proportions.
You see, there's a reason I've lost so many loved ones to predatory men. I am a Native woman, and many of those who were stolen from us were too. We are surrounded by violence and injustice. Hardly a single Native family remains untouched by MMIWG.
Native women face murder rates that are more than ten times the national average, and four out of five have experienced violence in their lifetimes. In 2016, the National Crime Information Center, a computerized index of criminal-justice information through the FBI, said that there were 5,712 reports of missing Native women and girls, but the US Department of Justice's federal missing-persons database only logged 116 cases. In Wyoming alone, where Petito was found, more than 700 Native people went missing between 2011 and 2020. The majority were women and girls. Not a single one of their cases has received anything remotely close to the kind of attention Petito's has.
Ashley Loring Heavyrunner, a member of the Blackfeet Nation, vanished without a trace from Browning, Montana, on the Blackfeet Indian Reservation, on June 5, 2017. She was only 20 years old and majoring in environmental science at Blackfeet Community College.
Tribal law enforcement searched for Ashley for just three days, and it was two months before the Bureau of Indian Affairs, which exercises federal jurisdiction over reservations for crimes like kidnapping, rape, or murder, got involved. Ashley's family has been left to search for Ashley on their own. They found possible evidence related to Ashley's disappearance but received no DNA results from authorities. Four years later, she's still missing. There has been little coverage of her case.
Ashley's story exemplifies several factors that contribute to the epidemic of missing and murdered Indigenous women in the United States. Thanks to Congress, tribal lands are a jurisdictional mess. Whether state, tribal, or federal law enforcement is in charge of an investigation can literally vary by mere feet. Communication among these multiple agencies, operating within different systems, is disconnected and often nonexistent. Federal law has long prevented tribes from arresting and prosecuting non-Native offenders on tribal land, and Native survivors report that at least 67 percent of perpetrators are non-Native, meaning the majority of those who target Native women and girls get away scot-free. Natives who commit felonies like rape and murder on tribal land fall under federal jurisdiction, which means federal state attorneys, who lack resources, funding, and manpower, are required to pursue those cases but often don't for the reasons I just mentioned. Also, reservations are primarily rural and impoverished, so they lack sufficient law enforcement and medical services.
First and foremost, however, Native women and girls fall through the cracks because they are subjected to systematic bias, institutional and structural racism, and negative colonial stereotypes. Reservation border towns populated by settlers are often full of anti-Native sentiment. Authorities blame victims for their own abduction, rape, or homicide, and families' concerns are summarily dismissed. When police drag their feet, crucial time to find missing loved ones is lost.
Tribes, Native organizations, victims' families, and survivors have been pleading for help for decades. In recent years, there has been little progress. The Not Invisible Act became law in October 2020. It mandates the creation of a commission that involves representatives of tribal, state, and local law enforcement, Tribal judges, health-care professionals, mental-health practitioners, Native urban organizations, Native survivors of human trafficking, and family members of missing and murdered Indigenous persons. Secretary of the Interior Deb Haaland, the first Native woman to hold that cabinet post, formed a new Missing & Murdered Unit (MMU) within the Bureau of Indian Affairs' Office of Justice Services (BIA-OJS) "to provide leadership and direction for cross-departmental and interagency work involving missing and murdered American Indians and Alaska Natives." She is endeavoring to put the full weight of the federal government into investigating these cases across agencies.
The Senate, however, has obstinately refused to reauthorize the Violence Against Women Act (VAWA). The legislation is vital for ensuring that tribes have jurisdiction over non-Native perpetrators who hunt, attack, or traffic Native women and girls.
Now we may see how the media and its ignorance of and disregard for Native lives has played a role in the epidemic of missing and murdered Indigenous women. A problem cannot be addressed if it's never discussed, and I can't help but wonder if cases like Ashley's would have been solved if they had received the same attention as Gabby's.
As a Native woman, I've experienced violence in my lifetime. I've had nightmares about being taken and hurt, only to escape and be laughed at, mocked, and discarded by settlers when I sought refuge, justice, and protection in an unfamiliar place. Indigenous women and girls are not safe on stolen land. English words fail to describe the sense of isolation one feels knowing that people like me are not valued by society — that we are often seen as exotic playthings, disposable and invisible. Native girls live with a little voice in their heads. One that asks, If I am taken, will anyone look for me?