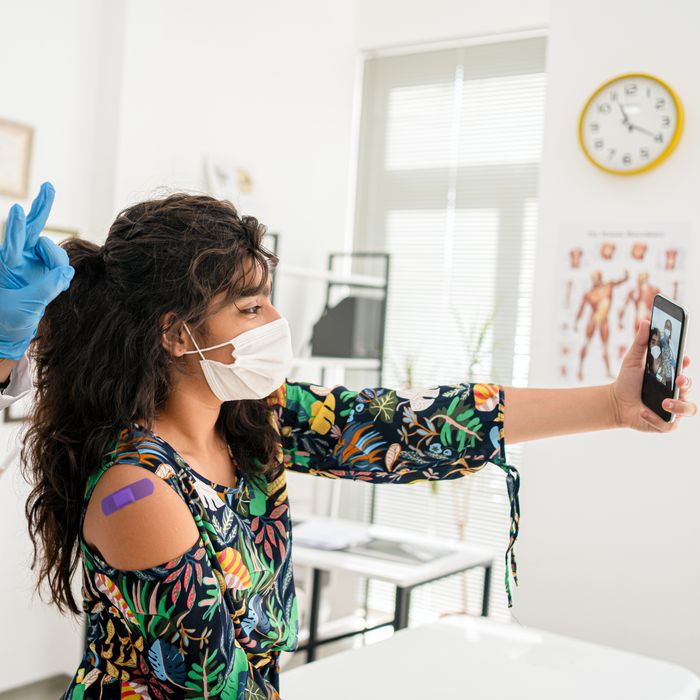 Photo: Phynart Studio/Getty Images
Over the course of the pandemic, the rules of engagement on Instagram have become increasingly fraught. In the early days of quarantine, posts that previously seemed innocuous suddenly felt loaded and tone-deaf; now, a year and a half in, vaccination is the latest landmine. Despite an ostensible ban on vaccine misinformation, the platform is overrun with anti-vaxx sentiment — which Facebook, Instagram's parent company, has made little effort to curb. And for influencers who choose to share their vaccination status with their followers, the fallout can be swift.
Maia James, a New York–based wellness influencer, recently posted about watching her follower count "tick down by the hundreds in real time" after she posted about vaccinating her child against COVID. Sharing a screenshot of one of the many emails she received, which ended with "go to hell," she wrote, "It's likely why so many bloggers in this space have been silent on the topic — even the ones I know have taken the vaccine themselves."
We spoke to James and a few other New York City influencers about how they've navigated sharing their vaccination status with followers and what the response has been like.
Sharing that I was getting vaccinated definitely got me the most negative backlash I've ever had. I got hundreds of nasty emails. People even sent me mail with clippings and anti-vaxx propaganda.
Among the crowd I interact with, it's not always easy to predict how people feel about vaccines. Still, I was surprised by how surprised my followers were that I was getting the vaccine. They were like, Oh my God, you, of all people. There was a sizable minority that were really pissed. And I could see, with my social-media following, the numbers just, like, ticking down after the post where I announced that I was getting vaccinated. People said, "I'm never shopping in your store again. I'm not following you on anything."
Naïvely, in the beginning, I came from a place thinking that everybody was going to want the vaccine, especially living in a New York bubble where everyone I knew was itching to get it. I didn't think that it was going to be taboo until I posted about it. People were in my DMs, total randoms, coming out of the woodwork being like, "You don't know what's in the vaccine. Why was it getting developed so quickly?" It was so outlandish to me.
A few people did unfollow me, but not a lot because my audience is primarily female, younger, and liberal. I did get a few crazy DMs, though. I posted a quote from an Atlantic article saying vaccinated people should no longer carry the burden for unvaccinated people. Someone replied, "I appreciate you and love your content, but how is this different from Jews wearing an armband?" Did you just compare being voluntarily unvaccinated to being a Jew during the Holocaust?
I took a screenshot of it and posted it to my story, adding, "Sometimes when I think it can't get any worse, it does." And also, how are you still following me? How are you still watching all my stories when this is something I continually talk about?
It's so funny that people think I got paid to get the vaccine. The day that I was eligible, I was refreshing that website, I was calling, I was doing everything I possibly could to get vaccinated. I do know some people that have been compensated by CVS or Walgreens to promote getting the vaccine there. They're not getting paid directly by Pfizer or Johnson & Johnson or Moderna, but by the specific pharmacies.
After sharing that I was getting vaccinated, there was definitely an array of negative messages about how I'm not qualified to be sharing what I'm doing or how it's not right that I'm "pushing people" to do something. However, I tried to take the stance that I'm not pushing, I'm just showing what I'm doing and then I hope that everybody will use their own brain and follow that. I don't think it should be the responsibility of these 20-something-year-olds, or even teenage influencers — I hope that people don't come to me as their source of news or their source of ethically what's right and wrong.
Kelsey Kotzur, lifestyle and fashion Instagrammer and TikToker
I don't think your Instagram or TikTok necessarily has to be focused on social issues and politics, but if you're staying silent on purpose so that you don't lose followers, that's a huge cop-out and it's really obvious to people. Back in June 2020, when the protests for George Floyd were happening, I was very vocal. I lost, like, 1,000 followers on Instagram after posting about Black Lives Matter. On one hand, I'm like, Fine, I don't want you following me. But then to lose that many people, I was like, Holy shit, this is no joke.
Ultimately, I think I weeded out all the people who didn't agree with me. When I posted about my vaccine, everyone was like, "Oh my God, stop. You got an appointment?" because it was really hard to get an appointment in New York in the beginning. I was excited to post about it. I wanted people to know that I'm doing this not just for myself but for the people around me, the people who are immunocompromised, the people who have lost loved ones, so that I can go see my grandma without feeling guilty.