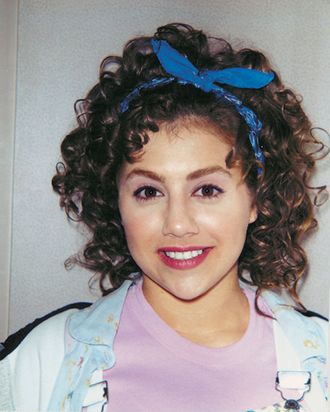 Photo: Courtesy of HBO Max
In 1995, Brittany Murphy was a young Hollywood starlet who'd just found her breakthrough role in Clueless, where she played a hapless, cheery new girl who gets taken in by the popular crowd. Throughout the '90s and early 2000s, her star continued to rise: She showed up in 8 Mile alongside Eminem and in Just Married with Ashton Kutcher, both of whom she also dated. Then, at the age of 32, she collapsed on her bathroom floor, dying of what a medical examiner would ultimately deem pneumonia.
The cause of death only added further confusion to what was shaping up to be a dark mystery. What 32-year-old dies of pneumonia? To make things even stranger, her husband, a British screenwriter named Simon Monjack, died of similarly mysterious causes five months later. Over the past decade, there has been more hearsay than fact about what happened. Some, including her father, say she was poisoned. Others claim she died from black mold, while fans have cooked up elaborate conspiracies involving cover-ups. According to What Happened, Brittany Murphy?, a new two-part HBO documentary, many of the questions surrounding her death lead to her husband. The documentary presents him as a pathological liar who preyed on Murphy and her mother, isolating them and draining their money while also encouraging Murphy's use of prescription pills and dangerous weight loss. The reality, according to her medical examiner, is that her body essentially collapsed: starved of nutrition, addled by drugs, and in desperate need of medical attention for an illness that started as a mild flu. And yet Monjack and her mother, who were in the house while she was sick, maintained in interviews that she was perfectly healthy until the day she died.
Much like the many recent reconsiderations of Britney Spears, the documentary revisits the public scrutiny that drove Murphy to a place where she could be victimized by someone like Monjack. Yet the film has been criticized for its fixation on her death, which some critics found exploitative, especially given that it doesn't seem to reveal much new information about Murphy or how she died. Instead, it focuses largely on her husband. Here are the biggest takeaways.
The industry and the press fueled Murphy's disordered eating
In 1999, Murphy, already a rising star, started visibly losing weight and dyeing her hair blonde. Kathy Najimy, her King of the Hill co-star, recalls Murphy saying, "That's what I've been told: If I want to be considered a leading lady, I have to lose a lot of weight."
Murphy was somewhat open about her transformation, though she adamantly denied having an eating disorder. In 2000, she told Interview, "A very important person in Hollywood … said I was huggable, but not fuckable. So I got these extensions put in my hair and that made a big difference."
And she did book more parts, including her role alongside Ashton Kutcher in Just Married. HBO's documentary includes a recording from The Howard Stern Show from shortly after the co-stars began dating in which Stern can be heard telling Kutcher, "Can you believe she was the ugly chick in Clueless? She was a fat ugly chick. She transformed herself." He proceeded to tell Kutcher that Murphy looked like she'd "been around the block a few times" and that he "better wear a condom if she's been with Eminem."
Of course, the praise for Murphy's extreme weight loss soon turned to talk of an eating disorder, without much regard for her actual health. Bruce Bibby, a journalist who wrote for E! under the pseudonym Ted Casablanca, says in the documentary that "she was going around with a scarlet A on her body for 'anorexia' … everyone knew it. Everyone talked about it."
Her husband isolated her and took control of her life
According to Najimy's account, Murphy was at a low point when Monjack entered her life in 2007, two years before she died. It's not clear if she was yet abusing prescription pills, but the rumors had started, and the press had become fixated on her weight loss. She was "muddled and desperate," Najimy says, and "became prey to things that she thought would help her." She fired her entire team when they expressed concern about Monjack, instating him as her agent, manager, lawyer, and, eventually, even makeup artist. He took over her financial decisions and drove her everywhere. Friends say she changed her phone numbers, making it impossible for anyone to reach her without going through her husband.
Monjack also appears to have had serious drug abuse problems, and according to directors, both of them would show up to movie sets clearly high. Soon enough, Murphy's offers dried up, as both of them developed a reputation for being difficult to work with. The last set she worked on, for a horror movie called The Caller, fired her two days into shooting after Monjack reportedly got into an altercation with someone on set.
Monjack had a history of lying and manipulation
To many people outside the relationship, Monjack seemed like a textbook scammer. Those who knew him recall the outlandish lies he would tell people, like that he was the world's largest collector of Vermeer paintings and had dated Elle McPherson and Madonna. He apparently frequently lied about having had terminal brain cancer and being saved by an experimental shark-fin treatment.
He was also hiding two children in Europe: a teenager, whom he had been putting through private school with Murphy's money, and a younger child in France. The child's mother says she had a disturbing relationship with Monjack: She claims he "loved anorexic women" and would frequently comment on her weight and appearance. She suggested the sex between them was not always consensual: "He got what he wanted," she said about their sex life. "He was very rough … it wasn't always when I wanted to."
Murphy would probably have lived had she gotten medical attention
Murphy spent the last few months of her life holed up in her Beverly Hills mansion with Monjack and her mother. The coroner who investigated her death said he got reports that she and Monjack would stay up all night, watching TV and ordering food. According to friends, Monjack would do photo shoots with Murphy dressed up like a doll and encouraged her to get plastic surgery. A search of the home found more than 90 prescription bottles on Monjack's side of the dresser bearing both of their names as well as other aliases.
After they left the set of The Caller, which was filming in Puerto Rico, Murphy, her mother, and Monjack all came down with what they called "flulike symptoms." According to the coroner, they treated themselves with over-the-counter medications, and when Murphy's condition didn't improve, no one took her to get medical attention. Shortly before she died, she spoke with Monjack's mother on the phone, telling her, "I'm having trouble breathing. I can't breathe when I go to the top of the stairs." She asked, "Do you think I'm dying?"
The medical examiner who did her autopsy found that Murphy was already extremely anemic, a result of not getting enough nutrients, which lowered her resistance to illness. If any doctor had seen her hemoglobin levels a week or two before she died, according to the ME, she would have been hospitalized. At some point, she developed pneumonia, which could have been easily detected by a chest X-ray and treated at a hospital. According to the coroner, "Had they taken her to the doctor a few days before [she died], she'd still be alive."
Monjack's bizarre behavior continued after Murphy's death
After Murphy's death, Monjack and her mother developed a deeply weird relationship. They told reporters they would sometimes sleep in the same bed, holding each other, and one particularly creepy photo shoot saw them gazing lovingly into each other's eyes as if they were a couple themselves. In an interview they both sat for with Larry King shortly after Murphy's death, her mother appeared to be completely disoriented and slurred her words, with Monjack correcting her timeline at one point and saying, "No, no, baby, you've forgotten time." When King brought up the fact that Monjack didn't want an autopsy done, which fueled suspicions about Murphy's cause of death, Monjack responded, "This pristine body that was curvy in all the right places and her skin like silk — how can I say, in front of her mother, 'Cut it up'?"
Monjack died five months after Murphy from "acute bronchopneumonia," a lung inflammation usually caused by bacterial infection. At this point, the rumors surrounding Murphy's death really took off: black mold was found in their house, which many suspected to have been the cause of both of their deaths, though Murphy's ME says she didn't see any evidence of mold in her organs. Murphy's father, who was absent for most of her life, claimed she had been poisoned, having sent her hair samples to a private lab. But the metals found in her hair, which can sometimes be indicative of pest poison, turned out to be from hair dyes, not toxic substances in her bloodstream. The ME, who listed pneumonia as her main cause of death, says it was really a combination of anemia and drugs in conjunction with the pneumonia that killed her. Why neither her mother nor Monjack brought her to see a doctor remains a mystery.