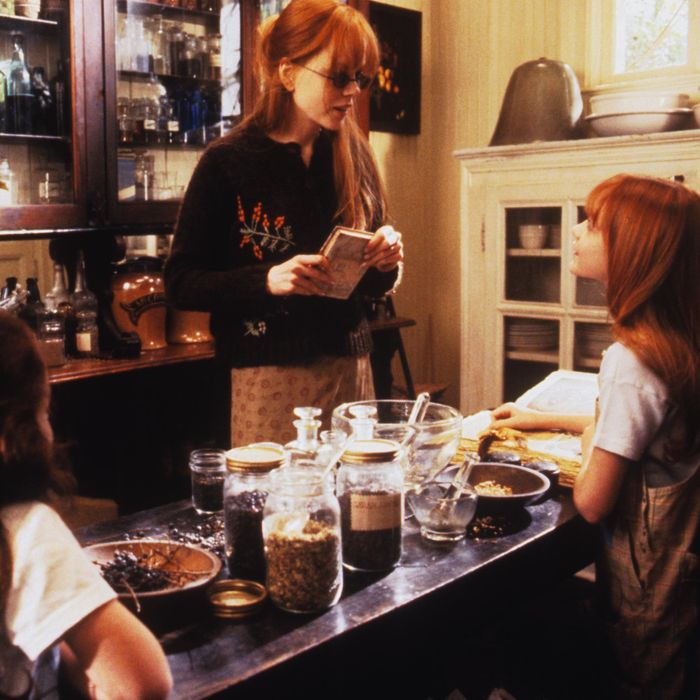 Photo: Suzanne Tenner/Warner Bros/Kobal/Shutterstock
With all due respect to TikTok, I am exhausted of witch style. You know what's better than dressing like a witch? Dressing like a witch who dresses like a human. Practical Magic, a movie that includes a song dedicated to midnight margaritas and also Stockard Channing wearing a rapid succession of enormous hats, is proof of this. In the movie, Nicole Kidman and Sandra Bullock play witch sisters with enviably long hair and a family curse that dooms whomever they fall in love with to die. Another thing they have going for them? Impeccable style, which has nothing to do with the fact that they're witches except that maybe they've bewitched all the vintage stores in their cute little town to stock the best fall cardigans money can buy.
Our colleagues at Vulture have already sung many of Practical Magic's praises, but we are here to talk about the incredible seasonal dressing on display in this film. The movie's plot is largely irrelevant, but know that it involves a half-dead evil vampire out to get our very chic witches. Their style is largely reflective of their classic sisterly dynamic: Gillian (Nicole Kidman), a sultry party witch who smokes cigarettes and has a snake tattoo on her boob, makes such style choices as wearing a belly chain to her sister's PTA meeting. At one point, she falls in love with a man she describes as a "Dracula cowboy," which, hot.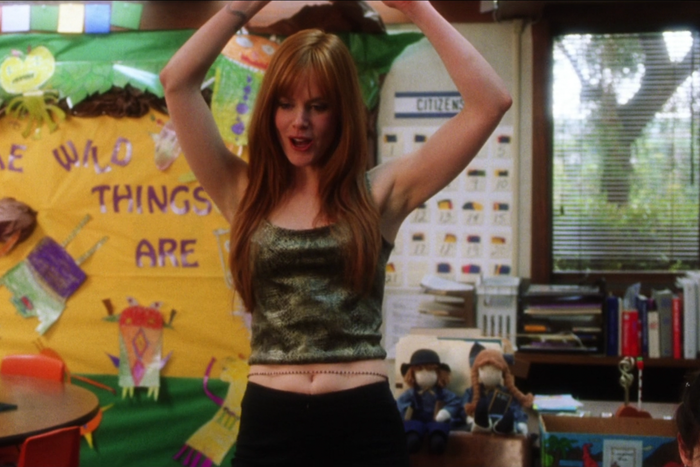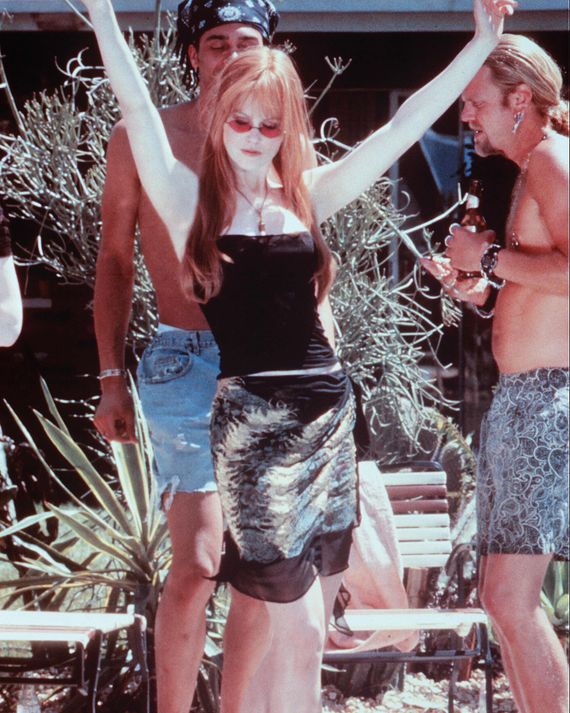 Meanwhile, Sally (Sandra Bullock) is a down-to-earth witch with a penchant for mom jeans and chunky shoes. Both of them spend a large majority of the movie in some variation of a long floral skirt and crop tank, topped off with a coordinated cardigan, which is the zenith of transitional-season fits.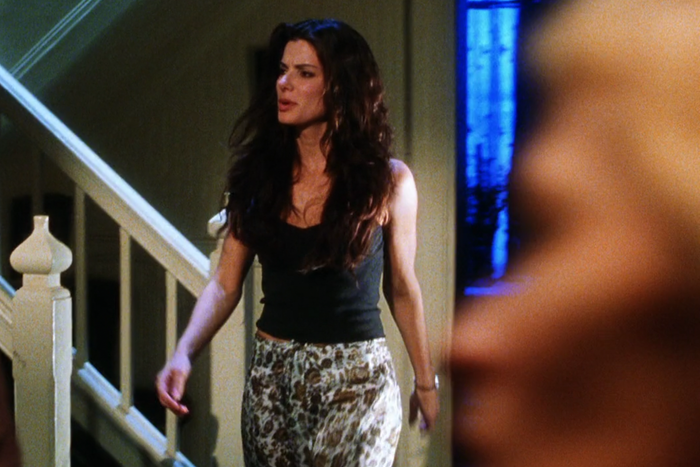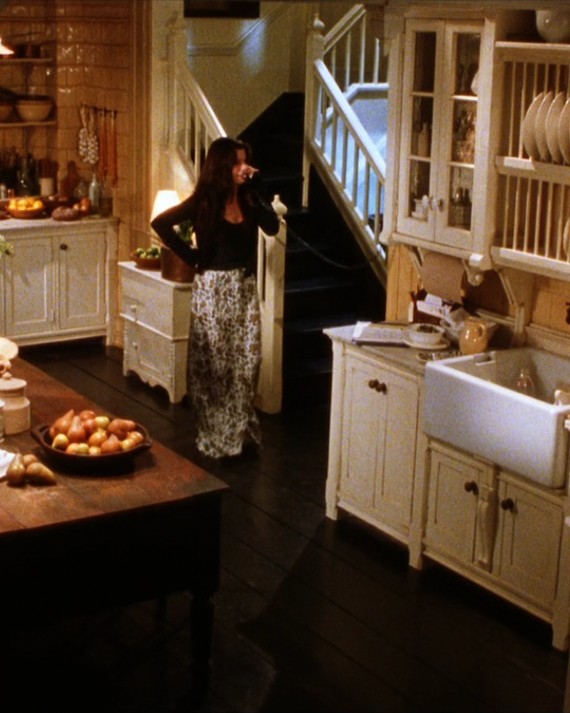 Because of her stay-at-home vibe, Sally spends her time doing slightly more relatable things than dating a sexy vampire, so her outfits are a perfect guide for navigating less-than-ideal-weather activities. For example, the next time you are sprinting to go make out with your new boyfriend–slash–local apple dealer while Faith Hill's "This Kiss" plays, please consider this rain-boot-centric outfit, courtesy of Sally and her perfectly mussed bangs:
Or maybe you do want to dress like a vampire's girlfriend (not to be confused with a vampire's wife), which apparently involves chunky sweaters so big you cannot even see the cute little slip dress you're wearing underneath.
Have I mentioned these sisters have equally stylish aunts? After their mother died of a broken heart (see: family curse), they went to live with their kooky aunts, played by Stockard Channing and Dianne Wiest. Their aunts feed them chocolate cake for breakfast and, as previously mentioned, have a truly enviable hat collection. Behold, a Pinterest mood board for things to wear on your head while gardening and/or drinking tea: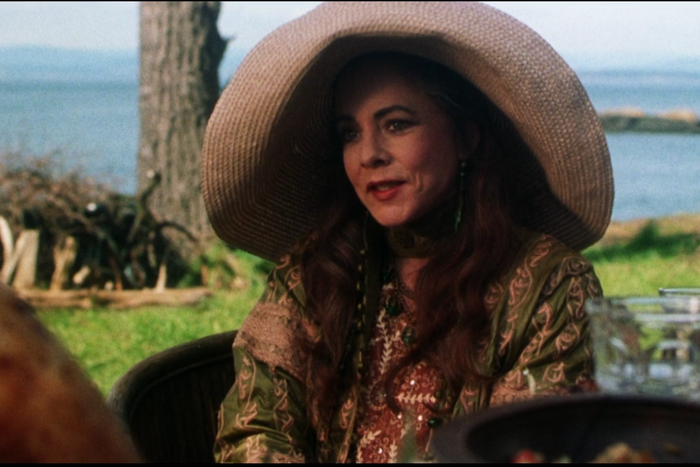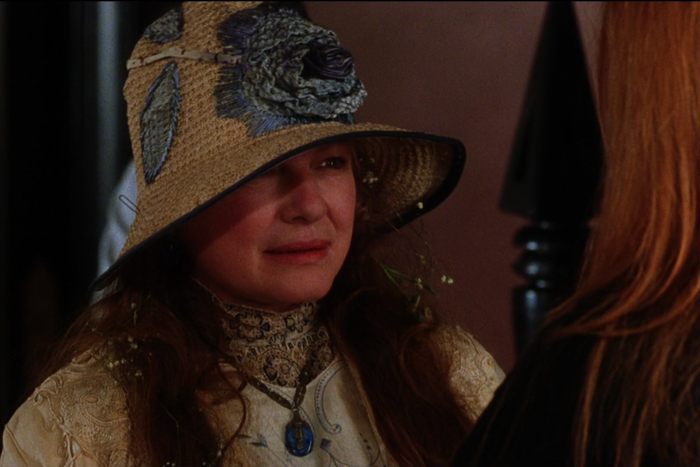 The movie's costume designer has wisely extended this hat theme to the youngest members of the family, including baby Evan Rachel Wood, who plays Sally's daughter. More of a metropolitan gal about town than a backyard gardener, she possesses the most chic fuzzy beret I've ever laid eyes on.
If you are still not convinced that this particular brand of witch dressing is far superior to all others, consider this: You can wrap yourself in an enormous cardigan for Halloween and call it a costume.
Happy layering!