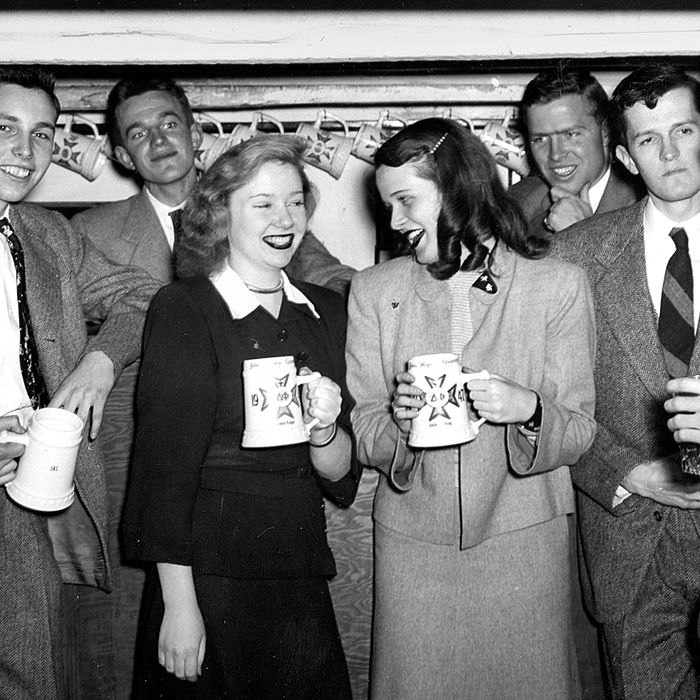 Photo: JHU Sheridan Libraries/Gado/Getty Images
No one comes to Yale for the parties, but students still look for them. Not even the most academically minded 18-year-old can resist the clarion call of American fraternity parties, which have been sold to us, over and over again, by movies, television shows, and Barstool Sports. When I was a freshman in 2019, going to frat parties was at least a twice-weekly activity. It was a ritual that included stomaching several shots of blue-raspberry Svedka chased with orange juice stolen from the dining hall. Most girls, myself included, dressed in some variation of a cropped tank top, jeans, and white sneakers (likely Nike Air Force 1s). We would gather in chattering, homogeneous crowds around a handful of houses on High Street in New Haven, Connecticut, trying to catch the eye of the frat brother at the door. Inside would be a thrumming mass of people, moving arhythmically to terrible music, sweaty and hormonal bodies pressed against each other, be it out of attraction or necessity.
Greek life certainly doesn't loom as large at Yale as it does at large southern colleges like the University of Alabama. But frats at Yale have some of the longest institutional histories in the country. Delta Kappa Epsilon, of Brett Kavanaugh infamy, was founded at Yale in 1844. The underlying conditions of a fraternity — being an insular group of socially powerful men — are exacerbated at places like Yale. Here, there is no shortage of men who come from powerful and wealthy alumni families. They join the same organizations as their fathers and grandfathers and thus have more incentive to maintain the old boys' clubs. The danger of fraternities is just as exacerbated — Yale continually tells students that they are destined for greatness, that they deserve to be here, that they are not only good, but also excellent. Imagine what that does for the ego.
But these things weren't on my mind when I joined a fraternity: the now former Yale chapter of Sigma Phi Epsilon (SigEp). I was thinking only of how fun it would be, how cool it was to be one of the first women in SigEp. There was precedent for this — in 2017, a group of female students rushed Yale's male-only fraternities. They were part of a campus group called Engender, which had been founded the previous year to push fraternities to gender integrate. Two years later, three members of Engender filed a federal class-action lawsuit, alleging that the fraternities and the housing corporations that rented to them had committed sex-based discrimination — because no women were allowed to be members and thus no women were allowed to live in the houses. The group also accused Yale of "deliberate indifference" to sexual harassment. In January 2020, a Connecticut court dismissed all but one count of the lawsuit, leaving only one plaintiff's Title IX complaint about a sexual-harassment case.
The research aggregated on Engender's website explicitly links gender segregation to sexual assault. There have been other movements, nationwide, to combat sexual assault by banning alcohol from being served at fraternities or attempting to ban single-gender organizations altogether. But Engender's current advocacy only surrounds the gender integration of fraternities. They explain this by claiming that "sex discrimination in fraternities … [encourages] various forms of sexual violence, resulting in much higher rates of sexual assault by fraternity members." At its heart, Engender's mission statement asserts the bold claim that the presence of women will change male behavior.
Last fall, one fraternity did finally allow women to join: SigEp. They disaffiliated from the national organization and rebranded as the Edon Club, inspired by the name of the building that members of the frat rent.
SigEp had been at Yale for less than two decades. Coeducation was one of a handful of reasons that Yale's SigEp chapter decided to disaffiliate — when the national organization sold the New Haven fraternity house, the chapter decided that the high dues they were paying to SigEp were no longer worth it. A few weeks after officially shedding the name SigEp (and tossing the Greek letters that used to hang above their door), the boys decided to go coed.
Edon recruited six juniors to be part of their inaugural class of women. They were beautiful, well-liked, and already friends with men in the fraternity. In the spring, these women helped run the first rush process open to Yale students of all genders. The selection process was marathon-like, involving dozens of one-on-one meetings with members and some group events. Sixteen sophomores — 12 women and four men — were given bids in February. I was one of them.
We tried to stop using the term "fraternity," but the identity was hard to shed. The selection process was still called "rush," after which successful applicants entered a probationary period during which they were "pledging" the organization. I think, after a while, we all gave up on pretending.
I rushed because it had been a long quarantine year, and I was newly vaccinated but still struggling to make new friends. The process began with informal interviews with current members. The best, by far, was one I had with a boy who had come to Yale to play on the national-championship-winning squash team but found religion instead. We talked about his recent foray into Buddhism and the potential healing properties of hallucinogenic drugs. At parties held for prospective members, I also discovered my great affinity for, and not inconsiderable skill, at drinking games.
I understood, after joining, the intoxicating power of fraternities. Pledging is deliberately calculated to build tight in-group bonds. (Hazing is an unavoidable topic when discussing fraternities, and it has resulted in deaths at other universities, but we never did anything that would have harmed our well-being while pledging.) I have made some of my closest friends while pledging Edon, partly due to the cultivated atmosphere of camaraderie. Sure, alcohol plays a not-insignificant role in getting to know your fellow members. But you wouldn't like partying with people you weren't friends with. (Before you ask: Edon members discussed enacting rules against fraternization, but truthfully, it's impossible to stop college students from having sex with each other, and even members of single-sex organizations do. The norm is that current members shouldn't become involved with students rushing or pledging the fraternity.)
At all colleges, Greek life is an inherently gendered experience,  and fraternities hold the power of invitation and the promise of inebriation. Edon's integration didn't change the fact that our social power (and, consequently, my own) is derived from our ability to throw parties and offer free alcohol.
In fall of this year, the Edon Club opened up its doors to partygoers, and the student body rushed back in, full force.
At one of these parties, I watched my closest friend in Edon have a panic attack in the second-floor bathroom. Downstairs, she had encountered a boy who had spent the semester harassing her. Another member, despite knowing their history, let him into the party. Now, we were hiding from the crowd, listening to the sounds of a successful party we had thrown. We perched on the edge of a yellowing bathtub, taking deep breaths together. I was struck, even in that moment, by our naïveté, our blindness to the broader problem.
Maybe there had been a part of me that thought joining a fraternity would insulate me from the dangers of being a college woman — that one-in-four rate of sexual assault. Did I think that I could sidestep the inherent risks of womanhood? Sure, I had gained some form of power within a coveted social space on campus. I have become the fraternity brother at the door.
But I cannot protect all the freshmen girls on campus, no matter how hard I try. No one can. Edon, for what it is worth, is doing its best. We take turns staying sober during parties and monitoring our guests. We serve all drinks ourselves. We maintain a blacklist of unsafe individuals. There is a very strong argument that any degree of harm that can be averted is significant, because it is an entire life that hasn't gone off course because of assault.
Still, it isn't any one thing that puts me or other women at risk of sexual violence. It is the entirety of gender, of misogyny, of structures of violence. I have lived under this threat all my life. It has followed me down dark and empty streets, through tightly packed rooms, hidden itself in plain sight.
So what do we do? We go back to the party.