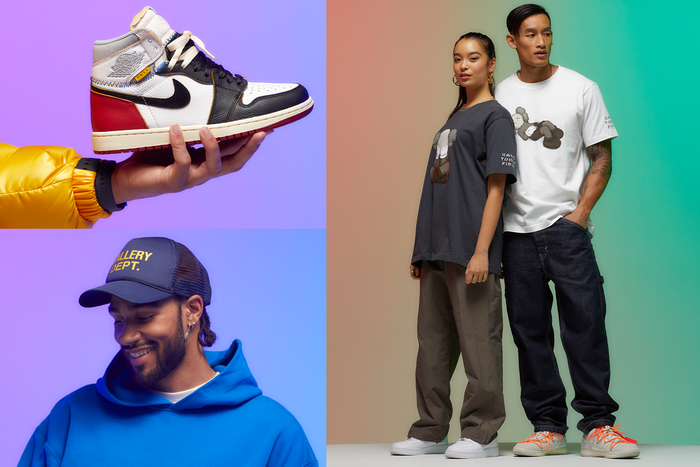 Photo: Images courtesy of StockX, layout design by Alex Cheung
We all have that friend. They're constantly anticipating the next streetwear drop, they spend hours searching for rare finds, and they could give a lecture on the latest collaboration between their favorite artist and clothing brand. They live in one-of-a-kind hoodies and sneakers, understand the value of a seemingly simple bucket hat ("Come on," they'll tell you. "It was a 1998 limited release!"), and have probably spent hours in a blocks-long line on the day of a drop. Have someone in mind? Well, go ahead and exhale that sigh of relief: we've partnered with StockX to help make holiday shopping for your hypebeast friend a little easier this year.
StockX — the online marketplace for all things fashion, electronics, collectibles, and more — has created the smartest way to shop what's cool in current culture. You can find millions of hard-to-find, or even sold-out, products at their true market value. From the latest and greatest sneakers to the hottest hoodies and apparel, StockX is the go-to spot for shopping what's now and next.
For the Nike-obsessed
Considering the brand's tradition of releasing in-demand Jordan 11s right around the holidays, the arrival of these gray Jordan 11 Retros shouldn't surprise anyone. For the last three years, StockX's biggest Jordan release has been this holiday release, and this year is looking to be no different. These Cool Greys are the second most hyped colorway on the site, making it one of the most anticipated in years. Any Jordan-obsessed friend will be ecstatic to get their hands on them.
A mix of both canvas and leather, these low tops will be the perfect gift for any sneakerhead looking to add a neutral and unique staple to their collection. The limited-release sneakers were part of a 2021 collaboration with Off-White. The collection included 50 unique colorways and could only be bought blindly: Customers were unaware of which they'd receive, only receiving a random "lot" number with their order confirmation. While most of the colors were of similar rarity and hype, lots 1 and 50 were produced in smaller amounts and these all whites (part of that first lot), are one of the cleanest, most sought-after sneakers of the year.
Do they lean toward neutrals but prefer high-top sneakers? These Off White x Jordan collabs will tick both boxes (and make any sneaker-obsessive jealous). The very first women's exclusive Off-White Jordan sneaker, these Sail 4s were an immediate hit and have been hard to get from the start. The retro style pays homage to history and the hottest trends, while still remaining one of the most wearable shoes Off-White has ever made with Nike. They're perfect for any minimalist sneakerhead (and are the ultimate subtle flex).
If they're looking for a bolder color scheme, you're in the right place. These red, white, black, and gray hightops, originally released in 2018, were part of a limited-run collaboration with beloved Los Angeles-based streetwear brand Union LA. The brand rocketed to the forefront of sneaker culture in 2018 when their Frankensteined Jordan 1s were first teased. The collaborative duo of pairs featured a never-before-seen mashup of classic colorways that had been seamlessly sewn together. While the "Blue Toe" pair started as the favorite, the "Black Toe" pair has caught up and is proving to be the long-tail favorite. This is a pair of sneakers that came out a few years ago but is proving to only get better with age.
For the frequent flyer
This classic pouch is perfect for anyone wanting to add a little luxury to their travels. With a spacious interior, washable lining, and expandable sides, this now-discontinued bag can replace their current dopp kit with something timeless, sophisticated, and stylish.
A newcomer to the Telfar roster, the black duffle bag was Telfar.TV's inaugural release and quickly became a favorite among customers. Just hours after its release, the sold-out bag was already trading on StockX at nearly 50% above retail. Following in the footsteps of the Shopping Bag, the Telfar Duffle (which, similar to the Shopping Bag, is sold in small, medium, and large sizes) is likely to be an 'it' bag this season and beyond.
For the hat collector
Whether they're an artist themselves, they strive to support brands that collaborate with artists, or they simply dig the look of painted and worn-in fabrics, this trucker hat from the LA-based unisex brand Gallery Dept is a perfect choice for any art adorer.
This hat is perfect for the person who believes you can't have too much black in your closet. Chrome Hearts — the storied brand which was born in the late 1980s — is known for celebrity collaborations, clothing and accessories, and limited-releases furniture.
For the rap fan who wishes it was 2006 again
Much like the designer behind them, Yeezys have a near cult-like following. These might look like the originals, but the color-changing Boost 350s — yes, you read that right — are a new twist on the classic design. At a glance, the Yeezy Boost 350 V2 Light arrives in a clean triple-white color palette, but when exposed to light, the white Primeknit upper changes to light pink and its mesh side stripe to dark yellow. An off-white Boost sole and canvas heel tab add the finishing touches.
If their sneaker collection is already overflowing, try gifting the first hoodie drop of the Yeezy x GAP collection. Despite the lack of visible branding on the thick, 100% cotton, it's unmistakably Yeezy and deserves a place in any fan's closet.
For the friend looking to redecorate
Ok, so this friend's a little harder. Their closet hangers are filled, their shoe collection is overflowing…they're the friend that really doesn't need any new clothes or accessories. Have you thought about something they can't wear? This collection of family figures is the gift for any KAWS fan with empty shelf space or the desire to zhuzh up a room with their favorite artist's work. Coming into 2021, KAWS' 25th anniversary, it was expected that the artist would go big*. The KAWS Family Figure is potentially the largest delivery of this release-packed year. Featuring four of KAWS' most popular characters all taking different roles in a family, this collection gives fans the opportunity to get their hands on a variety of the artist's creations in one package.
For the friend whose hoodies you always want to steal
They'll probably ask you not to borrow it, but can you blame them? Stussy and Cactus Plant Flea Market are two brands that have seen a meteoric rise in popularity over the last couple of years. It was only appropriate then that the two would deliver a collaborative collection during the 2021 Spring season. This hoodie is the ideal piece for turning heads on a chilly fall or winter day.
Do they prefer more minimal and neutral looks? Fear of God Essentials debuted their knit hoodies just a few weeks into 2021 and since then, it's become one of the brand's staple items. Made from a warm knit material, this earth-toned hoodie is great for layering, making it a cold weather must-have.
For the friend who needs more than a mini bag
The Telfar Shopping Bag — nicknamed the Bushwick Birkin and seen on a variety of celebrity arms — has broken barriers in design and is the supreme choice for anyone looking for a new accessory. The shopping bags are typically available in three sizes and while tiny bags have taken over the runways, red carpets, and sidewalks, sometimes you just need more space. This medium-sized shopper is the perfect size for someone who needs to throw more in their bag than just a wallet, keys, lip balm, and a phone.
For the friend chasing a limited release
To celebrate the artist's Tokyo First exhibition, the brand partnered with Uniqlo to release a limited collection any KAWS fan would be ecstatic to get their hands on.
This advertising content was produced in collaboration between Vox Creative and our sponsor, without involvement from Vox Media editorial staff.