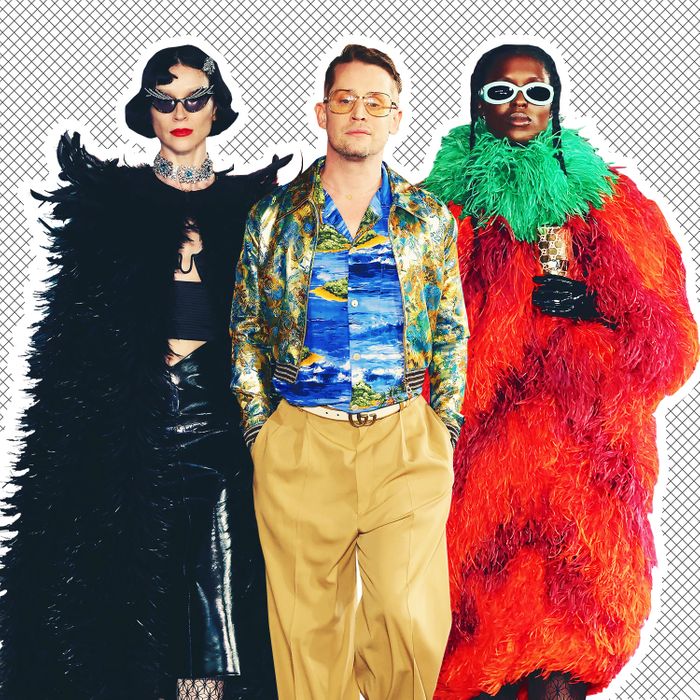 St. Vincent, Macaulay Culkin, and Jodie Turner-Smith for Gucci
Photo-Illustration: The Cut; Photos: Retailers
Name any celebrity and they were probably at last night's Gucci show in Los Angeles. On Tuesday, Gucci's Love Parade shut down Hollywood Boulevard, literally and figuratively. Not only did the list of attendees read like a collection of some of the biggest names in Hollywood — Gwyneth Paltrow, Billie Eilish, Lizzo, Salma Hayek, Miley Cyrus — but a bunch of celebrities also walked in the show. Also, James Corden was there because when is he not?
Macaulay Culkin, Phoebe Bridgers, Jodie Turner-Smith, St. Vincent, and Jared Leto (who, coincidentally, is also appearing in the forthcoming House of Gucci movie) were among the celebrities who modeled for creative director Alessandro Michele's show. The show featured a mix of Hollywood glam, cowboy-chic Americana, '70s-style suits, and a butt-plug necklace. Other notable models included actor and Broadway performer Jeremy Pope, musician Steve Lacy, and filmmaker Miranda July.
Michele told Vogue the show was "a dream come true," which tracks. The designer's love of Hollywood is no secret. He dresses Harry Styles. Dakota Johnson is often described as his muse. He wanted to be a costume designer before eventually becoming the creative mind behind one of the biggest fashion houses in the world. Last night's show was an amalgam of Los Angeles-specific fame across multiple eras. It was a reflection of the city, which, in Michele's words, is "a parade of enchanted and deeply free beings that go across a land where neither past nor future reside: only the miracle of the imaginative flair." Most importantly, it was an opportunity to appreciate the fact that Macaulay Culkin is actually a very good model.