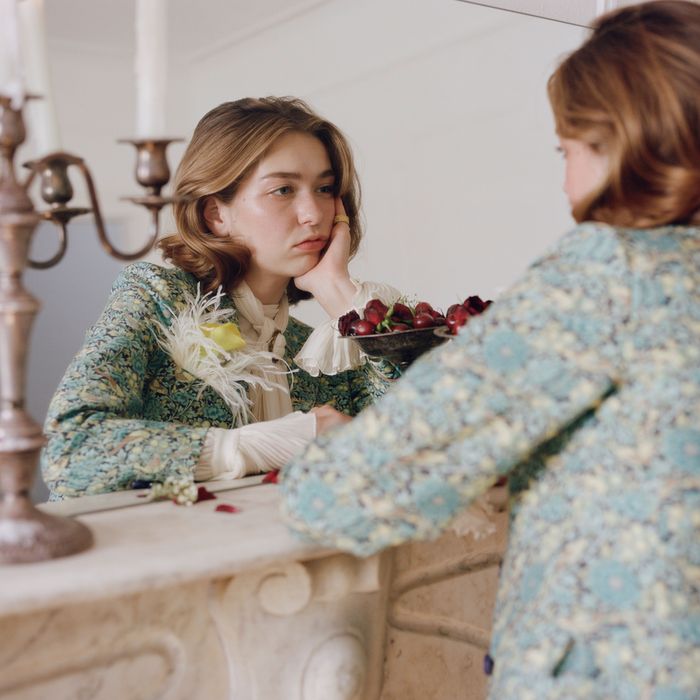 Minutes into my conversation with Lindsey Jordan — a.k.a. the indie-music darling who goes by Snail Mail — the heavens open. Jordan chose the cozy spot beneath a skylight in a hotel bar so that we could get some sun. Except we're in London, in October, so our chat is soundtracked by rain beating on the ceiling. Jordan rolls her eyes at the idea of heading out later that afternoon, but doesn't ever slow down — she's expressive and animated, waving her arms around and punctuating the dialogue with "dude!" and "100 percent!" Her playful energy is infectious, perfect for hiding out from the rain with.
"My year was really emotionally intense and busy. It's been such a process getting myself ready to do this whole thing," the 22-year-old singer-songwriter says. Wearing a flamboyant white shirt with cherubic waves framing her face, Jordan exudes an easy warmth. She leans in as she listens, nodding and grinning, her hands clasped around a Starbucks cup. "Before you put something out, if you're doing it in a way that's responsible, you have to be ready for the reception and the tours and the press." Jordan's debut album as Snail Mail, Lush, was released when she was only 17 years old, forcing her into the spotlight. Raw and confessional, Lush put Jordan onto a world stage that she wasn't necessarily prepared for. In getting ready to release her second album, Valentine, she took drastic measures.
Jordan puts a lot of herself into her music — guts, heartbreak, feeling — but she's conscious of how much she reveals. "When I'm making the music and lyrics, I'm super-aware of how far I'm going," she says. "I try to make informed decisions about how I'm talking about the people around me. It's important to me to protect the people around me, but also be honest." That honesty comes through on the first single from Valentine, "Ben Franklin." She sings, "Post-rehab, I've been feeling so small." It's a short line, brief enough you might not notice it, but she knew it would be leapt on. I'm careful to avoid it, but ever-confessional, she brings it up: "I went to rehab, and a big part of coming out of rehab for me was that in there I couldn't listen to music," she says.
"There are so many girls in the program that you don't really ever get to choose," she explains. "I never wanted to be the one that was like, 'Can we listen to alternative music?' Because everyone else wanted to listen to Diplo. I'm not going to be the one who has to turn off the rehab Diplo. I'm like, Whatever, y'all! Rehab Diplo it is!" She cackles and recalls asking Alex, Snail Mail's bassist and her best friend, to play "Vox Celeste," by Deerhunter, over the phone. "AlI I could hear was static, but I remember just being like, 'Oh my God, I love listening to music and I love making music and I'm in touch with my passion and I feel so me!'"
At that point, Jordan had already started working on songs for a new Snail Mail record, but needed to get into the right emotional and mental place to not only write them but to prepare to tour them. "I love doing Snail Mail," she says, her voice full of sincerity. "I want to do it to the best of my ability; I don't want anything to get in the way of that." Having a clear head made her a better songwriter, too, she says. That, and "all of the self-reflection" and "really working from within" that comes with rehab. "It's about identifying the things you do love about yourself and making sure you stay consistent with that and working to be a better person," she adds.
"You don't have to be a good person to play music. You can be the biggest asshole in the whole world. It's such a selfish job. I have to be selfish a lot." Jordan has a rare self-awareness that borders on self-effacing: "I wouldn't have considered myself a bad person before; I just wasn't anywhere near as self-aware. I was younger, too. It's an amazing thing to get that opportunity." Jordan says that she considered not sharing her experience, but that she wanted to normalize rehab and hopefully encourage others to go, whatever their situation. "Whether or not 'Ben Franklin' came out took a lot of thinking and a lot of careful consideration. A big part of wanting to have the conversation at all is that I do think that people shouldn't be embarrassed to go and help themselves." That in itself is a pretty selfless move.
Even on such a painful topic, Jordan is nothing short of effusive and goofy, oscillating between funny voices with a constant undercurrent of laughter. Her enthusiasm is palpable, and she says that it's partly rehab that helped her get to such a good place. "It was a really intense step, which was maybe more intense than it needed to be for where I was at. It was a conversation that I was trying to be open-minded about." Jordan confesses that she struggles to maintain boundaries between herself and the public, often revealing more than she intends to. But her impulse to confess is what makes Snail Mail so relatable and her company so warm — Jordan is an easy talker and a thoughtful listener, coaxing out as much as she herself reveals.
With her debut album Lush, released in 2018, she plumbed the depths of heartbreak and emotional turmoil with a wisdom beyond her years. It garnered critical praise and fans across the world, but Jordan is critical of her younger self. "This time, I wanted to avoid the naïve perspective," she says. "I didn't mean to sound naïve on Lush." Calling herself naïve is perhaps unfair — she was, after all, a teenager. "I'm really a perfectionist and it's all about impressing my own self," she insists. Jordan felt pressure to follow Lush, and in October, she dropped "Ben Franklin," the first single off Valentine, a faux-blasé breakup song that sees Jordan trying hard not to care: "Got money, don't care about sex." Conversely, Jordan's charm, and Snail Mail's power, lies in just how much she does care. She's emphatic on everything: animals, music, books, her girlfriend. "I wish that people who have a flame could be protected from assholes. That's where our great artists and writers come from, people that are passionate!" she grins. "I've had that experience where someone is like, 'Shut the fuck up about music.' You have this shame that someone else is putting on you."
Jordan's passion and perfectionism crafted Valentine, a ten-track exploration of obsession and love. The second album is a separate universe from her first, carrying with it that growth as a person and artist, but it's a natural progression: "Lush is based in imagining how things could be and imagining, like, 'What if my crush noticed me?', and Valentine is about carrying out the love that I'm talking about in Lush. It's so much more complex than carrying out your daydream of what it is."
One of Valentine's most noticeable departures from Lush is Jordan's decision to directly reference being in love with women. While her being a lesbian came up in the press surrounding Lush, she had avoided referencing it directly. "I feel a lot more vulnerable, and a lot of that is using 'she' pronouns and being like, I am singing about women," she tells me. "Before, I talked about it in interviews, but when I was writing the record I wasn't sure if I was going to be out or not." Jordan says that, previously, she didn't want to put herself in a position to experience homophobia: "Years later, I've experienced it in a lot of different ways, and it's jarring, it's crazy, but I'm so much more comfortable with myself." Now, thanks in part to the love of her LGBTQ+ fan base, she seems to find an ease in herself, talking about her girlfriend as a goofy smile spreads across her face.
Valentine feels like a breakup record, but it isn't only for one woman or heartbreak. "'Light Blue' is a song that I like, because it does fit into the universe, but it's a love song for this girl that I was dating when I was 19. The relationship was not important in my timeline of life, but having a Snail Mail song that isn't negative in any way is a sweet spot." I remind Jordan that, even if it's scary to be open, it means a lot to LGBTQ+ fans who might never have heard themselves reflected back in music before. "Knowing how many gay artists there are made me feel more comfortable doing it, and I can't imagine how formative it would be having that for a young person that was trying to figure it out."
Jordan, now in her 20s, just moved from Brooklyn to Manhattan after spending a chunk of the pandemic at either her parents' home or rehab. While she first moved out at 19, she says it feels like starting over: Living in Maryland with her parents gave her space to write Valentine, heal, and hang out with cute animals, but she says it was a struggle "not to regress" at such a transitional point in her life. After a difficult 18 months, she's in a good place — mentally and literally: "I live on my own, and I love it. I love the kitchen space; cooking is my new favorite thing to do." Explaining her new perspective, she slips into rehab-speak, shyly grinning as she tells me that her "QOL" (quality of life) is "way better." "I'm able to enjoy everything this time. Everything is hard, but it is rewarding and fun. I've learned so much about being present, having boundaries. Being clearheaded is the best, and in this field, it's pretty underrated." Before we say good-bye, I remind her that she's got to head out into the rain. "Oh, shit!" she grins, but it seems like it'll take more than that to dampen her QOL.