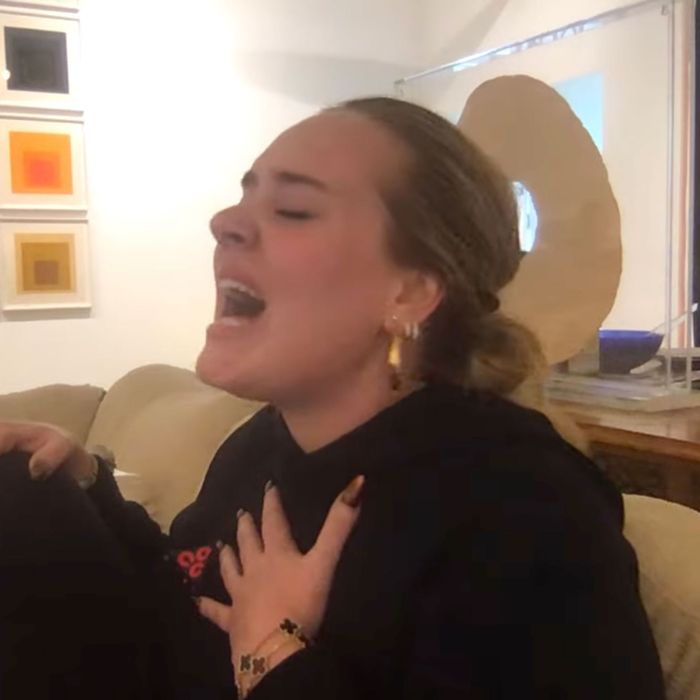 Adele's 30 is coming, but it sure is taking its sweet time. So, as fans count down the minutes until the album is released on Friday, Adele dropped a new single, "To Be Loved," on Twitter as a treat.
Instead of releasing another cinematic video à la "Easy On Me," Adele debuted the song with what looks like an iPhone recording of her singing the song live in her living room. Seriously, the sound quality of the video can't even handle her voice once she hits the big notes — that's the level of production we're talking about here. All the video is is Adele, dressed in black, nails perfectly done, singing her heart out. And it just makes the track that much more devastating.
"To Be Loved" is one of 12 tracks on 30 (not including the three bonus tracks), which has been billed as Adele's divorce album, and it's not hard to see how the song relates to Adele's personal life. "To be loved and love at the highest count / means to lose all the things I can't live without," she sings mournfully, as her perfectly manicured nails flutter with every classic Adele hand gesture. How I'm expected to wait two more days until the album, I'll never know.
Though she generally tries to keep her private life out of the spotlight, Adele did confirm in April of 2019 that she and her husband, Simon Konecki, were separating after eight years together. Together, they share a 9-year-old son, Angelo, and the breakup provided the inspiration for 30.
"Everything was happening in real time," Adele told Oprah Winfrey in her Adele One Night Only CBS special, per CNN, of writing and recording through her divorce. "I was writing my album, you know, while I was going through everything." Yep, we can tell.
Now, if you'll excuse me, I'm just going to be listening to "To Be Loved" on repeat and crying until 30 comes out.