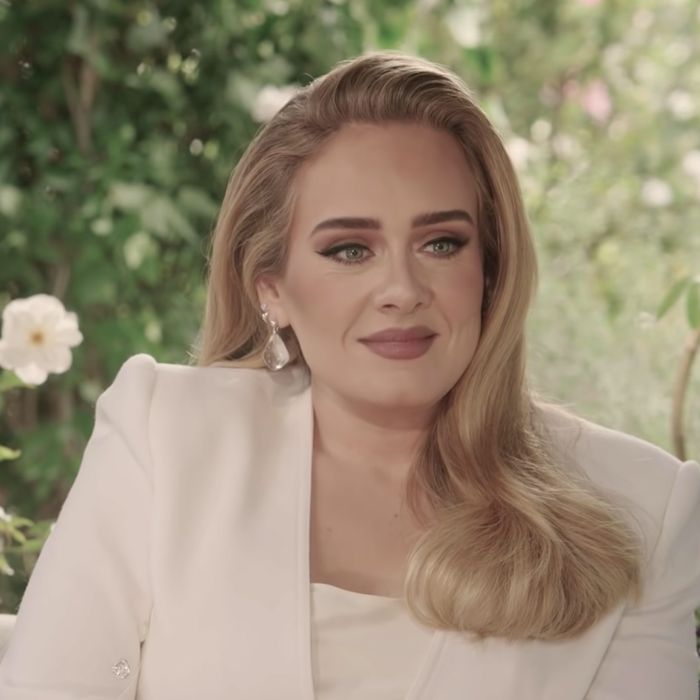 Adele spoke with Oprah Winfrey as part of the
One Night Only
TV special.
Photo: CBS/YouTube
Adele is back, baby, and who among us isn't thrilled? Just look at some of the people who were in attendance during her One Night Only concert special, which aired Sunday night: Lizzo, Selena Gomez, Drake, Leonardo DiCaprio, Sarah Paulson, Tracee Ellis Ross, and Gabrielle Union — not to mention Oprah, who also sat down with the singer for an interview, which aired alongside her performance. During their conversation, Adele talked about some of the most significant parts of her life: her forthcoming album 30, her son, her divorce. She also talked about her body, something that, despite her laundry list of accomplishments and the upcoming release of her first album in six years, continues to be a point of cultural obsession.
During her interview with Oprah, Adele spoke about her body in a very matter-of-fact way. After experiencing "terrifying anxiety attacks" amidst her divorce, she said exercise helped keep her "centered." She drank less. She went to the gym more. She did what made her body feel good to her. The way Adele talks about her body — or, more often, doesn't talk about her body — is often refreshing, especially given the public obsession with the way she's looked since her debut album 13 years ago. She is somehow able to balance her clear desire to keep her body out of the conversation while also acknowledging that it has become impossible for her to do so.
"I'm not shocked or even fazed by it," she told Oprah regarding the way people reacted to the way her body has changed in recent years. "Because my body has been objectified my entire career." Even when Adele wasn't talking about her weight, the rest of the world was. For female artists, this is nothing new. Women's bodies are either brave or shown off, celebrated specifically in the context of how they make other people feel.
Adele added, "I was body-positive then, and I'm body-positive now, but it's not my job to validate how people feel about their bodies. I feel bad that it's made anyone feel horrible about themselves — but that's not my job. I'm trying to sort my own life out. I can't add another worry."
It's not the first time Adele has addressed the public response to her weight loss — specifically, the response from women who'd previously felt like Adele was an exemplar for women often underrepresented by an industry that celebrates a very specific type of body. "I understand why it's a shock," Adele said during an interview published in the October issue of Vogue. "I understand why some women especially were hurt. Visually I represented a lot of women. But I'm still the same person." During that Vogue interview, she also spoke to the way her body has been portrayed as a signifier of success — as if the 15 Grammys, an Oscar, and being among the best-selling female artists of all time weren't enough — after news of her divorce broke: "That whole thing of like, 'gets revenge body' … Oh my God. Suck my dick!"
On that note, I believe the most important piece of information to come out of her recent interview with Oprah is this: "I'm also a very good boxer," Adele said. "I've got a left hook that could kill you."