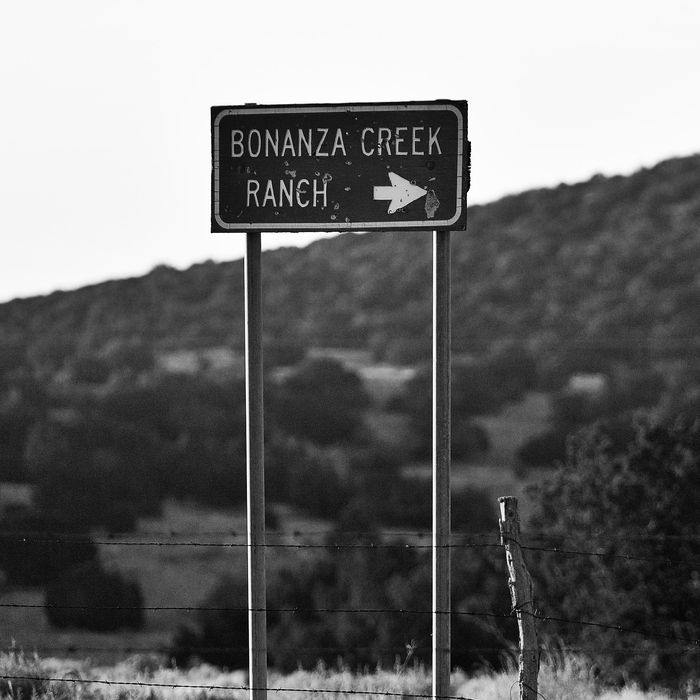 A sign pointing toward Bonanza Creek Ranch, where cinematographer Halyna Hutchins reportedly died after Alec Baldwin fired a prop gun on set.
Photo: Sam Wasson/Getty Images
On October 21, a woman died in an accident on the set of the Western Rust after actor Alec Baldwin discharged a prop gun in the course of rehearsing a scene. The victim, Halyna Hutchins, was a cinematographer on the movie, which was filming at Bonanza Creek Ranch, in Santa Fe County, New Mexico. Hutchins was taken to the hospital by helicopter immediately following the shooting and was pronounced dead after her arrival. Director Joel Souza sustained injuries as well and was hospitalized.
The Santa Fe County sheriff's office is currently investigating the incident and has not yet charged anyone involved. "We're trying to determine right now how and what type of projectile was used in the firearm," spokesperson Juan Rios told the New York Times in the shooting's aftermath. Affidavits released on October 27 may help answer that question: Dave Halls, an assistant director on the movie, told investigators that he failed to inspect every round in every chamber of every gun on set. The gun Baldwin fired turned out to have a "lead projectile" inside, Santa Fe County Sheriff Adan Mendoza explained: "We would consider it a live round, a bullet, live, because it did fire from the weapon and obviously caused the death of Ms. Hutchins and injured Mr. Souza."
"We also believe that we have the spent shell casing from the bullet that was fired from the gun," Mendoza reportedly added.
As a rule, live ammunition isn't used on movie sets.
Although props departments typically use real guns on movie sets — models, cap guns, and nonfunctional firearms may also be options — as a rule, they do not use live ammunition. The New York Times reports that investigators removed around 500 rounds from Rust's set, but usually, production uses blanks to re-create the effect of firing a gun, sometimes with added powder to amp up the effect of the blast onscreen. But blanks can do damage, too — particularly when fired at closed range. Production teams usually set strict rules around the use of prop firearms, but accidents happen nonetheless: Bruce Lee's son, Brandon Bruce Lee, died while filming The Crow in 1993 after a bullet stuck in a prop gun's barrel discharged along with a blank. And in 1984, actor Jon-Erik Hexum fractured his skull playing Russian roulette with a blank, dying days later.
Questions have surfaced as to how Baldwin wound up with a "hot" gun in the first place.
In his affidavit, released on October 24, Souza said the gun went off during rehearsal of a scene where Baldwin, seated on a church pew, pulls his firearm from its holster and aims directly "towards the camera lens." The director explained that he and Hutchins were checking the camera angle at the time, and assistant director Dave Halls told Baldwin he was using a "cold gun" just before the shot. Earlier this week, the Associated Press reported that Halls had been fired from the movie Freedom's Path in 2019, after "a gun was unexpectedly discharged" and injured a crew member. Rust's armorer, Hannah Gutierrez-Reed, told detectives she also checked the weapons to make sure they contained no live ammunition.
In a November 1 interview with Fox News, Halls's attorney, Lisa Torraco, suggested questions about the A.D.'s track record were misplaced, because firearm safety fell outside his purview. "He's not responsible for checking [the gun]" she said. "That's not the assistant director's job. If he chooses to check the firearm because he wants to make sure that everyone's safe, he can do that, but that's not his responsibility." Torraco pointed to the armorer's assistant, whom she said brought the gun to set. Attorneys for Gutierrez-Reed, meanwhile, maintained in a statement that their client "has no idea where the live rounds came from," and that "ultimately this set would never have been compromised if live ammo were not introduced." In an interview on NBC's Today Show, attorney Jason Bowles — representing Gutierrez-Reed — raised the possibility of sabotage, speculating that someone may have placed a live round in a box of dummy rounds to make a statement about conditions on set.
Members of the Rust crew have since spoken up about allegedly an high-stress and chaotic filming process.
In the weeks after the shooting, a chaotic picture has formed of the environment on set. According to the L.A. Times, half a dozen union camera-crew workers had walked offset in protest of working conditions just hours before Hutchins was shot. There had been two misfires of the prop gun on Saturday and one the week before, one source told the Times. "There should have been an investigation into what happened," an unnamed crew member said. "There were no safety meetings. There was no assurance that it wouldn't happen again. All they wanted to do was rush, rush, rush." The Times reports that someone texted the production manager: "We've now had three accidental discharges. This is super unsafe." An actor who knew Hutchins, Jonathan McAbee, subsequently told People that the cinematographer stayed on set after the walkout because she "felt the responsibility for everyone else's job there."
In follow-up interviews with the Times, 14 crew members spoke to on-set confusion. "It always felt like the budget was more important than crew members," Lane Luper, the A-camera first assistant, said. "Everything was about the schedule and the budget." Luper said production reneged on promised hotel rooms for the camera crew (an issue Hutchins allegedly resolved by making cuts to her own expenses) and that people weren't being paid.
Other crew members have denied these claims. On November 2, Baldwin reposted a series of messages from costumer Terese Magpale Davis refuting the idea that Rust had been a mess. "I'm so sick of this narrative," she wrote, per Baldwin's screenshots. "I worked on this movie. The story being spun of us being overworked and surrounded by unsafe, chaotic conditions is bullshit." Davis said the crew mostly worked fewer than 12 hours per day and had hotel rooms, and that producers held regular safety meetings.
Baldwin has mostly laid low since the incident.
For his part, Baldwin called the shooting a "one-in-a-trillion episode" during an exchange with paparazzi outside his home in Vermont on October 30. "We were a very, very, you know, well-oiled crew shooting a film together, and then this horrible event happened," he said, adding that Hutchins was his friend. "I'm not allowed to make any comments because it's an ongoing investigation. I've been ordered by the sheriff's department in Santa Fe." These were his first public comments since the day after the shooting, when he addressed the incident on Twitter.
"There are no words to convey my shock and sadness regarding the tragic accident that took the life of Halyna Hutchins, a wife, mother and deeply admired colleague of ours," he wrote. "I'm fully cooperating with the police investigation to address how this tragedy occurred and I am in touch with her husband, offering my support to him and his family. My heart is broken for her husband, their son, and all who knew and loved Halyna."'
The script supervisor is suing Baldwin.
On November 17, Rust script supervisor Mamie Mitchell filed a lawsuit against Baldwin, the film's producers, six production companies, an armorer, and the first assistant director working on the film on claims of assault and emotional distress, Deadline reports. In her complaint, Mitchell, who is represented by Gloria Allred, asserts that the set failed to follow safety protocols for the use of firearms. According to the suit, the upcoming scene "did not call" for the cocking and firing of a gun. Baldwin allegedly accepted the gun from the assistant director instead of the armorer — the only person on set qualified to verify that a firearm is a "cold gun" and therefore safe to use. Mitchell claims that no such verification happened on the set of Rust, and that Baldwin should have assumed the gun handed to him was loaded unless proven otherwise.
This article has been updated.