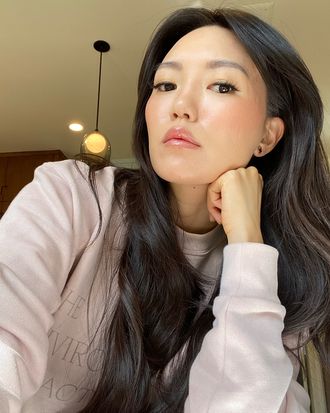 Photo: Courtesy of Amy Chang
Want more skin care? Join the Beauty Group on Facebook.
At first glance, you may think Amy Chang's glowy skin and silky hair are the gifts of genetics. But if you're one of her 1.3 million followers on TikTok — where she is better known as @Bondenavant —you know the opposite is true. Chang has been meticulously researching and trying out beauty products for years to learn how to deal with her incredibly reactive skin and receding hairline.
After going off birth control at 27, almost eight years ago, Chang started getting melasma — brown or blue-gray skin patches. "Melasma can be triggered by any sort of hormonal fluctuations like getting off birth control, having a baby, breastfeeding, or perimenopause," she explains. She also wasn't exactly careful about sun care when she was younger: "I was a '90s kid out there with my baby oil. I'm adopted, and my mom is Italian so she was out there covered in baby oil with me."
After trying to treat her spots with exfoliation, she fell into a never-ending cycle in which they would lighten, only to return weeks later. She eventually realized, "All of these exfoliating products and treatments were causing low-grade inflammation, and for my sensitive skin type, that constant, low-grade inflammation can actually cause the pigment to darken." She was essentially preventing her skin from healing itself.
Now, Chang focuses on reducing inflammation. She swaps in growth-factor serums for retinol (to prevent the irritation and redness that come with the "retinol uglies") and looks for ingredients like niacinamide (to strengthen her skin barrier) and hyaluronic acid (to keep her skin hydrated). For the most part, she also for products that don't have hidden exfoliating agents (like acids) or fragrances (like essential oils).
Below, you'll find a look at the intensive night routine Chang employs to keep her melasma at bay, including the massage tool that eliminated her elevens, the serum she uses instead of retinol, and the decadent moisturizer that's worth its price.
The Double Cleanse
"I actually interned at Shu Uemura when I was a sophomore in college — I've been obsessed with beauty for a long time. Their cleansing oils have these really beautiful, complex formulas. They do such a wonderful job cleansing and removing makeup. My skin never looks red after cleansing with this one. It's very expensive, but you can find dupes, too.
"Surprisingly, I just tried out Mario Badescu's reformulated Cleansing Oil, and I think the brand really took to heart the feedback a specific influencer gave them about the fragrances and oils in their products because they reformulated them and came out with a bunch that don't have any of those possible irritants. The cleansing oil is beautiful, and it's $16."
"I'm a huge fan of La Roche–Posay cleansers as someone who has such sensitive skin — they are formulated for people dealing with eczema and rosacea and all kinds of inflammatory skin issues. I also appreciate that their products don't have fragrances, essential oils, or acids because what I'll find with certain cleansers is that they don't advertise on the front that it's an exfoliating cleanser, but it'll include some exfoliating ingredients.
"I really like the Lipikar Wash AP+ Gentle Foaming Moisturizing Wash during the warmer months, but when I move into fall and winter, I like a cleansing gel like this Toleriane Gentle Cleanser. Cleansing gels have a milder cleansing effect than foams and are great for wintertime when most of us experience drier skin due to the change in weather." [Editor's note: Chang has a partnership with La Roche–Posay.]
The Essence
"This is such a legacy product; I've known about it since I was working at a beauty counter when I was 19. I'm gonna be honest, I was super-skeptical about it at first, then once I tried it, I noticed it really helped a lot with my melasma, which was really shocking to me. It's just such a polarizing product: I've heard from some people that they absolutely swear by it and that it changed their skin, but then other people have been like, 'Hey, I haven't really seen a difference.'
"I think because my skin barrier is slightly compromised — people who have acne or sensitive skin, their barrier tends to be a little bit weaker — my skin really looks great with this product because the B vitamins that are in its fermented yeast help to strengthen the skin barrier. When the skin barrier is stronger, there's less inflammation, which is how I think it's helping with my melasma. I mean, that's the only thing I can deduce from it. I get a lot of ruddiness, redness, and splotches on my cheeks, but when I'm consistent with the essence, my skin looks healthier." [Editor's note: Chang has a partnership with SK-II.]
The Serums
"Hyaluronic acid should always be applied to damp skin so it's not pulling moisture from deeper layers of the skin. That's why I always really saturate my skin with the SK-II essence before moving on to these HA ampoules, which will pull in the serums I put on top of it. I like these ampoules in particular because they have probiotics, which help to strengthen the skin's microbiome. I had perioral dermatitis a few years ago, and I found that applying topical probiotics really improved my skin. Ever since, I am very mindful about ingesting probiotics regularly as well as applying them topically in at least one of my skin-care products."
"I follow up my Hydra ampoules with the Biopelle Tensage Intensive Serum Ampoules, which are growth-factor ampoules with vitamin C and vitamin E. They're phenomenal.
"Growth factors have really changed my skin. They can be human-, animal- or plant-derived. They're quite expensive because they need to be grown in a lab once they're harvested from the original source. The Biopelle ampoules contain animal-derived growth factors from snail mucin. I'm addicted to the results; my skin takes on a glassy effect with them that I love. I also use them as a stand-in for retinol because growth factors stimulate collagen and elastin and offer me the same anti-aging results that I'm looking for without the redness and irritation that usually come with retinol.
"With other growth-factor serums I've tried, like the SkinMedica TNS Essential Serum or the Biopelle Tensage Daily Serum, it took four-to-six weeks to notice a dramatic improvement. It's a slow build, and you may not notice it right away, but then friends will start telling you your skin looks amazing and you'll be hooked. With the Biopelle Ampoules, I could see improvements after the tenth ampoule."
"To further address my melasma — the bane of my existence — I use the SkinMedica Lytera serum. It contains tranexamic acid that blocks the overproduction of pigment and a super-gentle acid, phytic acid, which is gentler than lactic acid, to maintain healthy cell turnover so my skin looks bright. Because it's so gentle, it takes a while to produce dramatic results — it's definitely a slow build — but it avoids possibly irritating the skin and causing the pigment to darken. I'm on my third bottle, but I started to notice the results by the end of the first bottle."
"This serum feels amazing on the skin. When I started using Deliverance, I noticed my skin didn't look as ruddy. It looked soothed, especially around my nostrils and chin, where I get this persistent redness. I think the CBD really helped, and I love the niacinamide in the formula too. It's just a phenomenal serum. And I will say, I have a lot of products in my routine, so it's nice that all these serums are very lightweight and sink right in."
The Moisturizer
"I seal everything with this moisturizer. It is fantastic. I mean, I don't love the price, but it's such an elegant cream. I gifted my mom a jar of it, and she was like, 'Hey, so I need more … '
"It has the perfect balance of cholesterol, fatty acids, and ceramides without any of the fragrances and exfoliating ingredients that could possibly irritate the skin. I find that when I'm able to lock in all of the moisture, my skin takes on this glassy glow.
"I get asked about dupes for this moisturizer all the time, and while I haven't come across one that is a match-for-match in terms of ingredients, I have found one that rivals it in texture and hydrating ability, and it's only $30. It's the Goodal Apricot Vegan Collagen Cream. It's a Korean brand, and it has this silky, velvety touch that feels very reminiscent of the Triple Lipid."
The Acne Treatment
"I very rarely get breakouts, but when I do, I really love this serum because it's incredibly gentle. I don't use it all over my face. I just use it as a spot treatment, and I actually use it on top of my moisturizer to buffer it a little bit. It works incredibly well to help clear up pimples very quickly. I actually came across the brand perusing the aisles of Target — it really has some phenomenal products these days."
The Lip Balm
"This feels incredible on my lips. It's thick, but it melts into the lips rather than sitting on top. I lick my lips before I put it on, which is key to actually trapping moisture. I saw Charlotte Palermino do that. She wets her lips, puts a serum on top, and then adds the balm. I think she calls it a 'moisture sandwich.'"
The LED Mask
"When it comes to devices, I think the most important thing is: Will you actually use it, or will it just end up in a drawer?
"This is one of the easiest devices, if not the easiest, to use. You strap it on your face and lie down, and you can scroll on your phone for the ten or 15 minutes you have it on. It uses red LED, which has been shown in studies to reduce inflammation by stimulating the mitochondria in the cells so they work more effectively. When your skin cells work more effectively, you speed up wound healing and reduce redness.
Melasma often manifests as light-brown, dark-brown, or bluish patches, but these patches can become red or inflamed, giving the pigment spots a reddish undertone. I feel like this mask has helped to eliminate the reddish undertone of my melasma and helped prevent general inflammation I experience — from testing out new products, my diet, or a lack of sleep — that might irritate my skin and cause my melasma to darken. I use it every night, and my husband is always like, 'What is going on here?!'"
The Wand
"This is my favorite massage tool. After I have all of my serums on, I put some Josh Rosebrook Vital Balm Cream on my neck. I put my thumb on the small nub and then I use the big nub to work on my neck. I massage the base of the skull and go all the way down to promote lymphatic drainage.
"I clench my jaw, which leads to tension that can cause furrows. So I use the wand to massage between my eyebrows. I hold my skin, and I lightly drag the wand across my eyebrows, then I massage up into my hairline because the muscles in the forehead extend back and underneath the hair. When you're able to relax all of this, everything in the forehead relaxes. I was able to get rid of my elevens from doing that consistently every night; I wish I had before-and-after photos because the results are amazing."
The Neck Cream
"I wish I could use this balm on my face, but unfortunately, my skin is not able to tolerate essential oils well. But I love applying this balm to my neck. It allows me to enjoy the beautiful sensory experience, from the whipped texture that feels rich yet velvety to the ethereal fragrance that's a mix of cinnamon, rosemary, lavender, and blue tansy. It also has botanical hyaluronic acid to plump up my neck lines and broccoli-seed oil that assists with cell regeneration, plus a whole host of beautiful, antioxidant-rich essential oils."