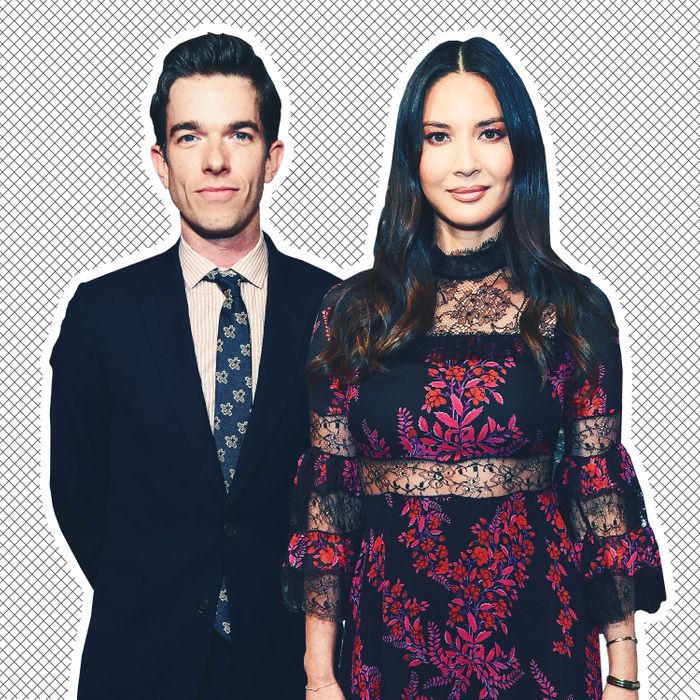 Photo-Illustration: The Cut; Photos: Getty Images
Since their relationship was confirmed in May, there have been many questions about John Mulaney and Olivia Munn dating. For example, "what?" and "who?" and "wait, which Olivia?" Then, in September, Mulaney announced that he and Munn are expecting a baby together, fueling further questions, like "excuse me?" and "really?" and "didn't he, like, just announce his divorce?" However, a few weeks later, Us Weekly claimed that their relationship was facing "uncertainty." Now, a new L.A. Times interview with Munn seems to imply the opposite. So, the question remains: Are John Mulaney and Olivia Munn still together or what?
On November 16, the Times published its interview with Munn, discussing her new movie Violet and the onslaught of rumors surrounding her and Mulaney. "It's definitely not foreign for me to have people speculate incorrectly about things and to have rumors run rampant in one way," Munn said. Then, she spoke specifically about her relationship with Mulaney:
"They think they know our relationship so well. When in reality, they don't. There's no way anyone could know what any of his relationships were or what our relationship is," she says — speaking in the present tense, for the record.
Present tense, indeed! She added that she's chosen not to speak out about certain rumors as to not "feed into a narrative that's just not true," also saying people tend to "ignore really specific public signs and actions that completely contradict the false narrative." Though she didn't say it outright, Munn seemed to imply she and Mulaney are currently still together. "If I try to say anything, I run the risk of being called messy or not telling the truth," Munn said. "The only way to win, for me, is to pull back and to not play the game at all." She added, "For whatever reason, it's easier to blame me."
Initial rumors about Munn and Mulaney's possible breakup started swirling after celeb-gossip Instagram page Deux Moi posted a blind item, which then became the subject of a viral TikTok from a "sweaty man." While those are still very much rumors, Us Weekly's source said, "Olivia's friends just don't see these two being a couple in a year's time," adding that it's unclear whether the two would be parenting their child "together or apart." The source also said, "This has been an imperfect relationship from the start." Reports that the two were together came days after Mulaney and his ex-wife Anna Marie Tendler announced their divorce.
In other news, Tendler is thriving on TikTok. Both she and Petunia, the French bulldog it seems Tendler maintained custody of in the divorce, appear to be doing quite well.
This post has been updated.