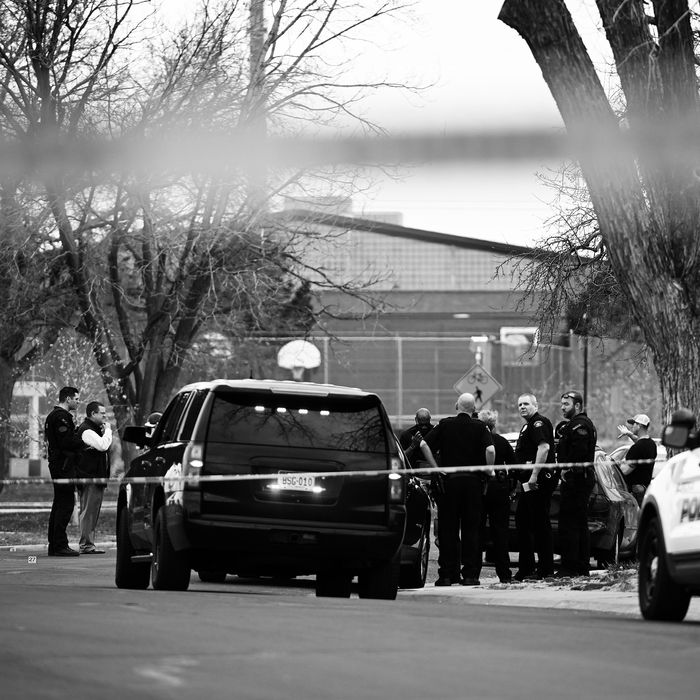 Aurora police officers investigate the scene of an early-afternoon shooting at Nome Park near Aurora Central High School on November 15, 2021, in Aurora, Colorado.
Photo: Helen H. Richardson/MediaNews Group/The Denver Post via Getty Images
On Monday, six teenagers were hospitalized after a drive-by shooting at Nome Park in Aurora, Colorado, the same city where a gunman attacked a movie theater during a midnight screening of The Dark Knight Rises in 2012. While details are still emerging, here's what we know so far about the shooting.
The victims are all students at a nearby high school and are expected to survive.
Nome Park is directly across the road from Central High School, where all six of the victims are students. The school was put under lockdown Monday afternoon and Aurora Police said that they've secured the perimeter.
According to police, none of the injuries sustained by the teenagers, ages 14 to 18, are life-threatening. One victim needed emergency surgery after receiving a tourniquet from a school resource officer.
Police have not yet identified the shooters.
The attackers drove off after the shooting, though police seem to think some of them could have been on foot. It's not yet clear what motivated the attack. According to some news outlets, Nome Park has been home to gang-related violence in recent years, including one incident in 2019 where a teenager was charged with attempted first-degree murder. Aurora Police said it's too early to tell if this particular shooting is gang-related.
This is the second mass shooting Aurora has seen in ten years.
According to data from the Gun Violence Archive, which defines a mass shooting as one with four or more victims not including the gunman, the U.S. has seen over 620 mass shootings in 2021 alone — up from 2020's 611. In 2012, Aurora made national news when a shooter fired three guns into a movie theater during a midnight screening of The Dark Knight Rises, killing 12 people and injuring 70. At the time, it was the shooting with the highest number of victims in U.S. history.
During a news conference, Aurora police chief Vanessa Wilson called gun violence a "public health crisis" and said of Monday's shooting, "When I got the call, my heart dropped. I think enough is enough."