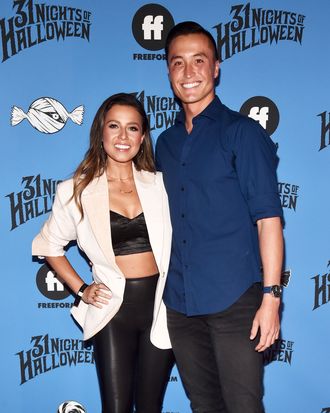 Photo: Alberto E. Rodriguez/Getty Images
When one Bachelor relationship ends, another begins. One month after Katie Thurston announced her split from Blake Moynes, her Bachelorette season winner, she seemed to announced she's dating John Hersey, another man from her season. And yes, she knows it's messy AF.
Thurston teased her new relationship status as the grand finale of "12 Days of Messy," her Instagram series pairing the men from her season with Taylor Swift songs. (Moynes did not get a song.) On day 12, she paired "Begin Again," a song about finding new love, with footage of a flight with Hersey (an aspiring pilot who also works as a bartender). She followed that up with a clip of Hersey's limo exit on the first night of The Bachelorette.
A representative for Thurston confirmed the relationship to People, saying, "John has been there for her through all the major changes in her life and they are excited to explore this newly found romantic connection." The relationship news isn't a huge shock to fans, who have watched as Thurston became closer with Hersey since her season aired — even before she announced her split with Moynes October 25. But according to reports, Moynes is feeling pretty blindsided right now, and his mom is reportedly liking some shady Instagram comments from fans.
Meanwhile, Thurston has deleted all photos of Moynes from her Instagram including the post announcing their split (Moynes's is still up), though a video she posted October 30 expanding on the breakup remains. At the time, Thurston told fans she and Moynes just realized their relationship wouldn't get them the happiness they deserved. "Your happiness is the most important thing," she said. "That being said, why would you not pursue it?"