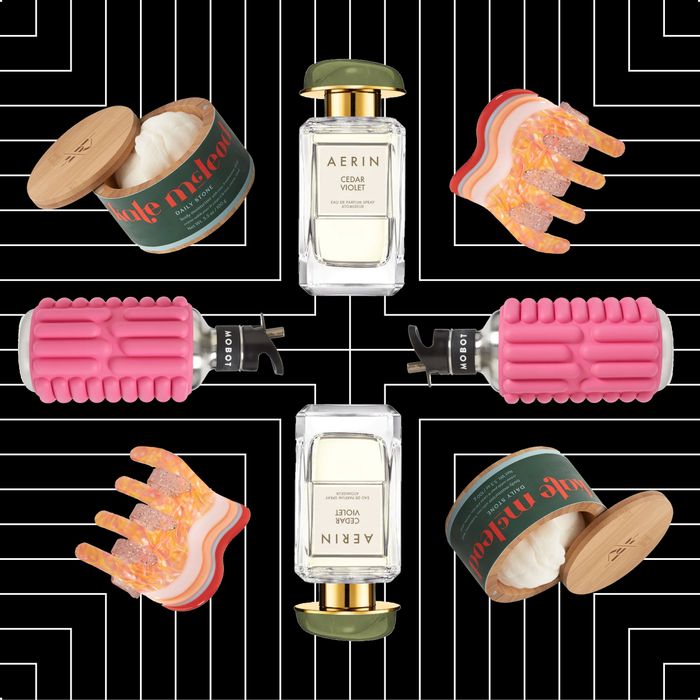 Photo-Illustration: by The Cut; Photos: Retailers
Nothing says treat yourself (and/or someone else) quite like a beauty gift. It can be as small as a pair of selfie-friendly under-eye masks or as spendy as a sparkly skin-tightening device; either way, the recipient is going to luxuriate and feel thoroughly indulged. Whether you're shopping for someone who is fluent in face acids or a person who simply likes to smell good sometimes, read on for our picks of the best 2021 beauty gifts that'll hit everyone on your list.
This moisturizing bar soap created by Mexican founder Sandra Velasquez contains two different kinds of plant butters and five plant oils. The hero ingredient is nopal, a cactus that is known for hydrating hair and skin. This bar, gently scented with sage and eucalyptus, exfoliates with activated charcoal to leave your skin smoother than when you stepped in the shower. —Daise Bedolla
If you know someone who looks at Glossier or other no-makeup-makeup brands and can't relate, there's Topicals. Topicals was developed to celebrate "spotty hotties" and "itchy girls," and this set contains its two hero products: a serum to help fade spots and a moisturizer that works for eczematous skin. —Kathleen Hou
Selfie-ready eye masks are the perfect stocking stuffer. These come in a very on-trend plant shape and feel as good as they look thanks to refreshing cactus extract and cucumber. —Erica Smith
A stocking stuffer for your friend who loves planning road trips and misses that "new-car smell." —K.H.
Any beauty routine will feel a hundred times fancier when applied with Chanel cotton pads. —E.S.
Made in collaboration with NYC artist Amber Vittoria, the textural design of this hair claw will add a little something extra when you don't want to do much else with your hair. —D.B.
Buy this exfoliator for your friend who loves the Tatcha Rice Polish but wants to try something new. It comes with a cute little copper spoon that measures the perfect amount you need each time —D.B.
For your friend who loves to keep their edges laid, because you can never have enough edge stylers. Baby Tress is special and isn't just your everyday styling tool — it has a comb and brush side that ensures you swoop and style every baby hair. —Asia Milia Ware
These stylish hand-sanitizer sprays (blended with 70 percent alcohol derived from organic sugarcane) are slim enough to slip into a clutch, and they smell and feel like prestige skin-care products instead of bad tequila. —E.S.
This makeup bag is spacious and water resistant and for the friend who has to have her beauty routine beside her even when she's lying out by the beach. It fits every single product, even some skin care if you need to. —A.M.W.
About half of the people on my list are receiving one of these solid moisturizers: a body lotion that doubles as a massage bar. It comes in a reusable bamboo canister that they'll inevitably use when they get hooked and buy the refills. —D.B.
This sleek box looks nice on a nightstand, fits easily in a bag, and makes meds and supplements look a lot more appealing. —E.S.
These whipped bodywashes resemble freshly made, light-as-air butter in texture and suds up when combined with water. This set comes with three different scents — white tea, orange neroli, and grapefruit cassis. —D.B.
Grace Eleyae's turbans are lined with satin to protect hair and edges from friction, keeping everything nice and sleek. Hair enthusiasts in your life would love wearing this outside and not just in the comfort of their home. —A.M.W.
For the minimalist, here's a lip palette that can be applied with fingers, used on the cheeks (and even the eyes) for a beautiful flush, and combined together to create unique shades. —D.B.
These leakproof and magnetic capsules make traveling so much easier — just add in your serums, creams, pills, jewelry, and makeup. No more clunky bottles or stockpiling samples. —D.B.
It's not just me – Oprah loves tomato-scented candles too. This green scent is great for the gardener or chef who wants a candle that wouldn't smell out of place in a kitchen. -- K.H.
You love fuller lips and want something that will make them look more pillowy without syringes or lip liner? These lip glosses have no stinging and no redness, just plumping goodness in three flattering shades. —D.B.
A diffuser scented like orange blossom, Tahitian-vanilla sorbet, and a vacation we all desperately need. —A.M.W.
Scented with neroli and a touch of white musk, throwing in generous handfuls of these bath salts feels wildly irresponsible and fun. Plus, you'll get supersoft skin afterward. —K.H.
This candle was designed specifically for skin-care routines and taking pride in that time. Blended with notes of berries and Champagne, it immediately transports you to a spa. Glu also has candles blended for self-care moments like journaling, stretching, and doing your hair. —A.M.W.
Help the fitness fanatic in your life hydrate on the go and roll out tight muscles wherever they end up. —E.S.
For the nail maven, this dip kit is a simple and seamless way to do their own dip-powder nails at home. They may never see a salon again. —A.M.W.
Light this candle — with notes of vanilla, patchouli, and amber — throw on an episode of The Queen's Gambit, and you have the perfect Sunday. —D.B.
You could introduce someone to Ami Colé's lip-treatment oil — which has been dubbed the "Telfar bag of lip gloss" — or you could do them one better and give them the whole collection complete with a skin-enhancing tint, a dewy highlighter, a high-impact mascara, and, yes, the lip oil. —D.B.
We're big fans of Crown Affair's waffle microfiber towels at the Cut — our beauty director says it makes her hair "incredibly smooth and extra shiny, like I'm a member of Haim or a model in a Mansur Gavriel ad." But the rest of the brand's offerings are just as stellar. Try its Comb No. 001, Scrunchie No. 003, and signature oil in this set that is all housed in a silk-satin bag. —D.B.
From the iconic Miss Dior fragrance to the Rouge Dior lipstick, this set has what any Dior-obsessed friend would love. —A.M.W.
Who wouldn't want La Mer essentials in deluxe sizes? And this set comes with a travel bag. —A.M.W.
Because no one can ever have too many lipsticks and these shades complement all skin tones. —A.M.W.
For the bath enthusiasts in your life, a truly gourmet set complete with mineral bath salts, a bodywash, a sponge, a gentle exfoliator, and a cozy towel. —D.B.
For the fragrance-obsessed person in your life, Aerin's Cedar Violet is a crisp yet floral scent that is a great signature. —A.M.W.
The most luxurious bubble bath on the planet also happens to generate the prettiest, fluffiest, and best-smelling foam. —K.H.
Formulated by Dr. Chaneve Jeanniton, one of only 500 oculofacial plastic surgeons in the world, this serum includes a blend of over 300 growth factors derived from human stem cells. Translation: It promotes cell turnover to stimulate collagen production, decrease fine lines, and improve the skin's texture. Naked Beauty podcast host Brooke DeVard Ozaydinli calls it "magic in a bottle," while Knockout Beauty founder Cayli Cavaco Reck says it makes you look like "you had baby filler." It is expensive, but I genuinely love it. —D.B.
The holidays call for something extra special, and nothing says that more than a sparkly, limited-edition NūFACE mini that comes with a soft skin-care brush to apply the gel activator. —E.S.
Youthforia's BYO Blush appears green in the tube but changes into your own perfect shade of blush when it touches your cheeks. Its lip glosses are dewy but never sticky. Both come in this set, complete with blending tools and a magnetic pan for organization. —D.B.