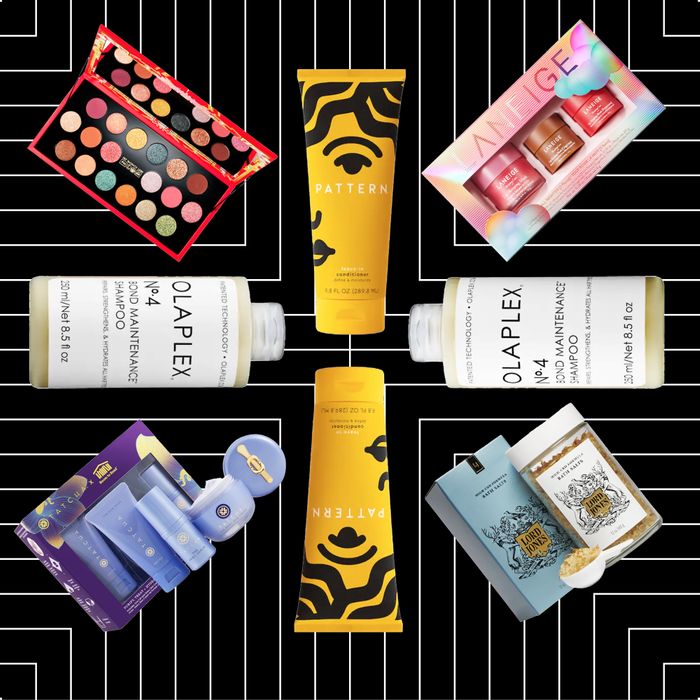 Photo-Illustration: by The Cut; Photos: Sephora
This time of year is the time for sales, but there's one annual event that dominates our budgets and browser tabs: Sephora's holiday sale. Beauty insiders literally wait for the event all year. The event works in tiers: Insiders get 10 percent off, VIB members get 15 percent off, and Rouge members get 20 percent off. So the more money you've spent throughout the year, the higher your tier is. Even better? All Sephora Collection items are 30 percent off. The discounts are applied with code YAYHOLIDAY.
The best part of a holiday sale: holiday sets and kits. So if there's a brand you've been wanting to try, there's no better time than now to do so (while also stocking up on stocking stuffers and gifts for the beauty lovers in your life, white elephant parties, or even your office secret Santa). The Sephora holiday sale starts today, November 5 for Rouge members, November 9 for VIB members and November 11 for Insiders. It lasts through November 15 for everyone. Here are a few of the Cut team's favorite products that absolutely deserve a spot in your cart. Below prices reflect rogue member discounts.
This isn't your normal candle holiday gifting — the long-lasting candles have an aroma that fills the room whether they're lit or not. And these specifically are fresh floral blends that can be lit all year round. Since it's a duo, keep one for yourself and gift the other. (Bonus fun fact: Fovr Mood was the first Black-owned fragrance product to be sold at Sephora.) —Asia Milia Ware
When in doubt, give Tatcha — no lie, I've put all my friends and family members onto the J beauty brand. And this set is the perfect introduction. Once they've met the best-selling dewy skin cream, they'll cherish their skin (and this gift, and you) forever. —AMW
Shani Darden's products are beloved by celebrities and beauty editors alike. This set features her holy grail anti-aging products, including the best-selling retinol reform. It's already being sold at a great holiday value, so that plus the sale means you're basically getting three products for a steal. —AMW
Perfume lovers know this is the sampler set of all sampler sets. It features a little bit of everything from fresh scents to florals to warm fragrances. The best-sellers set includes 13 tiny samples, from the sweet Prada Candy cult-favorite to the floral layering favorite Gucci Bloom. The best part is the scent certificate that you can take in-store to retrieve a full-size bottle of your favorite scent out of the samples. This set is a go-to purchase for me every year to discover new best sellers and to add a new full-size perfume to my collection. It's the gift that keeps on giving. —AMW
Dryness is not an option with 54 Thrones in your routine. The first time I lathered the brand's moisturizing butter on my legs I was suffering from severe dryness, and my skin was instantly nourished and noticeably smoother after one use. The brand is inspired by natural African shea butters and is blended with ingredients like baobab and jojoba oil. The deluxe tin features every scent from their Moroccan mint to Egyptian blue chamomile with just enough to gift to everyone in the family. —AMW
Normally I'm against gifting anything that requires shade matching, but Tower 28's tinted sunscreen foundation is too good. The lightweight foundation seamlessly blends into the skin, and the shades were carefully formulated with all undertones in mind. It also has SPF 30 and, I mean, who doesn't love an extra layer of protection? If you don't want to gift it, treat yourself while it's on sale. —AMW
This limited-edition palette is the perfect gift for any makeup lover (yourself included) and is so good-looking, it doesn't even need to be wrapped. It features 18 of Mother's creamy shadows in five different finishes that'll help create any and every look you've been dreaming up in your head. —Erica Smith
Excellent news: Tracee Ellis Ross's curl-defining, heavenly smelling hair line is now available at Sephora. This best seller (and Tracee's holy grail) will keep your curls feeling comfortable and quenched year-round as the temperatures drop. —ES
These calming bath salts infused with CBD are perfect for sore muscles, stressed minds, and that person on your list you don't feel comfortable giving yet another candle to. —ES
If you're still having trouble getting your skin to be that aspirational kind of moist, this juicy kit will set you, or a giftee, up for success. It pairs a magical facial in a jar with the brand's cult-favorite "Dewy Duo": the gently exfoliating Watermelon Glow Pore-Tight Toner and the viral Dew Drops that are part serum, part highlighter. —ES
Hundreds of TikToks ask, "Is the Dior beauty oil worth it?" Well, it is, and especially so with a discount. This lip oil gives you the new version of "my lips but better." It delivers the slightest tint of color, and the oil gives a moisturizing, glossy, full look to lips. —Kathleen Hou
When I first tried this concealer, I thought it was too thick, too light, and too heavy. And yes, I was wrong. Unlike other concealers, which can make my undereyes look gray or white, this one blends seamlessly into my skin and diffuses the dark circles too. Warning: The color does seem too pale at first, but it does blend in to match while giving you coverage. —KH
Any sale is a good time to stock up on Olaplex. Your hair will feel softer and more nourished, even if you just use the shampoo and don't get the conditioner. —KH
Just in time to rescue you from chapped-lips season: this set of Laneige buttery lip balms. You can gift all three to yourself or keep just one and pretend it never came in a set. —KH
The Sephora sale is a great time to stock up on brands that never go on sale anywhere else, like Chanel. This is a nice splurgey gift for that family member who loves scents. —KH