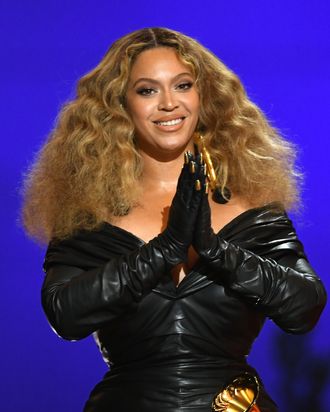 Photo: Kevin Winter/Getty Images for The Recording A
You didn't think we'd get to the holidays without another Ivy Park drop, did you? In a new teaser released Tuesday, November 30, Beyoncé showed off her newest Ivy Park collection with help from some very recognizable faces. The ad is basically one big game of "spot the famous person." There's Beyoncé, her daughters Rumi and Blue Ivy Carter, Natalia Bryant — and Deacon and Ava Phillippe?
I'll admit, I did not have "Reese Witherspoon's kids star in an Ivy Park ad with Beyoncé" on my bingo card, but I'll take it.
There are many things I find intriguing about the sudden appearance of Witherspoon's children in this new Ivy Park spot, promoting the "Halls of Ivy" collection. First, given how much they look like their famous parents, Ryan Phillippe and Witherspoon, it almost feels as though the people in the video aren't Deacon and Ava at all, but Phillippe and Witherspoon from the past come back to serve Beyoncé. (And, really, who could blame them?)
Second, I just didn't realize Beyoncé and Witherspoon were actually friends. Champagne sharing at the Golden Globes and joking about being Bey's BFF on Ellen aside, I just didn't think they even really knew each other. But now, here's proof that Beyoncé, at the very least, knows who Witherspoon's kids are. That implies some kind of deeper connection than red-carpet acquaintances, right?
This meeting of icons is just fascinating. What do Beyoncé and Witherspoon talk about? I know Beyoncé sent Witherspoon an Ivy Park collection in January of 2020. Does that mean that the actor sends Beyoncé Draper James? Did Deacon and Ava actually get to meet Beyoncé? Also, are they models now? All I want for Christmas is a step-by-step account of how all of this went down. And a few items from the Ivy Park collection wouldn't hurt either.