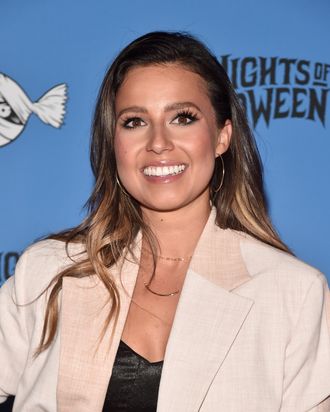 Photo: Alberto E. Rodriguez/Getty Images
Katie Thurston's "12 Days of Messy" are over, but the real mess has only just begun. One day after the former Bachelorette announced that she was in a new relationship, her ex fiancé Blake Moynes is speaking out, and he has some notes.
Blake proposed to Katie during an epic Bachelorette finale that aired in August. By the end of October, they were announcing their split. And on Tuesday, November 23, Katie went Instagram official with her new boyfriend, John Hersey, a man she actually sent home during the second week of her season. Needless to say, Bachelor Nation was shook. And so, it seems, was her ex.
"I'm still trying to process it," he said in an interview with the Talking It Out podcast. Blake told hosts (and fellow Bachelorette alums) Mike Johnson and Bryan Abasolo that he found out about Katie's new relationship at the same time as everybody else. "There was speculation, but I really thought there was no way, just based on timeline," he added, saying he's still trying to "figure out" what happened, and when her relationship with John started.
"You know, the '12 Days of Messy,' that I didn't sign up for, but was attached to, just like all the other guys. It started 12 days ago — I'm sure she probably knew who day 12 was and who it was gonna be and why," he said. Basically, Blake's theory seems to be that Katie must have known she was going to announce her new relationship about two weeks ago, which would be two weeks after they announced their breakup. "I really don't think there was any physical cheating there, but there's clearly emotional [cheating] for it to transition as quickly as it did," he theorized. "She at least had some emotional connection, right? It happened too quickly. How?"
In a portion of the interview recorded before the end of Katie's "12 Days Of Messy," Blake was much more diplomatic about their breakup, saying that though they "definitely fell in love," they just didn't work in the real world. "[We] don't have what it takes to be lovers in a long lasting relationship. We found that it was going to be absolutely exhausting because it became exhausting so quickly," he said at the time. Since the new relationship announcement, however, Blake told Mike and Bryan that he's second guessing everything, though he didn't want to go into detail.
"I just thought that she might tell me, on the side, just because we had been very cordial," Blake said, adding that he felt there was "a lot of disrespect there." Still, at the end of the day, he said he didn't want pity, he just wanted to speak now sot hat he could leave it all behind. "I'm done being attached to this messiness," he said.
Same, Blake. Same.